Home | Bus routes | Operational details | Service changes | Operators & Garages | Photo gallery
---
Route 179
3 February 2014
Back in October 2001, the 179 gained a considerable frequency boost, from 3 buses per hour during the Monday to Saturday daytime to 5 and from 2 to 3 at other times. However, it retained double deckers where in the past it would almost certainly have been converted to single deck at the same time. While by day the route is pretty quiet, it can get very busy during the Monday to Friday peak periods, especially at school times, and so double deckers are probably wise. Nevertheless, the new low floor double deckers had a rather lower passenger carrying capacity, partly because of the low floor layout but also partly because their introduction coincided with a decision to increase legroom on buses for a more comfortable journey.
Upon re-tender for a start in October 2013 the route was lost by First London to Stagecoach London, along with a number of other routes. First was in the process of disposing of its London operations anyway, but this brought the volume of work at Dagenham garage below a level that would be viable. In the event, the routes that had been lost were retained by First after the rest of the operation was sold. The 179 had a later renewal date than the other routes, but was brought forward to coincide with the others and thus First ceased to be a TfL operator after operation on 27 September 2013.
The 179 is operated from Leyton garage, where space was available following loss of route 230 to Arriva earlier in the year. A large batch of Enviro400 double deckers was obtained to service the tender wins, and 10175 (SN63 JWA) was seen at Ilford Station on the first day (or rather the first non-First day, as it were), 28 September 2013.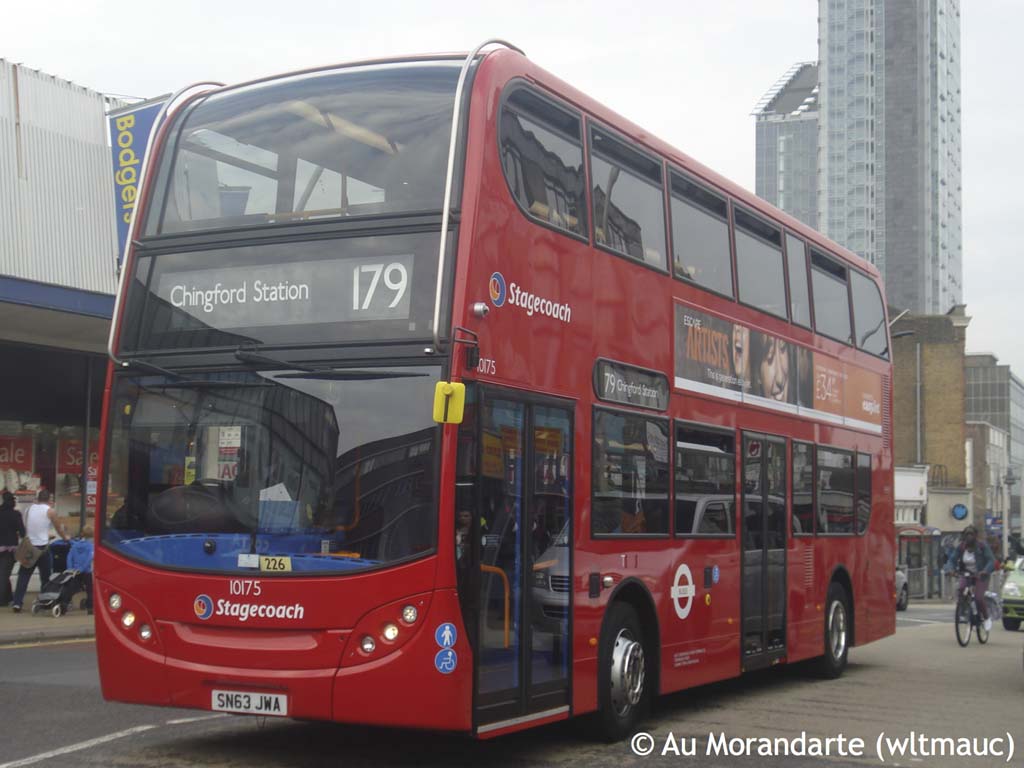 Photo © Au Moran.

The 179 provides lots of useful links across North East London, running from Chingford into Ilford via Woodford. However, a lot of the route is relatively sparsely populated, which may explain the low frequencies that had applied and the surprisingly low passenger numbers. The 179 was introduced as a replacement for the north-west end of the 145 in 1964, although a few peak hour journeys on the 145 continued to run through to Chingford, and this remnant remains in the form of school bus 679.

A rather controversial change was the withdrawal of the 179 between Ilford and Barking in February 2010. This was part of the rather grandiose sounding East London Transit scheme, which in reality was little more than a renumbering of an existing bus route 369 to EL1 and EL2. The combined EL1/EL2 service is 10 buses per hour, compared with 7½ per hour on the 369 previously, and it was deemed that this provided enough capacity (with the 169) along Ilford Lane. As a result the 179 was instead diverted to serve Ilford town centre - merely duplicating what the large volume of other bus services from Gants Hill do, and breaking the useful cross-Barking link provided by the 179. Ironically, the 369 had served Ilford town centre, whereas the EL1/2 do not, leaving only the much less frequent 169 to provide that link!

Navigation

See also routes 145, 679, EL1, EL2

Photo Gallery | Bus route list | Operational details | Service changes | Operators & Garages