Route 180
25 September 2002
The 180 is one of a number of routes won by Harris Bus around 1997-98. Harris Bus went bust late in 1999, causing the routes to be taken on by London Buses itself, which had tendered the routes in the first place. East Thames Buses was established as the trading name and was effectively a continuation of the Harris Bus business. After a while it was decided that the routes would not be re-tendered, but that ETB would not put in a formal bid for any other services. In fairness to London Buses, they did try quite hard to find a private operator which could take the business on as a going concern.
However, the vehicles in the Harris Bus fleet were not owned by Harris, but leased. Therefore as they reach five years old, they are being returned to dealers. As far as the double deckers are concerned, the oldest ones are those on the Ilford network (128/129/150) and these have now started to leave. A large batch of new Volvo B7TL/Wright Eclipse Geminis has been ordered, but for some reason is being placed on the 180 rather than the 150, with the 180ís slightly newer Olympians transferred across the river to replace the single door vehicles currently on the 150.
These Geminis have also introduced London style class codes to the ETB fleet; previously ETB had used the Harris Bus plain fleet numbers. Here VWL 3 (LB02 YWZ) sets down at Lewisham Station on 26 August 2002, just days after entering service. Some of the buses did not have blinds, so laminated cards were prepared for positioning in the windscreen, though superfluous in this case!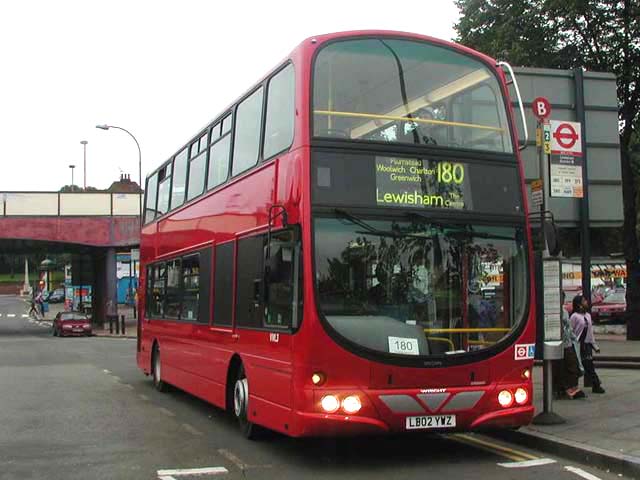 Photo by John Delaney.

These Geminis are also significant in being the first long wheelbase examples in London. Unlike most bodies, in which a short bay is inserted for the longer version, the Gemini sensibly has a slightly short bay in the short version, so the long version ends up looking tidier. Long wheelbase Olympians were specified by Harris Bus, perhaps to allow for a reduction in frequency that took place when they took over the 180. An unusual feature of the 180 for some years has been the enhanced frequency on Saturdays, no doubt to cater for shoppers travelling into Lewisham and Woolwich. When Selkent ran the route there were 6 buses an hour on Mondays to Fridays, 8 on Saturdays, although with only half the service running south of Lewisham before the route was cut back. The Harris Bus takeover saw the frequency reduced to 5 buses per hour during the week and 6 on Saturdays.

Like many routes the 180 started out by replacing trams, although in this case not as a direct replacement for one tram route. The original route ran from Catford via Lewisham and Greenwich to Woolwich, providing many new links in the process; at certain times buses continued to Plumstead Common. Soon it was extended to Lower Sydenham Station to provide a service along Southend Lane for the first time. In the 1960s it was extended at the other end to Abbey Wood via Eynsham Drive and the newly built Abbey Estate. Initially buses diverted off the east end of Eynsham Drive to serve a short section of Sewell Road, but later buses followed the direct route.

The terminal working arrangement at Lower Sydenham involved a reverse movement, and consequently, to comply with Metropolitan Police regulations, a conductor. So when the route was converted to one-person operation in 1983 an alternative terminal arrangement had to be made. Nearby is the one-way system at Bell Green, which would be ideal, except that it meant running the route under the low bridge in Southend Lane! Thus was born the 181, taking over the section of the 180 between Catford Garage and Lower Sydenham. The 181 was single deck but this arrangement allowed the main 180 to retain double deckers which it needed.

In 1991 a new midibus route 380 was introduced to serve many of the back streets just off the 180 route, including those around the Abbey Estate. The 180 thus found itself sidelined, with the result that the Eynsham Drive service was scaled down by transferring it to route 469 in 1995. The 180 in turn replaced the 178 via McLeod Road and Yarnton Way, that route being split into three sections (180, 178, 278) to improve reliability.

Meanwhile, in 1991 the route was altered in Catford to run to Hither Green Station, replacing route 36 and allowing a further reduction in the conductor requirement. This section, coincidentally, paralleled the 181, and was therefore deemed redundant and was axed when the route was extended at the other end, although a useful link from the Sangley Road area to Lewisham Hospital was lost in the process. Thus from 1995 the 180 ran from Lewisham to Thamesmead East, and that has been the arrangement since. Conveniently, Harris Bus, and now East Thames Buses, have a depot at Butts Wharf, only a few minutes from Thamesmead East.

The 180 was also host to two most unusual demonstrators during 1992. First to come in April was the "bendibus" in the form of a Sheffield Mainline B-HDT Leyland-DAB articulated bus, and this was followed in August by a Hong Kong specification three-axle Alexander bodied Leyland Olympian double decker. The problems such types of bus might face in London were characterised by the fact that they were unable to serve the Hither Green terminal working loop and had to run as extras to Catford Garage instead, as route 180A!

The Olympian in question was destined for Hong Kong Citybus as No. 331, but was registered J248 WWK for use in Britain for demonstration to sister company Capital Citybus, being fully painted in that companyís livery. It initially operated on Capitalís route 123, but was later loaned to Selkent which hoped to use it on route 53 ó a route that could certainly do with 12 metre double deckers, but is now to receive some artics. Unfortunately there were worries about bridge clearance at Waterloo Station, and it was therefore put on the 180 instead.

Navigation

See also routes 128, 150, 181, 380, 469, 178, 278, 36, 132, 661, 123, 53, 453

Photo Gallery | Bus route list | Operational details | Service changes | Operators & Garages