Home | Bus routes | Operational details | Service changes | Operators & Garages | Photo gallery
---
Route 53
19 August 2014
Since 15 February 2003 – the weekend the first phase of the central London congestion zone started – this trunk route has reached no further into the West End than Whitehall. Nonetheless it continues to operate as a fairly lengthy trunk route across south east London. Like many routes entering central London, the route has recently been re-stocked with hybrid vehicles. Unusually for Stagecoach these are Volvos, and 13024 (BG14 ONV) turns from Whitehall into Parliament Square before heading to Westminster Bridge on Thursday 5 June 2014.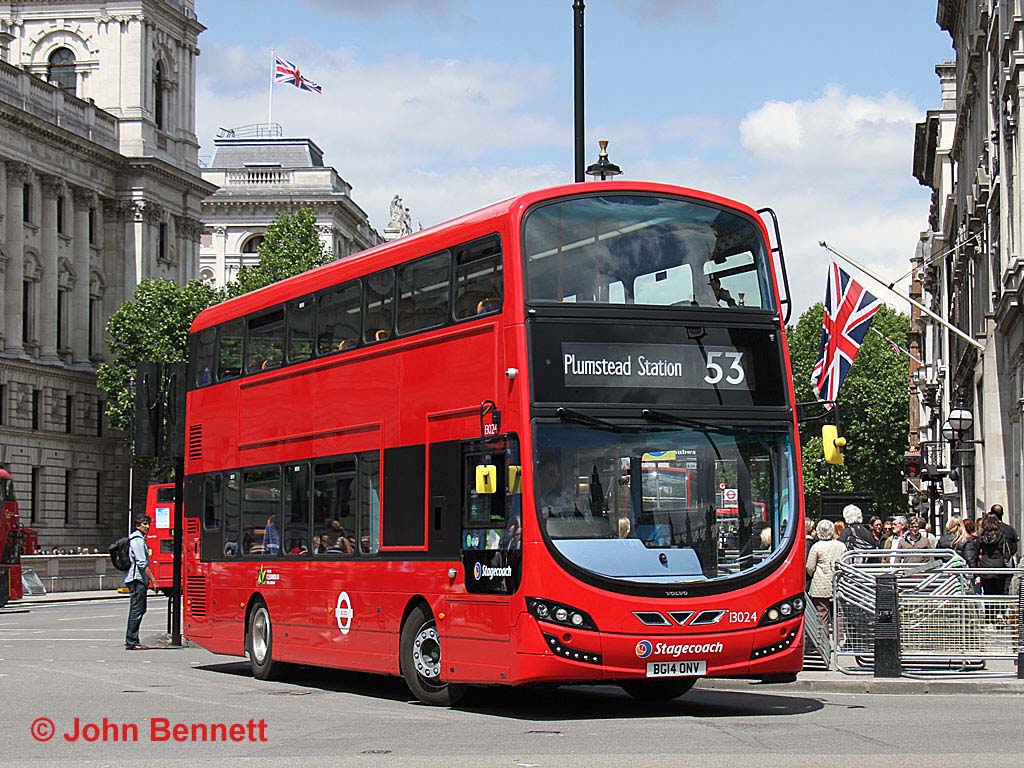 Photo © John Bennett.
The bodywork is the latest Gemini 3 model from Wrightbus, on hybrid Volvo B5L chassis. Stagecoach used to be a major customer of Volvo, but stopped buying from them after Volvo closed its Scottish factory – Stagecoach founder Brian Souter being a staunch Scotsman. Since then Stagecoach have largely concentrated on Alexander Dennis products, with a huge fleet of Tridents in London. These Volvos were ordered to meet tight delivery deadlines for routes 54 and 75 which had been won on tender, but in the event a re-shuffle of allocations has resulted in them being put on the 53 instead, where they can run in parallel with ADL hybrids allowing comparisons to be made on fuel consumption and other considerations.
The contract began in 2011 and had already been re-stocked with new conventional diesel Trident/Enviro400s at that time. These are still liable to appear on the route, so I have provided an updated photo of 19831 (LX11 BMO) just about to cross Westminster Bridge from the other side on a short working to Parliament Square on 22 August 2011.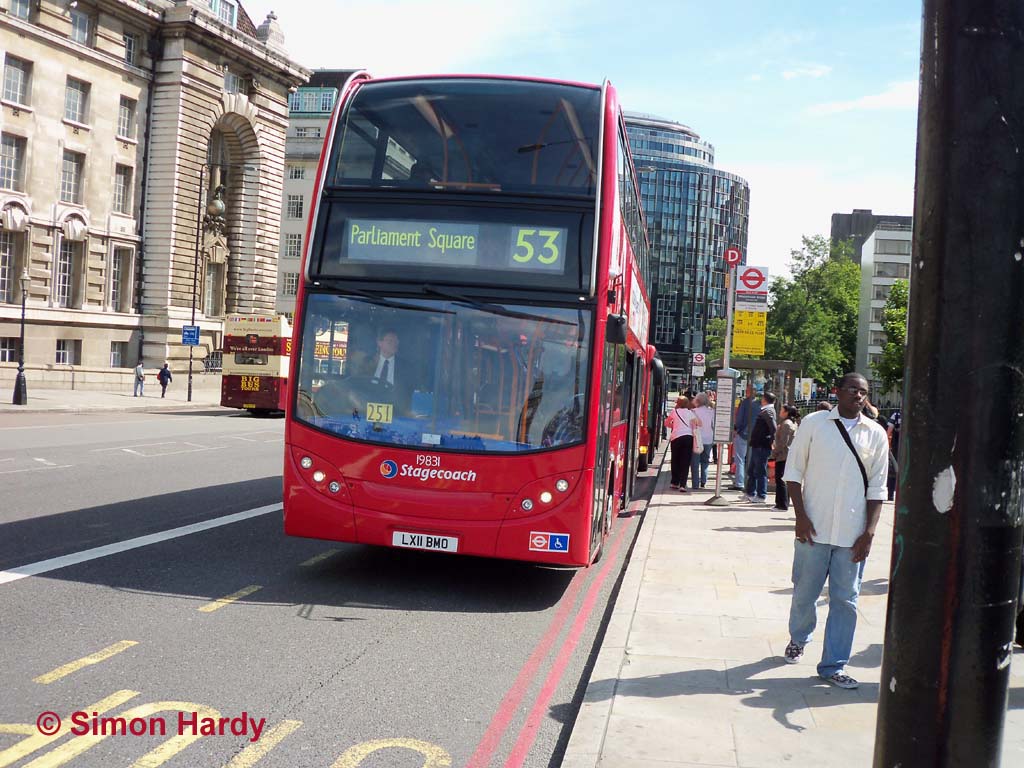 Photo © Simon Hardy.
I don't have a photo of a hybrid Enviro400 to hand, but another type that can appear is the Scania OmniCity, which are allocated to the routes home garage, Plumstead, for the 51 and 177. These were obtained at a time when Selkent was not part of the Stagecoach group, but instead owned by Macquarie bank. 15079 (LX09 AFJ) is seen at the same spot as the previous photograph, on 28 October 2011. The nominal destination is Trafalgar Square, but in practice the last stop is quite a way back along Whitehall, hence this more obscure display.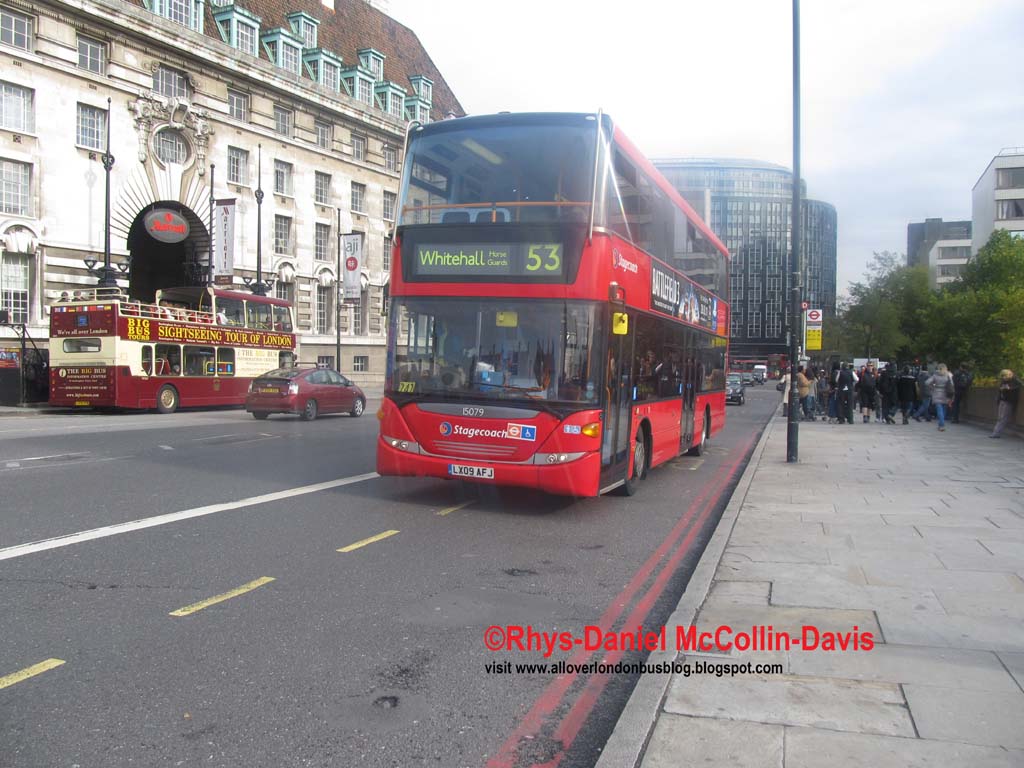 Photo © Rhys Daniel.
Prior to the 2003 changes the route ran to Oxford Circus. Cutting a route back short of where most people want to go has always struck me as a rather odd way of catering for people transferring from their cars, but the link into the West End was retained by the new "bendy" 453. Meanwhile the ends of the 53 are served much less frequently than previously – although admittedly the demand at the Woolwich end has never been particularly heavy, the previous frequency being more for the operational convenience of getting buses to and from Plumstead garage for driver changes. However, the folly of such schemes was shown by the fact that the 453 was still operated from Plumstead garage, as was the 53, meaning buses and drivers have to cover that ground anyway, just not in service!
The number of buses on the overlap, Deptford to Whitehall, was roughly maintained at first, but a further frequency reduction took place in February 2005 (as part of a scheme to prop up another bendy bus conversion that had gone wrong, route 25). At least the route survived a more draconian proposal in the 1990s to split it in half in the New Cross area with hardly any overlap at all.
The route has seen a number of changes over the years. At one time it ran via New Charlton and Greenwich instead of Charlton and Blackheath, and beyond Oxford Circus ran via Wigmore Street, Baker Street and Abbey Road to West Hampstead, with a Monday to Saturday 153 variant serving Marylebone High Street. In 1939 the 153 was withdrawn and a 53A variant was introduced following the alignment via Blackheath. This soon became the main route, the 53 being reduced to Plumstead Common to Greenwich and then withdrawn altogether. Soon after the 53A swapped routeings with the 59 group of routes north Oxford Circus, running to Camden Town via Albany Street, and the A suffix was dropped in the 1950s. The old routeing to West Hamptead got a brief airing again in the 1960s as route 153, and the main route reached Parliament Hill in the 1980s, before being cut back to Oxford Circus when the C2 was created in 1987.
The route was converted to one person operation in January 1988, and New Cross had a small allocation alongside the main Plumstead allocation until 1991. Volvo Olympians were introduced in May 1996, displacing the last Leyland Titans at Plumstead, with a very protracted conversion to Trident operation commencing in 1999 and not being completed until the 453 started over three years later!
Navigation
| | | |
| --- | --- | --- |
| | Previous | Next |
| Chronologically | 284 | E1 |
| Numerically | 52 | 54 |
See also routes 453, 25, C2

Photo Gallery | Bus route list | Operational details | Service changes | Operators & Garages