Home | Bus routes | Operational details | Service changes | Operators & Garages | Photo gallery
---
Route 52
23 April 2013
Almost three quarters of the allocation at Willesden garage is used on three trunk routes between the garage and central London. One of these is the 52, which takes a more westerly course than the other two, approaching Victoria via Kensington. A new contract in December 2012 called for new buses, including some hybrids, and these are of the Volvo/Wright combination. I have examples of both types to post on this page, and first up is VW1400 (LK62 DVL) rounding the Hyde Park Corner gyratory bound for Victoria on Monday 15 April 2013.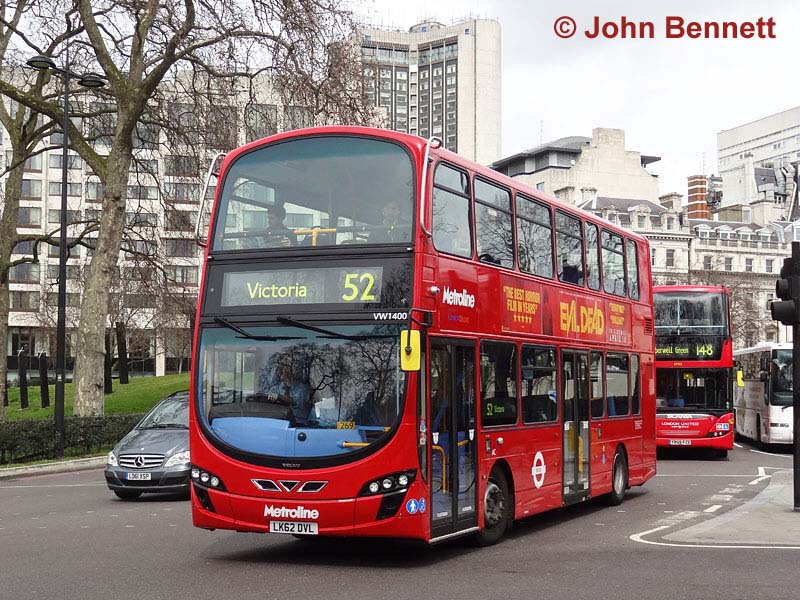 Photo © John Bennett.
This is a Volvo B9TL with Wright Gemini bodywork. The hybrid version is outwardly very similar but uses a B5L chassis. The Gemini bodywork design is now the oldest for new double deck buses, but is hardly in need of updating. The first photograph shows VWH1408 (LK62 DWA) picking up some young passengers at the first stop in Pound Lane, at the rear of Willesden Bus Garage, on 7 March 2013.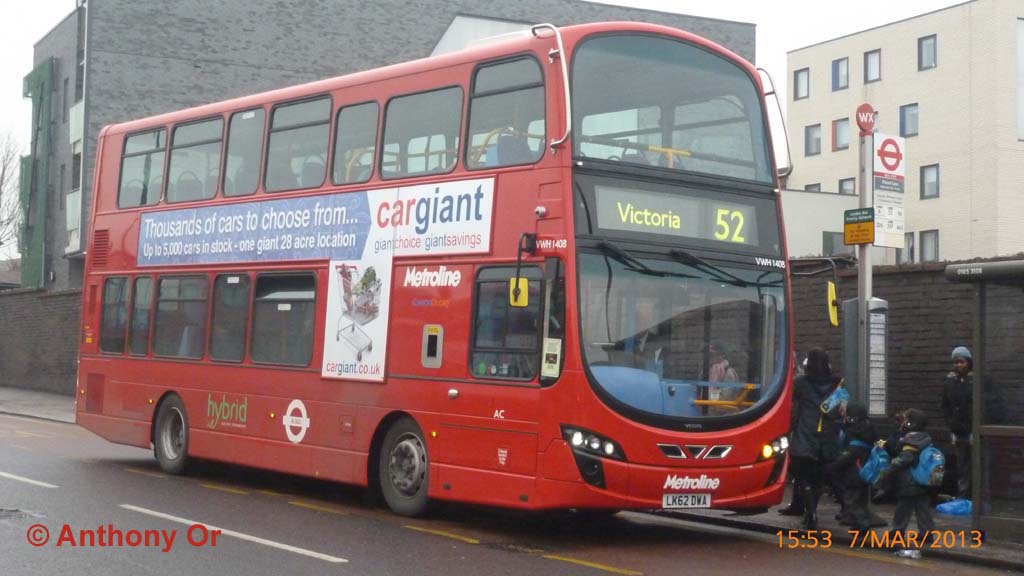 Photo © Anthony Or.
These photos have been selected partly because they cover a good range of the route, and VWH1415 (LK62 DWU), which completes the set, is at Kensington Church on 11 April 2013.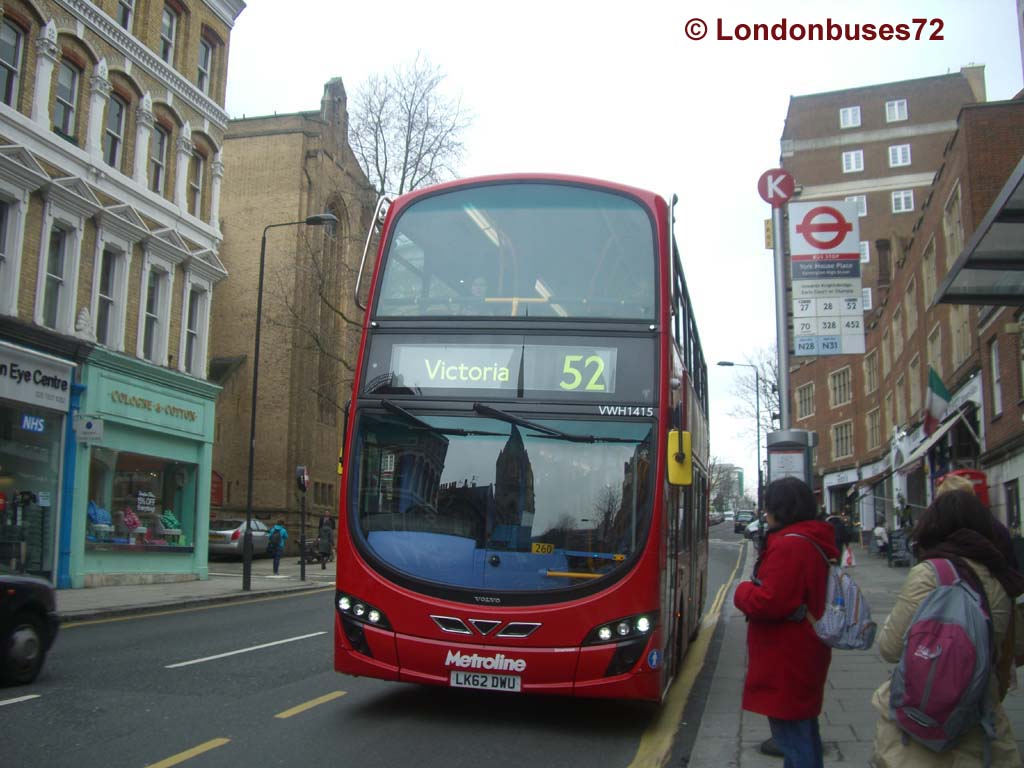 Photo © LondonBuses72.
Like most central London trunk routes, the 52 has been hacked down considerably compared to how it used to be, having run as far north as Borehamwood at one time. Prior to the war the terminal was at Mill Hill Green Man, where Hale Lane meets Deans Lane – buses doing a U-turn in the road at Sefton Avenue. Hendon, Westbourne Park, Victoria and, curiously, Camberwell, were other garages to have an allocation.
In January 1941 the route was extended in rush hours to Elstree Station via Elstree Way, but was cut back to Warwick Road later in the year. As Borehamwood was built up in the 1950s, it was deemed appropriate to localise northern end of the 52, and route 52A was duly created running between Borehamwood (Rossington Avenue) and Colindale Trolleybus depot. On Sundays the service ran through from Rossington Avenue to Victoria, and some 52 journeys also ran through as far as Borehamwood (Drayton Road) during rush hours and at certain other times. The 52A later became the 292. The 52 was diverted to Mill Hill Broadway via Deansbrook Road in 1966, and ceased to run north of there in 1969.
A 52A version was later added, running from Westbourne Park via the current 23 route to Ladbroke Grove and then on to Victoria. Both routes were converted to one person operation on 25 October 1986. The northern end of the route from Mill Hill was split off as a separate route 302 in 1992, with a short overlap between Willesden and Ladbroke Grove, later cut back to Kensal Rise.
The route was awarded to London Coaches under competive tendering from 4 December 1993, a night service N52 being introduced at the same time. This rates as one of the more unusual tender awards, using route branded ex-London Buses Leyland Titans from Wandsworth garage, which otherwise houses The Original Tour. London Coaches set up the Pullmans Group which then bought Atlas Bus (with route 107/112) from Pan Atlas on 6 August 1994. The 52 was then transferred to the Atlas base at Harlesden after the 107 and 112 were lost. On 29 November 1994 Metroline purchased Atlas Bus, and the 52/N52 were moved back to Willesden garage on 25 September 1995. The route was gradually converted back to Metrobus operation over 1995/6, with modernisation to AV class Volvo Olympians from 9 November 1996.
Most recently, the route has actually suffered a reduction in frequency. This was in connection with the extension of the central London congestion charging zone – a new route 452 was introduced, duplicating the 52 between Kensal Rise and Knightsbridge, and on to Wandsworth Road station. This was deemed to reduce the capacity needed on the 52 – although it seems the planners hadn't noticed that the busiest part of the 52 is between Knightsbridge and Victoria, the part which is not covered by the 452!
Navigation
| | | |
| --- | --- | --- |
| | Previous | Next |
| Chronologically | 124 | 621 |
| Numerically | 49 | 53 |
See also routes 6, 98, 260, 302, 292, N52, 107, 112, 452

Photo Gallery | Bus route list | Operational details | Service changes | Operators & Garages