Home | Bus routes | Operational details | Service changes | Operators & Garages | Photo gallery
---
Route 107
24 April 2009
An unexpected double deck conversion of route 107 was effected in January 2009, using cascaded VPL class buses. New double deck buses should appear in October when a new route contract commences. Two photos of the official type are given to kick off: first, and most authentic, is VPL154 (X654 LLX), seen at Barnet Church on 3 April 2009.
Photo © Hans Liljewall.
The second view of this type is of VPL197 (with non-matching registration Y147 NLK), also in Barnet, but heading the other way, on Friday 15 August 2008: this was a stray working at the time, substituting for a Dart.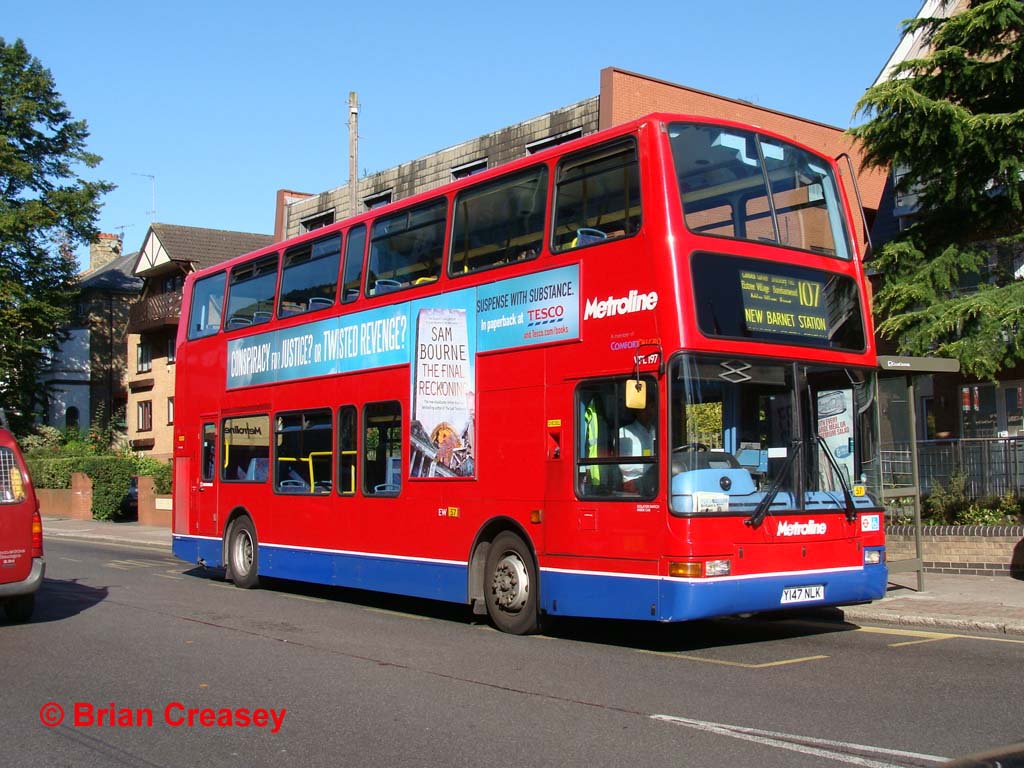 Photo © Brian Creasey.
Also in stray mode on the same date in August was TE725 (LK07 AZA), and Alexander Dennis Enviro400, fast becoming a standard bus type with Metroline. No doubt the new vehicles on order for the 107 will turn out to be of this type. At the moment they are supposed to be confined to routes 186 and 204, but they often get mixed with VPLs in practice.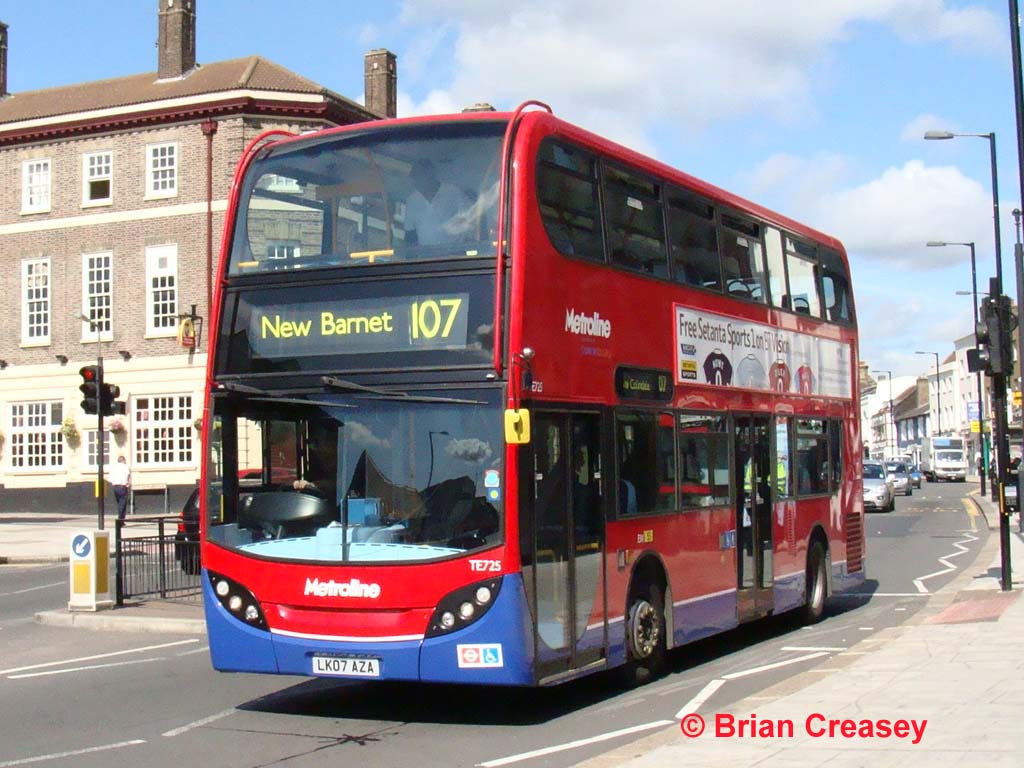 Photo © Brian Creasey.

Route 107 is unusual in having both ends within Greater London, but going well beyond the boundary on the way. It certainly does not follow the most direct route between Edgware and Barnet, its primary purpose nowadays being to serve Borehamwood, a large and fairly modern built up area just beyond the London border.

The 107 started off in a completely different area, having a form more akin to the 307 of today. Buses ran between Whetstone and Enfield via East Barnet and Oakwood. In part of a large scheme in March 1937, it was diverted at East Barnet to High Barnet and Arkley, replacing the 135 of the day. In October 1938, it was extended at the other end to Ponders End, which some journeys further extended to The Alma. What little there was of Borehamwood in those days was served by various London Country routes but also by central buses route 241. This was double decked and renumbered 141 in September 1937, but continued to follow the present alignment of the 107 between Edgware Station and Borehamwood (Red Lion). A new 107A deviated at Ponders End to serve the RSA factory at Enfield Lock, initially providing limited workers' journeys, but later replacing the 107 in some measure in a complicated series of re-shuffles.

The link-up to Borehamwood took place in March 1941, with part of the 107/107A service extended to terminate at Drayton Road. Meanwhile, the 141 gained a rush hours extension over the same roads to Barnet Church. In a rationalisation of services about 1954, the 141 was withdrawn, the 107/107A extended to Edgware to cover and the 107 (running Mon-Sat) further extended to Queensbury, breaking new ground over Camrose Avenue.

Nothing much further happened until September 1982, although the 107 odd journeys to Ponders End Station (which originally ran just to The Alma) were abandoned and the 107A to Enfield Lock lost its suffix. 4 September 1982 was a date of major changes to London's Buses, following the demise of the successful Fares Fare cheap fares scheme introduced (illegally, as it turned out) by the GLC. Circuitous Enfield local route 135 (Brimsdown to Carterhatch via Ponders End, Enfield and Chase Side) was withdrawn, the various legs being covered by the 191 and 107. The 107 was diverted at Enfield Wash to Brimsdown, the 121 being diverted at Ponders End to Enfield Lock in its place, former London Country route 313 completing the picture by replacing the former 121 route to Chingford.

The route did not survive long like this however, as in 1987 the route was split in Barnet, with just a short overlap between New Barnet Station and Barnet (Wood Street). The real reason was probably to make the route more manageable for tendering. The Brimsdown – Barnet section passed to Eastern National, from its Brimsdown/Ponders End depot, and had late evening and weekend projections to Arkley, re-using an old terminus. Now the whole service runs to Arkley. The remnant of the 107 between New Barnet and Queensbury initially remained with London Buses, but operation passed to Atlas Bus in October 1989 using new Olympians. Atlas Bus was the trading name used for bus services operated by the long-established Pan Atlas Leisure company, based at Atlas Road in Harlesden. The Edgware – Queensbury section passed to Edgware local route 288 in the Spring of 1993.

Operation of the route was passed to Metroline after 5 years of Atlas Bus operation, who operated the route from their Edgware base using new 9.8 metre Dennis Darts. The contract was renewed again in 1999, specifying the new low floor Darts now in operation, although modifications had to be made to the speed humps along Shenley Road before they could operate safely.

Navigation

See also routes 186, 204, 191, 121, 313, 288

Photo Gallery | Bus route list | Operational details | Service changes | Operators & Garages