Home | Bus routes | Operational details | Service changes | Operators & Garages | Photo gallery
---
Route 621
23 April 2013
Route 621 began when the trunk route 21 (Foots Cray to Moorgate) was split in October 1997. The 21 had run in sections during the day on Mondays to Fridays, Foots Cray to Eltham/Lewisham/New Cross Gate and Eltham to Moorgate; a through service ran in early mornings and evenings, and at weekends when the service terminated at London Bridge. In 1997 the 21 was shortened to run between Lewisham and Moorgate, with a new single deck 321 service covering the Foots Cray – New Cross Gate section on an increased frequency.
Before the changes, one of the Eltham-Moorgate journeys on the 21 in each peak on school days had been extended to Crown Woods School in Avery Hill. The new simplified service structure (with no buses terminating in Eltham from either direction) meant that was no longer possible, and hence the 621 was born. The routeing was between Lewisham and Avery Hill direct via the existing 21 route. The double deckers on the 621 also provided valuable extra capacity between Eltham and Lewisham, a section which had seen a significant reduction in capacity as a result of the changes.
Later, in 2000, one afternoon journey was diverted to run via Well Hall roundabout, providing some new journey opportunities, and the following year both journeys in both directions were revised to follow this routeing. Later still, in 2003, the route was diverted to operate more directly from Well Hall Circus to the school via Rochester Way, thus missing out Eltham altogether – the 624 and 660 still link this area to the school. Revised stopping and picking up arrangements resulted in buses towards the school being diverted via Westmount Road in 2007.
From the outset the route was run from New Cross garage. However the contract was awarded to Stagecoach London from October 2012. In a previous version of this page, I noted that the very low loading evident lead one to question whether two journeys were still needed on this route. I can only assume someone from TfL read this page, as the new contract was duly awarded with only a single journey each way! Perhaps more surprisingly this does not cater for the later finish for some students on Mondays to Thursdays, even though there is sufficient time for the bus to go back and make a second trip.
The normal allocation is a Trident, and although the running number of TL230 is from the route 47 sequence it does not actually work on the 47 – in fact, the bus goes onto route 136 after working the afternoon 621. The bus featured here (18485 – LX55 BFA) is however from the batch of Tridents new for route 47 – the last ALX400 bodies built for London use, I believe, and certainly the last for Stagecoach. It is seen in Lewisham on 18 October 2012.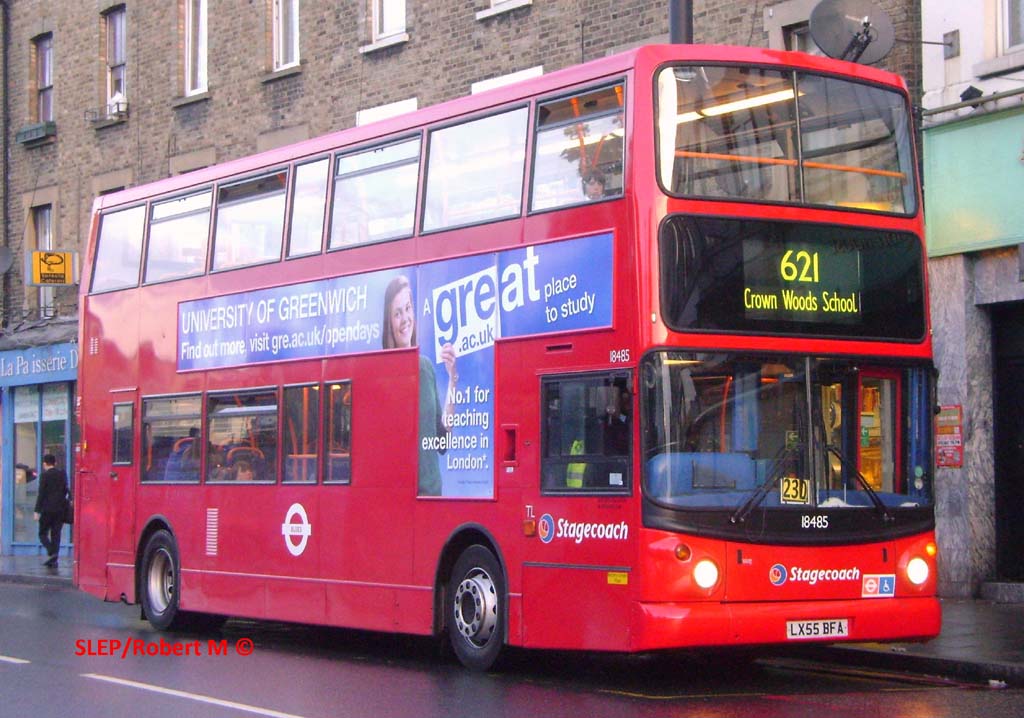 Photo © RNAM200 (Robert Mighton).
Navigation
| | | |
| --- | --- | --- |
| | Previous | Next |
| Chronologically | 52 | 27 |
| Numerically | 614 | 624 |
See also routes 21, 321

Photo Gallery | Bus route list | Operational details | Service changes | Operators & Garages