Home | Bus routes | Operational details | Service changes | Operators & Garages | Photo gallery
---
Route 624
15 November 2012
This site does cover the less glamorous side of London bus operations – transporting school children presents more than its fair share of problems, not least the highly concentrated nature of the demand, making the cost per passenger very high. They also take a relatively large amount of management time in school liaison and so on, and the children can often be rather boisterous!
There are now some 70 dedicated school routes as part of the TfL network, mostly numbered in the 6xx series. The origins of the 624 are in one of the earliest dedicated school routes, dating back to February 1989 when route 124 was converted to midibus operation. The 124 ran between Catford and Eltham, with school journeys projected to Crown Woods School in Avery Hill, with one running on to Welling Corner, and these were renumbered 124S. This distinguished them from the single deck 124, which was diverted via Middle Park Avenue and Kingsground – the 124S continued to operate direct from Mottingham Station to Eltham via Court Road, and the double deckers would not have been able to make the right turn out of Middle Park Avenue. The Catford terminal was at Lewisham Town Hall rather than St. Dunstan's College.
In January 1994 an attempt was to merge the 124S with similar route 160S. The routes were replaced by a 424 running from Eltham Green via St. Mildred's Road and Verdant Lane, and then as the 124S had done through to Avery Hill and Welling. This route was renumbered 624 is 1995. However the old 160S was re-introduced in 1996 under the 660 number, providing a more direct journey from St. Mildred's Road to Avery Hill, and the Eltham Green – Grove Park section of the 624 was withdrawn in 1997. Although that leaves the route in its present form (apart from withdrawal of the afternoon journey from Welling), this is not quite the end of the story, as some journeys were added running from Woolwich. However these were really a separate route, and eventually this was formally recognised, with a separate number (658) introduced for these journeys in September 2006.
As of 4 January 2012 the 624 has been operated by London General from Mandela Way garage, a rather surprising award but one no doubt facilitated by that fact that it was possible to provide part of the service using existing buses on the 453 rather than requiring a dedicated fleet bus as would be usual, thereby reducing costs. Although one WVL class bus was brought in for the remaining separate working, in practice this seems to be mixed with the other buses on the 453. As a result the 624 usually sees the Trident/Enviro400 buses from the 453 allocation, and E192 (SN61 BJU) is seen at Eltham on 19 October 2012.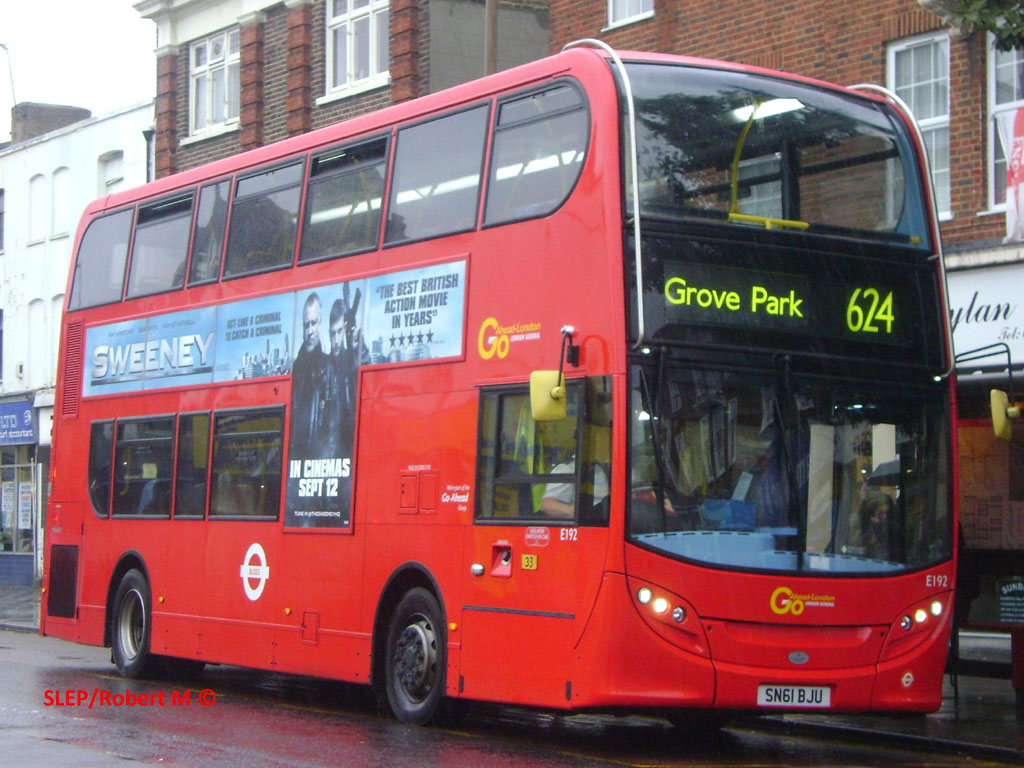 Photo © RNAM200 (Robert Mighton).

Navigation

See also routes 660, 658, 453

Photo Gallery | Bus route list | Operational details | Service changes | Operators & Garages