Home | Bus routes | Operational details | Service changes | Operators & Garages | Photo gallery
---
Route 299
15 November 2012
The present 299 was introduced in 1992, combining the southern end of the W9 between Muswell Hill and Southgate with a new service along Reservoir Road, thence running on to Cockfosters Station. Despite being so numbered and introduced as part of a scheme that saw the 298 cut back to Southgate from the north, there is no real connection between the 299 and 298 apart possibly from the 299 maintaining the Cockfosters - Southgate High Street link.
Having said that, the original planned numbering was the other way around, but was reversed at the last minute following representations from concerned parties, unfortunately not before the double deck blinds had been ordered with the via points the other way round. Indeed, in an earlier era the Southgate-South Mimms/Clare Hall section was route number 299, with 298 running Turnpike Lane - Cockfosters, these two routes being merged under the 298 number in the summer of 1980, so, very roughly, the two routes have now swapped numbers, although the 299 does not actually have a lot in common with the original 298.
Both routes went to Capital Citybus using Optare Metroriders. The timetable on the 299 was not changed until February 2001, which could well be a record; the original contract was extended until this date, and evidently no changes had been felt necessary during that time. However, a new contract started in 2001, and this had the usual round of improvements, so the timetable was changed, and also the Metroriders were replaced by new low floor Marshall bodied Darts.
Further new buses were specified upon contract renewal from February 2011, in the form of 9.3m Enviro200Darts. I failed to update this page to reflect this before a further change occurred, as Northumberland Park garage and all its routes, including the 299, was sold to London General from 31 March 2012. The buses have been duly redecorated and renumbered, for some reason using non-standard class codes with an N at the end. SEN15 (YX11 FYU), seen at Southgate station on 19 June 2012, was formerly First London DM44196, and is essentially the same as the London General SE class of Enviro200Darts in various lengths.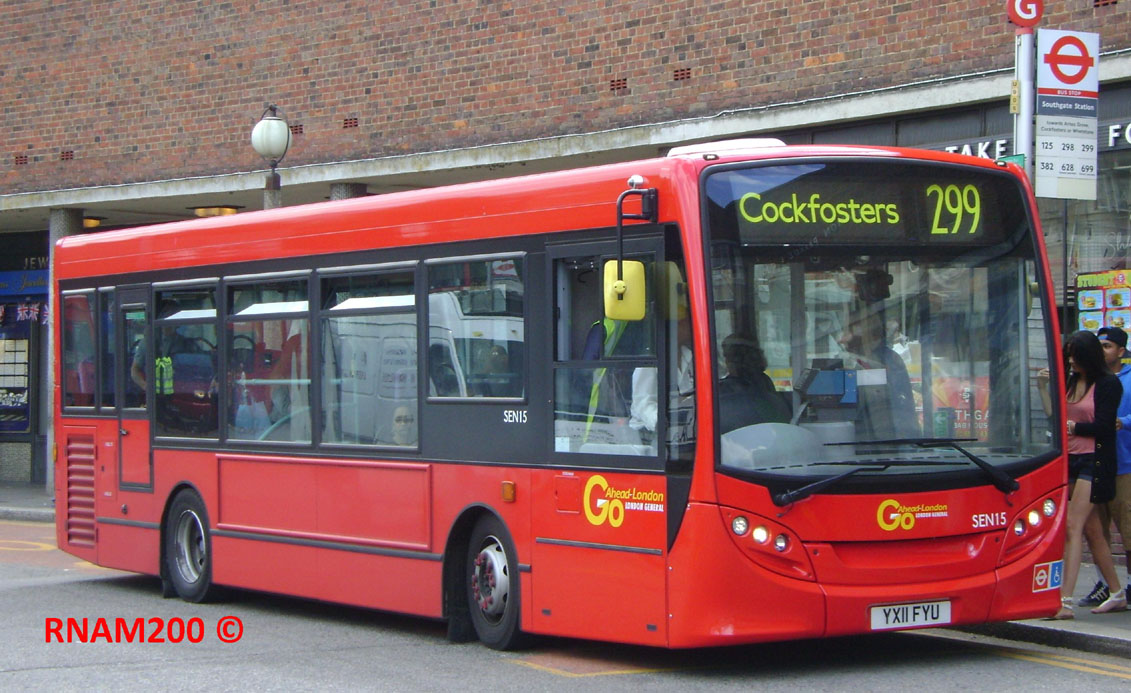 Photo © Robert Mighton.

Navigation

See also routes 298, W9

Photo Gallery | Bus route list | Operational details | Service changes | Operators & Garages