Home | Bus routes | Operational details | Service changes | Operators & Garages | Photo gallery
---
Route 62
15 November 2012
During 2011, soon after coming back under Stagecoach ownership, Barking garage had a wholesale renewal of much of its fleet, with "old" Tridents and Dart SLFs cleared out in favour of the new Enviro family versions of both. In the case of the single deck 62 that has meant Enviro200Darts, and on Tuesday 27 September 2011 36280 (LX11 AWV) approaches the site of the Thatched House (now closed) on Ripple Road, a well known timing point and former bus terminus. In the background is the Ripple Road Junction, site of the last remaining modular flyover on the A13. The flats in the background, located at Castle Green, will be familiar to drivers on the A13 and are known locally as "Legoland." It is not at all clear whether "Barking" refers to the end of the route at Gascoigne Estate, or an unscheduled short working to Barking town centre.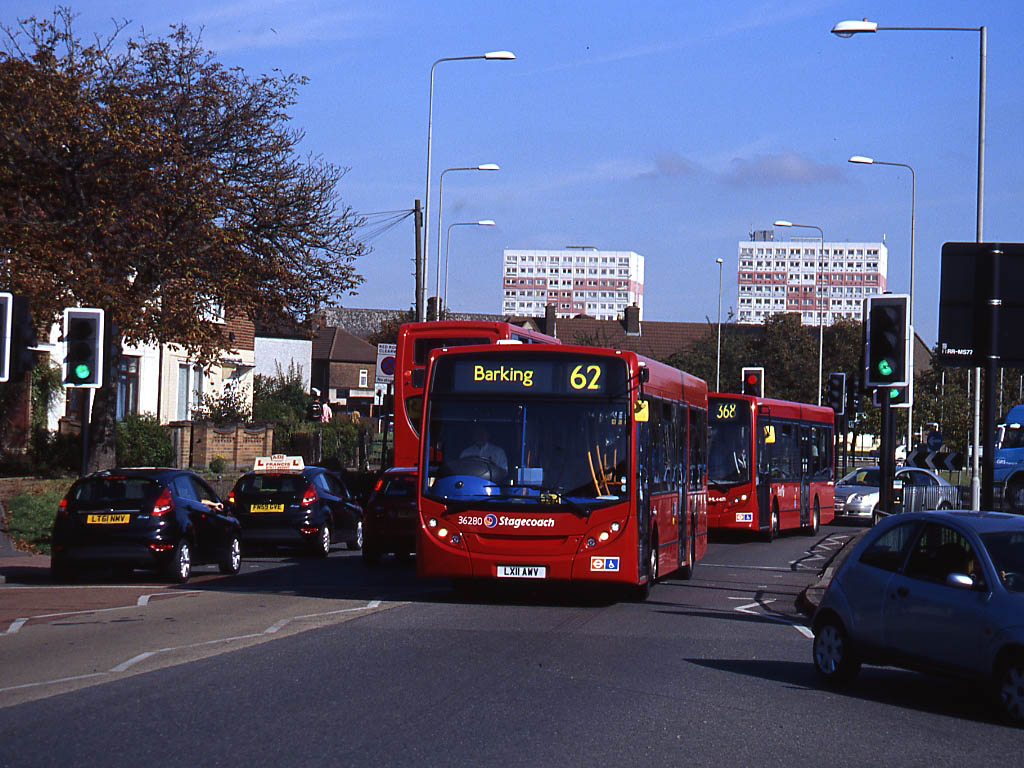 Photo © Stephen Williams.
A few buses at Barking did survive the cull as they were not part of the relevant re-tendering exercise, and most notable among these are the Optare Versas for route 396. These have subsequently been joined by the examples previously based at Plumstead, so that only one lot of engineers have to worry about these troublesome buses! 25305 (LX58 CHK) is one of the transferred buses, and was photographed entering Rose Lane, near the other end of the route, on Thursday 23 August 2012.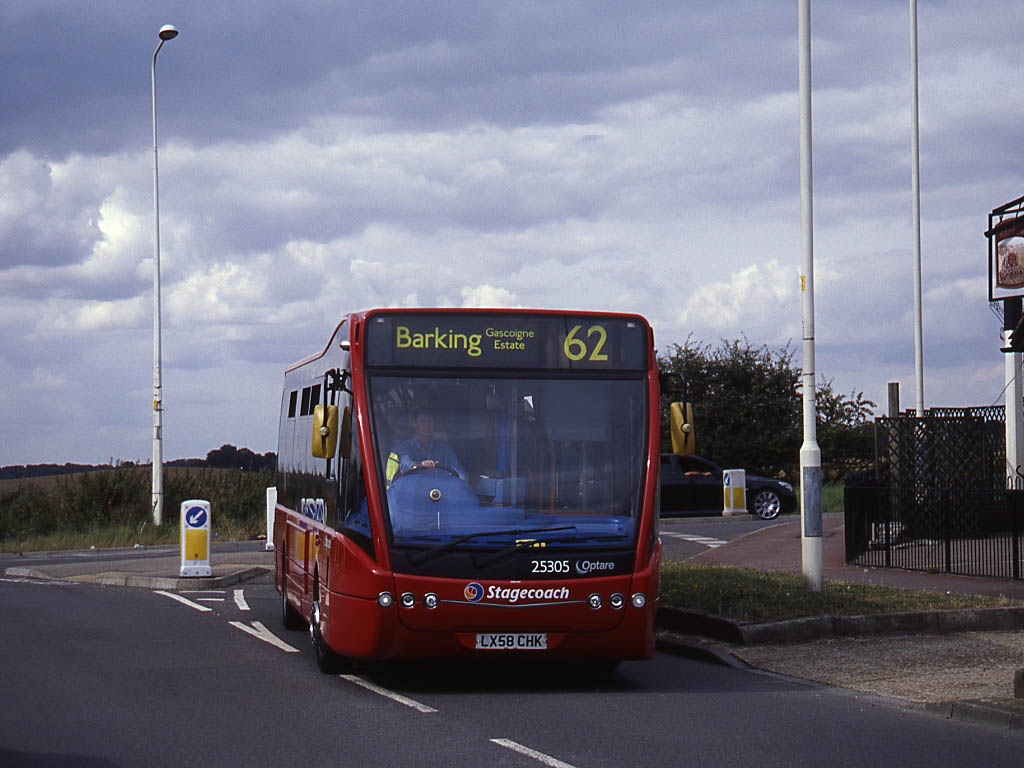 Photo © Stephen Williams.
The 62 does have a scheduled double deck working to cover schools traffic, and to illustrate that I have included this photo of 19800 (LX11 BHY), a Trident/Enviro400 and another of the 2011 intake. Surprisingly the location is just a little further along Rose Lane, and represents more typical scenery for London; the date is the same as for the previous photo. The 62 operates almost entirely within the London borough of Barking & Dagenham (the only exception being part of the Chadwell Heath one way system), and these photos between them show almost opposite extremities.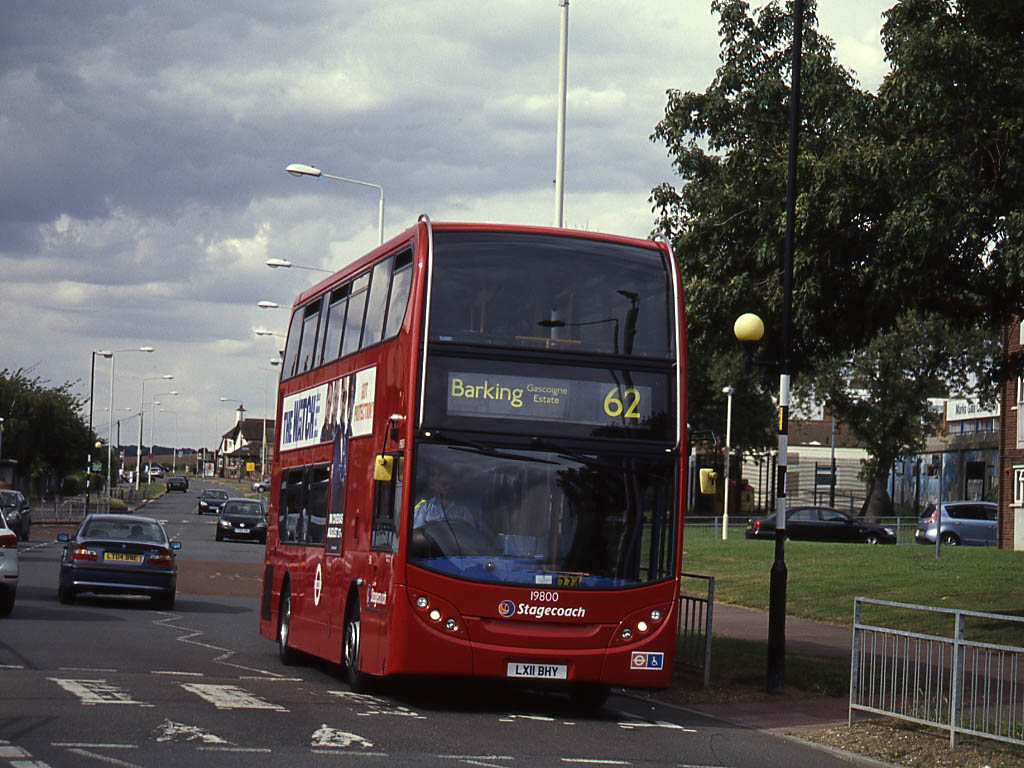 Photo © Stephen Williams.
The 62 has been Dart-worked for some years now. The 20 March 1993 scheme saw the introduction of 9-metre DWL class Darts, but after privisation Stagecoach quickly replaced them with new Alexander bodied Darts. These were fairly soon moved on and replaced by 9.8m PD class vehicles. The 62 had been the first crew Titan operated route from January 1980, although converted to one person operation in 1983. The route was lost to Ensignbus for five years from January 1987, where it joined the 145 with ex-London DMS Fleetlines, before reverting to Barking garage in 1991.
Going back further still, the 62 is a superb example of a drifting route. The route started on 2 January 1935, running from Little Heath to Barking every 20 minutes with a running time of 21 minutes. LT class double deckers from Barking were used, although the allocation was strangely moved to Upton Park in March 1936, and then even further away to Poplar garage from February 1937. 5 January 1938 not only saw the allocation revert to Barking, but a substantial route extension to Chadwell Heath via Ripple Road, Woodward Road, Gale Street and Valence Avenue. It is worth noting that Goodmayes and Chadwell Heath, near opposite ends of the route, are approximately one mile apart!
For many years the route was extended on Summer Sundays to Chigwell Row, and about 1948 the main Monday to Saturday service joined it, but was soon diverted in 1952 to Barkingside via New North Road. The summer Sunday service continued to run to Chigwell Row and the Sunday service was consequently numbered 62 in the winter and 62A in the summer for a few years! After the 1958 operation the 62A number was retained all year round until 1968, when this variation was withdrawn completely.
If doubling back from Goodmayes to Chadwell Heath via Barking seems bad enough, the next development was most extraordinary, as the route was extended from Barkingside to Ilford in 1954 – Ilford being little over a mile from Barking. This made the route into a sort of snail shell shape, performing a spiral of slightly over 360°! Further change came in 1959 when it was diverted via the new Rose Lane estate.
In 1960 the route started to unravel whence it began, with the Little Heath - Barking section transferring to new route 162 (later 238 and now 387). It was also diverted to follow today's route via Upney Lane. In 1972 it was extended in Barking to the present terminus at Gascoigne Estate (except evenings and Sundays), replacing route 291. The unravelling progressed further in 1977 with loss of the Barkingside - Ilford section, and in 1982 it was further curtailed to Hainault. However, a peak service operated to Gants Hill from 1986 to 1990. In 1990 it was diverted at Marks Gate to Collier Row, but this only lasted a year and it adopted the current routeing on 23 November 1991.
Navigation
| | | |
| --- | --- | --- |
| | Previous | Next |
| Chronologically | 299 | W16 |
| Numerically | 61 | 64 |
See also routes 396, 145, 238, 387

Photo Gallery | Bus route list | Operational details | Service changes | Operators & Garages