Home | Bus routes | Operational details | Service changes | Operators & Garages | Photo gallery
---
Route 284
6 May 2014
The 284 is once again operated by Metrobus from its garage in Green Street Green. To fulfil the terms of a new contract in 2013, the 284 has been restocked with new 10.8m E20D/Enviro200Darts single deckers. 745 (YX13 AFU) passes along Sangley Road in Catford on 5 March 2013 when brand new. These buses are also shared with route 126.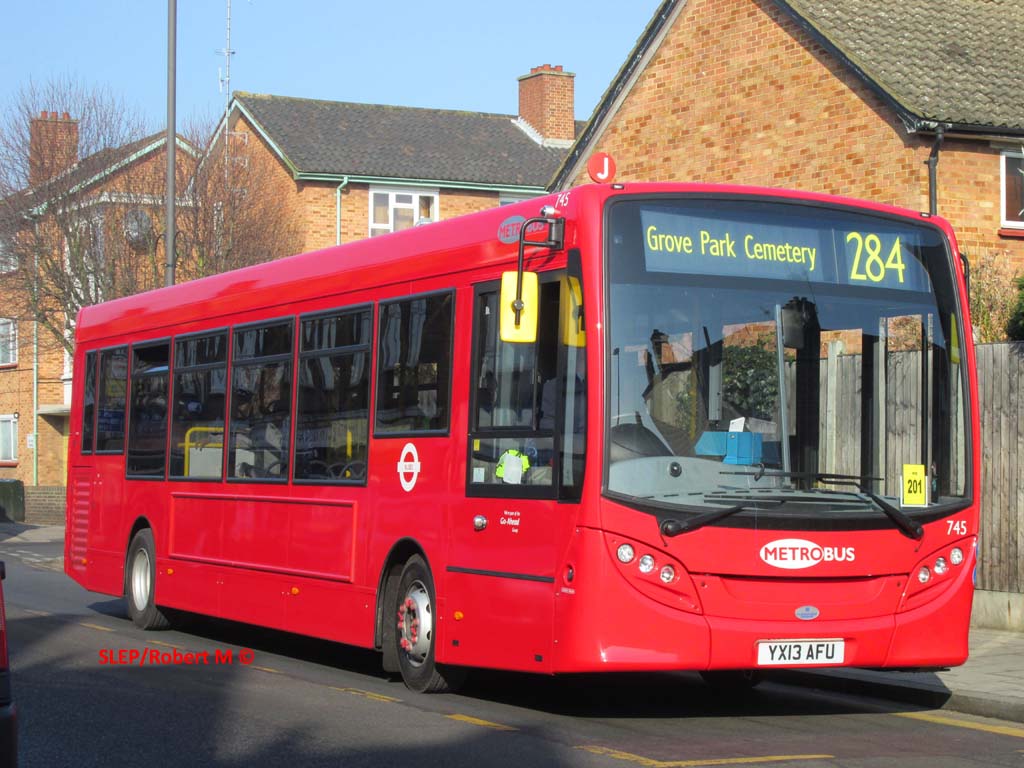 Photo © RNAM200 (Robert Mighton).
Prior to this, some unusual Scania OmniTown were used on the route (these can still be found on route 181 in the same area). These have East Lancs bodywork, but the design was modified at the request of Metrobus to match the new Esteem design that was being rolled out (although the bodies are not Esteems), and are thus a unique design. They are proper single deckers, unlike the Darts which are really souped-up minibuses with their small wheels and poor suspension. The Scanias by contrast provide a very smooth ride and can travel over speed humps at considerable speed – this making them particularly well-suited to the 284, as Lewisham Council's obsession with traffic calming means almost the entire route is provided with them!
The main reason for the new buses is apparently TfL's upping of its service specification from 55 capacity to 60 capacity "where feasible" (in practice meaning an increase from approximately 10.2m to 10.8m length), although existing 55 capacity buses are often still accepted. Also, PVR increases on both the 181 and 284 meant that there were not enough OmniTowns to go round anyway, with various other buses being brought in to support them. Getting new buses means a standardised vehicle type is possible once again, and Metrobus transferred the spare OmniTowns to its commercial routes in Crawley.
The 284 started life in 1989 as a renumbering of most of the Grove Park – Catford shorts on route 124, but running via Verdant Lane and Sandhurst Road rather than Hazelbank Road and Torridon Road, and were projected via the previously unserved territory of Ravensbourne Park and Chudleigh Road to Lewisham. Buses ran every 12 minutes during shopping hours, but only every 15 minutes in the peaks, when one bus switched to route 124. A mixture of Optare StarRiders and Wright bodied Mercedes 811D were used, all operated from Catford garage.
The route was tendered in 1994 and awarded to Kentish Bus for 7 years from 12 March, along with a number of other routes. The route was extended beyond Grove Park via Grove Park library to Grove Park Cemetery, replacing deviations of the 396 and 126 routes respectively, these routes being amalgamated as the 126. The peak hour frequency was standardised to every 12 minutes, although only one extra bus was provided for the extension (giving 9 extra minutes on a round trip at peak hours, when the extension took nearly double that) which resulted in a very tight schedule with no extra running time in peak hours, and there were serious reliability problems for some time.
Optare Metroriders transferred in from Gravesend area operations were used, painted in standard rhubarb and custard livery, and were operated from a new base that was established in Dragoon Road, Deptford (although coded LM for Lewisham!). Much play was made of the new employment opportunities in that area, and the initial recruitment was of a very high quality. However, many of the new drivers soon found the job wasn't what they were expecting and threw in the towel. The chronic staff shortage that ensued resulted in several attempts to maintain the service, including a base in Edison Road, Bromley (code BY), and operation from the LondonLinks base in Croydon (CR). Oddly, the Lewisham area routes (181, 284) were operated from BY, while the Bromley area routes (126, 162) continued to be operated from LM! Older MCW Metroriders, officially allocated to the 138, became quite common alongside the Optare examples, some painted in LondonLinks green, and others in the new green/yellow livery.
Eventually Kentish Bus conceded defeat. However, it was too early for the contract to be terminated, so instead agreement was reached with Metrobus to take the route on (together with 181, 138, and 161), from December 1995. Metrobus had lost prestigious route 61 to Centrewest from the same date, and the new work provided continuity for their drivers and vehicles (which were used on the 161). The 284 used Metroriders transferred from Kentish Bus – most unusually, Kentish Bus painted them into Metrobus blue and yellow before the route changed hands!
Vandalism problems in the Grove Park area shortly after Metrobus took over resulted in most routes being diverted away from this area during the evenings, the 284 for a while only operating between Lewisham and Catford, but later being restored as far as Verdant Lane (Shroffold Road), and then reverting to normal after work with the local council, community groups and the police.
Meanwhile, the vehicle type was progressively upgraded after Metrobus took over. Darts had been used on odd occasions by both Selkent and Kentish Bus, but were very rare owing to a width restriction in Ravensbourne Park. This had originally been set at 2.13m (7') but was widened to 2.3m (7'6") when the 284 was introduced along this road. Although Darts are narrow enough to pass through safely, the midibuses were slightly narrower and shorter and there was a reluctance to risk damage to the larger Darts.
However, Metrobus seemed less concerned about this and Dart workings became fairly common, as it was found that the Metroriders acquired from Kentish Bus had not been maintained properly and were very unreliable. This is slightly ironic as Metrobus was usually noted for its meticulous allocation of the correct vehicle types to the correct routes! Metrobus was keen to dispose of the acquired Metroriders altogether, and therefore took the opportunity to replace them with Darts when these became available. The company's flagship route, the 358, was to be converted from operation by a batch of ten 9.8m Dart/Plaxtons to an equal number of 10.7m low floor Optare Excels. Thus in a complicated cascading move Darts arrived on the 284 on a permanent basis in 1997. The 9.8m Darts moved to the 181, where they displaced 9m Darts with luggage pens that had been acquired from Kentish Bus to the 351/361, where they displaced 9m Darts without luggage pens to the 352/146, where they displaced 8.5m Darts to the 284! This is all a slight approximation as the totals didn't match exactly. In particular 9m Darts were used to top up the 284.
From 1998 Metrobus had been successful in winning route 233, and ordered 5 10.2m Dart SLFs for this route. However, a diversion of the route via Longlands Road caused much protest by residents, and to appease them it was agreed to use smaller buses instead. These smaller buses were to be the 8.5m standard Darts from the 284! The 10.2m SLF Darts were instead put on the 181, the displaced 9.8m Darts then moving onto the 284 to provide a welcome capacity increase. Fears that the length of these buses would prevent them safely negotiating the width barrier were allayed. Later a further 3 Dart SLFs were purchased in order to fully convert the 181 to low floor, and the 284 to 9.8m Dart. An eighth bus was eventually added to the schedule to improve reliability, although LTB had been very reluctant to agree the extra costs.
The 7-year contract expired in 2001 and the route was re-tendered and awarded back to Selkent, by then a Stagecoach subsidiary, operated from Catford as before. Although Metrobus did well on the 284, and certainly managed a huge improvement over the service Kentish Bus managed towards the end, the economics of running the route from the fringes of greater London at Green Street Green, necessitating vehicle and staff positioning runs of up to 40 minutes, were hard to justify, so the loss was hardly a surprise. By way of consolation Metrobus took over the 367 and 336, rather closer to home!
However, there was a problem. London Buses has got into the habit of awarding routes on a certain basis, and only afterwards worrying about whether any changes will be feasible. In the case of the 284, the award was, as is now standard, on the basis of new low floor single deckers. But there were no low floor single deckers on the market that can meet the 2.3m width restriction! Dart SLFs are 2.4m and most other types are 2.5m or 2.55m. The hope was that the width restriction would be altered, but this takes time and inevitably it was several months before the work was done. During this period the 284 was diverted via Rushey Green – which actually provided quite a useful link to Lewisham Hospital, and there were complaints when the standard routeing was restored!
During the diversion, the section via Ravensbourne Park and Ladywell was covered by a temporary route 584, using Mercedes Varios and, later and rather nostalgically, a couple of Optare StarRiders including the very first Catford minibus, SR1! The 584 was only half hourly, with no early morning or evening service. Three buses were used, with two in service at any given time.
Once the width restriction was removed operation settled down, although the intended new 10.2m ALX200 bodied Dennis Darts were as likely to be used on other routes as the 284, with various 8.8m and 9.4m vehicles, dual or single door, used instead. Back under Metrobus operation again since 2006, services have been pretty uneventful. In 2009 the peak hour frequency was improved to every 10-11 minutes, and the 2013 contract renewal saw this further improved to every 10 minutes.
Navigation
| | | |
| --- | --- | --- |
| | Previous | Next |
| Chronologically | 56 | 53 |
| Numerically | 281 | 285 |
See also routes 181, 138, 161, 358, 351, 352, 146, 233, 124, 126, 225, 367, 336

Photo Gallery | Bus route list | Operational details | Service changes | Operators & Garages