Home | Bus routes | Operational details | Service changes | Operators & Garages | Photo gallery
---
Route 367
29 May 2006
The 367 is one of those incredibly convoluted local routes that has an irritating tendancy to dive off down a side street, only to re-appear 15 or 20 minutes later on half a mile further along the road! It is now operated by Metrobus using a batch of buses that will be unique – they are Dart SLFs with East Lancs Myllennium bodies, itself quite an unusual combination, but the front and rear styling was modified at the behest of Metrobus to look like the new East Lancs Esteem design.
Photo © Lee Whitehead.
Illustrating front and rear angles we have Preston registered 263 (PN06 UYT) at Beckenham Church and 267 (PN06 UYX) at the set down point at West Croydon. The same buses are also allocated to route 138, and were obtained for new contracts which started in February, to replace older Plaxton bodied Darts.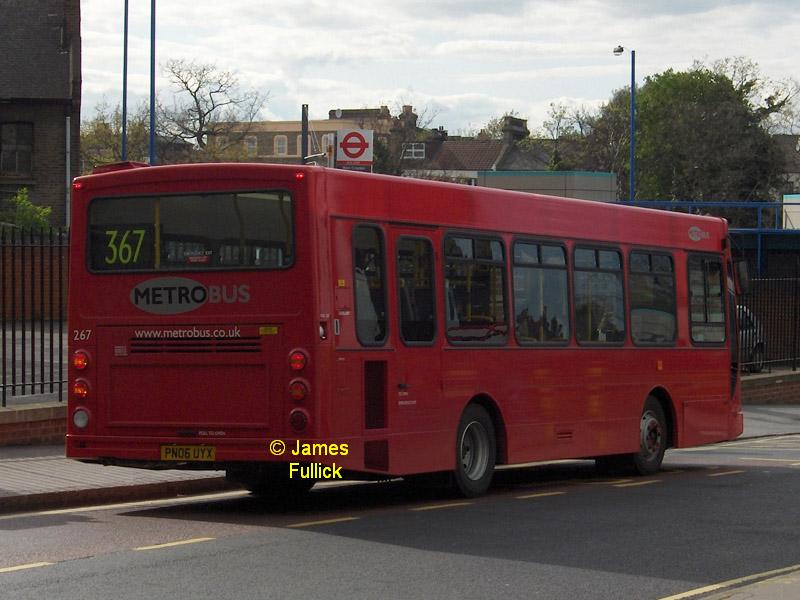 Photo © James Fullick.

The 367 has its origins in route 166, which ran from Chipstead Valley to Croydon and then on via Addiscombe Road, Shirley Way, West Wickham, Eden Park and Village Way (full length) to Beckenham Junction. The Sunday service was numbered 166A, running to Thornton Heath Garage via Mayday Hospital, and the Saturday service only ran as far as Shirley (Monks Orchard Road), although Shirley Way did have a Sunday service which was provided by the Sunday only 194A variant of route 194.

On 6 January 1990 the 166 was cut back to Shirley (Monks Orchard Road) and diverted to operate direct via Wickham Road instead of Shirley Way. The service on the withdrawn sections was retained by new route 366, which started from West Croydon but was otherwise identical to the old 166. The Saturday service did however run through to Beckenham, although there was still no late evening or Sunday service between Shirley and Beckenham. At the same time new route 367 was introduced, following the 366 from West Croydon to Wickham Road, then via Orchard Avenue, The Glade, Elmers End and Croydon Road to Beckenham Junction. Note that like the 166 both routes approached Beckenham Junction via the length of Rectory Road, rather than serving the High Street.

The 366 was initially double deck using Olympians from South Croydon garage. The 367 was operated by Metroriders from Streatham from the outset, and to prevent the small buses becoming overloaded along the busy corridor between Croydon and Shirley there was a pick-up only restriction over this section in this direction during the evening peak hours. The 366 later followed suit (with the allocation transferring to Norwood garage when Streatham closed), although one running remained double deck worked to meet the heaviest schools loadings, using DMSs from South Croydon, and in the last few months ex-London Forest Titans.

In March 1992 the 366 was withdrawn, the 166 being restored to operate via Shirley Way and the 367 diverted between Elmers End and Beckenham via Eden Park Avenue (west arm) and Village Way, leaving the southern arm of Eden Park Avenue unserved. There was still no evening or Sunday service.

In March 1994, as part of service re-structuring in the Bromley area, the 367 replaced route 396 between Beckenham Junction and Bromley North, running via residential parts of Shortlands. An evening service was added, and the resultant Croydon to Bromley route was tendered and awarded to London & Country from their Beddington Farm garage using new Plaxton Beaver bodied Mercedes 811Ds. The Beddington operation became part of LondonLinks in January 1995. The 811Ds were later replaced by 9m standard floor Dennis Darts.

Staff shortages at Beddington Farm garage prompted the route being sub-contracted to Blue Triangle for a time around the turn of 1999/2000, using Darts loaned from Arriva plus the occasional Lynx (proving that larger buses can get round the route!). In due time the route was placed out to tender and this time awarded to Metrobus using Mini Pointer Darts from February 2000. A Sunday service was added in 2001.

Meanwhile a re-structuring of local services when Tramlink opened in the Spring of 2000 saw a new route 494 introduced, nominally to replace the service previously provided by route 54 along Shirley Road, but also providing a service for the first time via the Shirley Oaks area and providing a new link between Addiscombe and Shirley. However, the route never caught on and loadings of about 2 or 3 were the norm outside of peak hours. This left TfL with a bit of a dilemma, as it was expensive to run but provided some unique links that would be difficult to take away. So when the contract expired on 11 June 2005 the solution adopted was to divert the 367 via the 494 route between Shirley and East Croydon. This was done without adding any buses to the 367 schedule, even though journey times were extended by about 10 minutes in each direction. This must also have damaged through travel between The Glade and Croydon due to the extended journey times, but it is difficult to think of any good alternatives.

Navigation

See also routes 138, 166

Photo Gallery | Bus route list | Operational details | Service changes | Operators & Garages