Home | Bus routes | Operational details | Service changes | Operators & Garages | Photo gallery
---
Route 368
27 January 2012
The 368 is one of the routes created in the 20 March 1993 Barking scheme, fusing parts of routes B2 and B3. Those routes had themselves only been created on 14 September 1991 in a short-lived attempt to provide buses in Barking with a local identity, replacing the eastern ends of routes 162 and 238 respectively. (The rest of the 162 was dealt with in the Newham scheme later in 1993, but the 238 survives).
Previously, buses from Barking on route 162/B2 had approached Mayesbrook Park from the north, and running the 368 via Ripple Road to Lodge Lane allowed it to continue along Becontree Avenue replacing the B3, and thence to a new terminal point at Chadwell Heath (the B3 ran to Becontree Heath and Marks Gate). New DW class Dennis Darts replaced the Barking Titans that had been used on the B routes, at a higher frequency.
Re-tendering saw the route, surprisingly, pass to Blue Triangle from 24 March 2001, with new Ceatano Nimbus bodied Darts. At that point the route was extended in Barking to Harts Lane, a new residential development just north of the town centre. Further re-tendering saw the route pass to another small local independent, Docklands Buses, on 25 March 2006; that company previously only operated two TfL routes, the 167 and 549, the latter using just one bus! Docklands Buses used new MCV EVolution bodied Darts. I had not heard of MCV before, but it seems they took over the remains of Marshalls of Cambridge (Ely).
The loss of the 368 by Blue Triangle must have been a blow; at that time the company did not seem to have been having much success with TfL tendering. However, in a twist of fate both Blue Triangle and Docklands Buses had passed to Go-Ahead ownership within 18 months of the 368 changing hands. It was found to be more ecomical to trade Docklands's 368 with Blue Triangle's 474; the 368 is a smaller route, but Blue Triangle also took up route 364 from the same date the swap occurred, 3 November 2007.
That did not, however, stop Blue Triangle losing the route a second time, this time to First London, which took over from 26 March 2011 – though the company quickly more than made up for the loss, Go-Ahead now being a major player in East London with nearly 200 buses. Anyhow, First employ Enviro200Darts on the route, and on Tuesday 27 September 2011 DML44177 (YX11 AFZ) approaches the site of the Thatched House (now closed) on Ripple Road, a well known timing point and former bus terminus. In the background is the Ripple Road Junction, site of the last remaining modular flyover on the A13 – and also some of East London's "lego brick" tower blocks.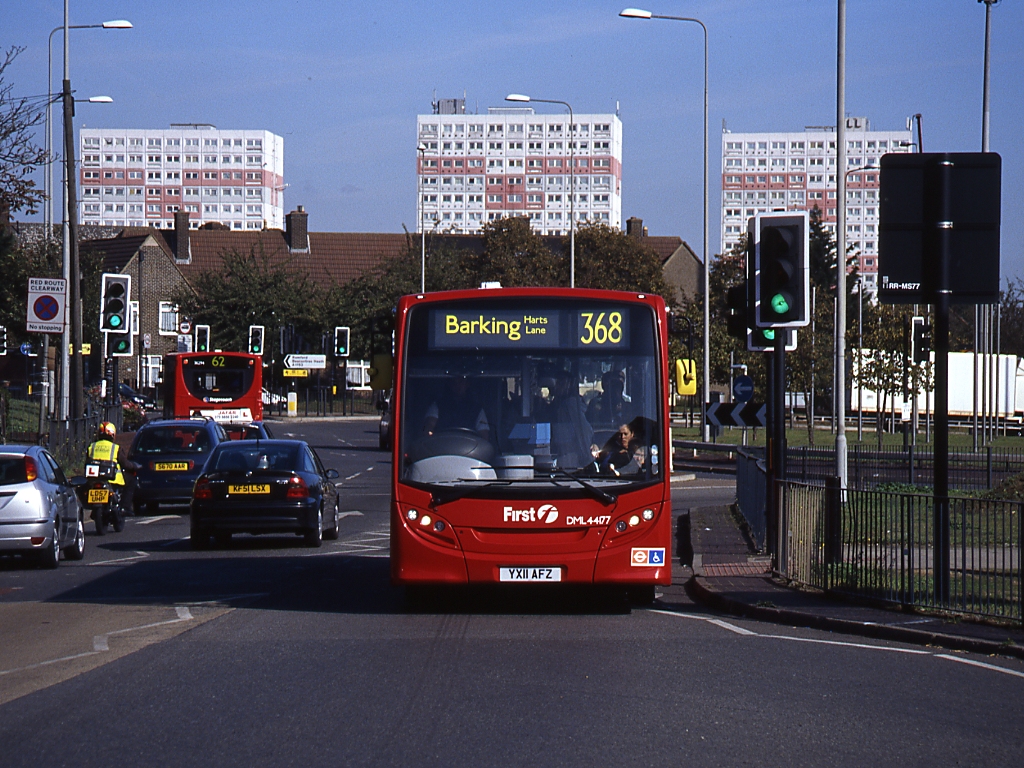 Photo © Stephen Williams.
Navigation
| | | |
| --- | --- | --- |
| | Previous | Next |
| Chronologically | P5 | 12 |
| Numerically | 367 | 370 |
See also routes 474, 364, 167, 549, 238

Photo Gallery | Bus route list | Operational details | Service changes | Operators & Garages