Home | Bus routes | Operational details | Service changes | Operators & Garages | Photo gallery
---
Route 167
2 April 2013
The 167 is a rare survivor of the once extensive network of Central Buses routes penetrating out into the country. Really, whether routes were Central Buses or Country Buses depended on what garage they were run from, and Central Buses happened to have a depot in Loughton, so it operated nearly everything that went through Loughton.
Little has changed since the route's introduction just after the last war, the most significant change being a diversion between Buckhurst Hill and Loughton via Loughton Way instead of Palmerston Road and Epping High Road, replacing route 250, in the September 1982 cut-backs. It was simultaneously extended from Debden Station via Oakwood Hill back to Loughton replacing the 255, producing a rather strange loop arrangement! In the process, the route passed (twice) under the low bridge at Loughton station, forcing a conversion to single deck (initially LS class).
From 24 May 1986, the route, together with the 20, was lost to Eastern National, resulting in the closure of Loughton garage. In 1988, the section from Debden to Loughton via Oakwood Hill was replaced by a new local route 215 (operated for Essex Council, no doubt at lower cost) but the 167 was diverted via the Debden Estate, almost paralleling the 20. Coincidentally, the 167 had originally terminated at Debden Estate (not reaching Debden at all), but this had been replaced by the 20.
Eastern National's southern operations became Thamesway in 1990, but lost the 167 to Grey Green in 1992, which bought brand new Ikarus bodied DAF SB220 single deckers – an unusual type. Contract renewal in 1997 resulted in new low floor Darts and an increase from two to 3 buses per hour during the day on Mondays to Saturdays. Although the contract remained with Grey-Green, GG was soon to be absorbed into the Arriva London empire, resulting in the return of red buses.
A further contract renewal in 2002 generated quite a surprise. The tender result announcement was delayed, and this turned out to be because the route had been awarded to a company new to London Buses operations, Docklands Minibuses. Thankfully, decent sized buses are still used, and the buses carried Docklands Buses names – though still quite inappropriate for a route through Essex and Redbridge, but there we are! Again, the frequency was improved, this time to every 15 minutes, although thanks to TfL over-spend was reduced back to every 20 minutes on 26 February 2005, with additional school journeys introduced on 3 January 2006.
Upon re-tendering in 2006-07 the route was successfully retained by the company, which has recently been acquired by the Go-Ahead group. The original Caetano Nimbus bodied Darts have been replaced by new MCV Evolution bodied Enviro200Darts. However, no sooner had I updated the page to show these than the route transferred within the Go-Ahead group to Blue Triangle based at Rainham! The buses were duly repainted into all red with generic Go-Ahead London logos. Again I have had several very good contributions for this route and it was hard to choose.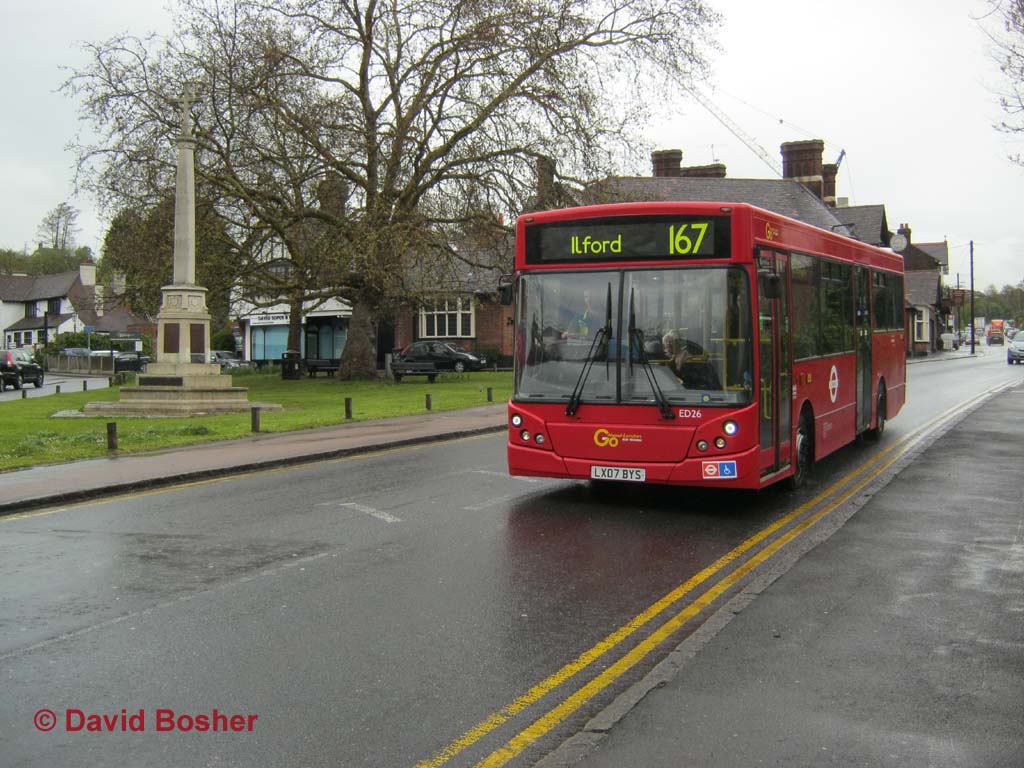 Photo © David Bosher.
The first photograph shows ED26 (LX07 BYS) on Church Hill on 27 April 2012, in an attractive spot passing Loughton War Memorial. Further down the route, ED19 (LX07 BYK) is seen amid a forest of quirky lampposts at the recently "regenerated" Gants Hill on 26 August 2012. The photographer imagined the tops of the posts joining up to form a triumphal arch!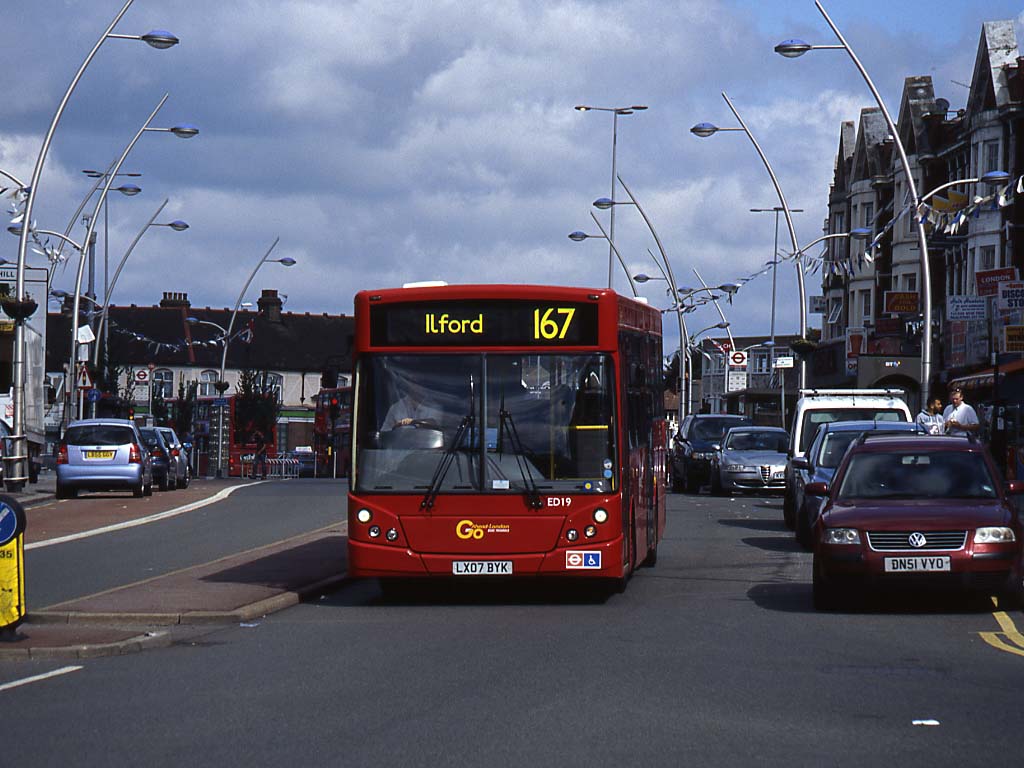 Photo © Stephen Williams.
The transfer to Blue Triangle means that other buses based at Rainham garage, in the shape of Enviro200Darts, can be put out on the 167, and indeed this is commonplace. Firstly we have the shorter 10.2m version in the shape of SE43 (LX10 AUY), meant for route 300. These buses managed to scrape in with the old livery with dark skirt and yellow pinstripe. The 300 has a restriction to shorter buses, but the EDs should be okay on it as they are also this length. The bus was photographed in Cranbrook Road south of Gants Hill on 28 March 2012.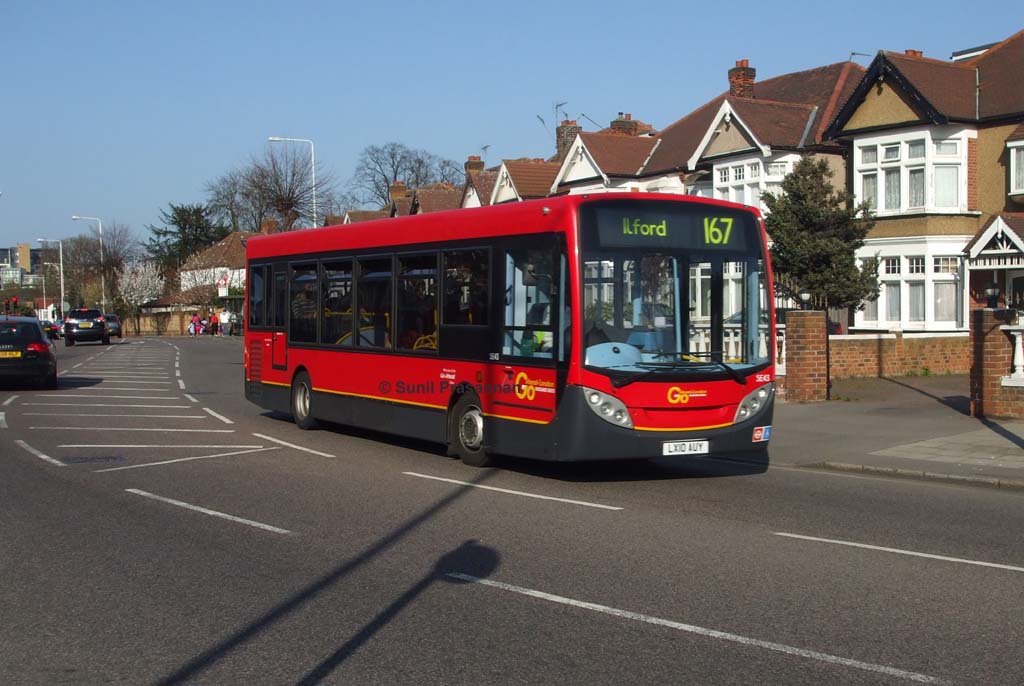 Photo © Sunil Prasannan.
The other E200Dart routes at Rainham (347, 362, 364 and 376) are all specified for the stretched (10.8m) version, which is represented by SE18 (SK07 DZM) in Fencepiece Road north of Barkingside on 27 March 2012, still carrying original style Blue Triangle fleet names.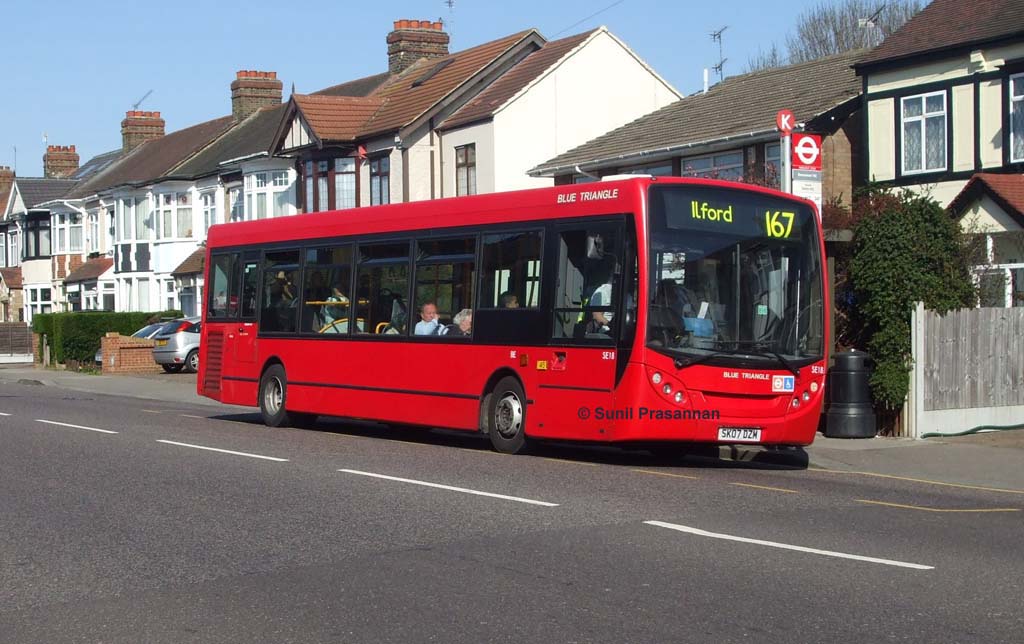 Photo © Sunil Prasannan.

Navigation

See also routes 20, 300, 347, 362, 364, 376

Photo Gallery | Bus route list | Operational details | Service changes | Operators & Garages