Home | Bus routes | Operational details | Service changes | Operators & Garages | Photo gallery
---
Route 168
14 October 2008
It is a surprising fact that Haverstock Hill did not have a bus service along its full length until the 1980s – the section north of England's Lane was served by the C11 and its predecessors, but the section south of there to Chalk Farm Station was completely busless until 25 October 1986 (apart from introduction of night route N93 running in one direction only from 1983, plus part of the terminal working of the 68 at Chalk Farm). On that date, route 168 started, replacing the northern end of route 68 between Euston and Chalk Farm, with a useful extension to Hampstead Heath via Haverstock Hill. Previous routes to Hampstead Heath, including the famous 24, operated via Malden Road.
The initial southern terminus was Waterloo, providing a decent overlap with the 68. There was no Sunday service, when the 68 continued to serve Chalk Farm. Chalk Farm (CF) garage operated the 168, in lieu of its allocation on the 68, using Leyland Titans, followed by a brief period of single deck operation using Leyland Nationals from March 1989. But the route was lost on tendering to Grey Green, which commenced operations on 22 September 1990 using new Volvo Citybuses. A Sunday service was introduced in 1994, and received the first of two southern extensions in 1995, now operating as far as Elephant & Castle. Grey Green became part of Arriva and the Stamford Hill base eventually closed, buses transferring to an enlarged Tottenham garage on 25 March 2000, from where the route continues to operate.
The 168 was an early recipient of low floor double deckers, initially of the DLA class of DAFs. However, the bulk of the allocation is now Wright Eclipse Gemini bodied Volvo B7TLs, and here we have VLW119 (LF52 UOS) crossing from Euston Square onto Eversholt Street at Euston on Friday 26 September 2008, mysteriously fitted with a non-DDA compliant upper case ultimate destination blind – though as the via points, which count as a destination, are in lower case, it is arguably legal.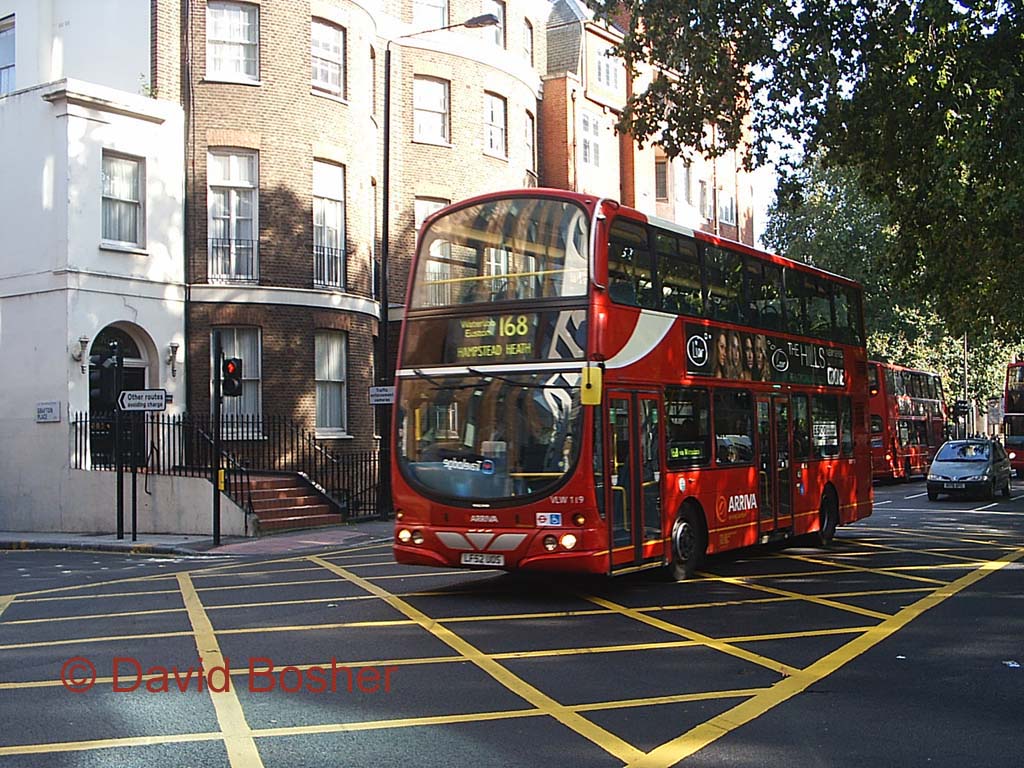 Photo © David Bosher.

One further service change remains to record, which is the second southwards extension, which occurred on 15 January 2005. This took the route in a different direction compared with its former link with the 68, via New Kent Road and Bricklayer's Arms to Old Kent Road (Tesco). This was ostensibly in response to complaints from passengers from the top end of Old Kent Road who complained they were unable to board buses in the morning peak – though, perversely, two of the main routes along Old Kent Road, the 53 and 453, were reduced in frequency at the same time! This was part of a scheme to free some artics for route 25, which needed a frequency increase, as the much-vaunted artics had failed to cure the route's long-established capacity problems.

The extension does provide some useful links however, and no doubt provides valuable support to the 172, the only other route from Old Kent Road to operate via Waterloo and Aldwych. What with a further increase in frequency on 17 May 2008, the route's peak vehicle requirement has increased to an impressive extent, from 8 in CF and Grey Green days, to 20 now!

Navigation

See also routes 24, 68, 53, 453, 25

Photo Gallery | Bus route list | Operational details | Service changes | Operators & Garages