Home | Bus routes | Operational details | Service changes | Operators & Garages | Photo gallery
---
Route 50
14 October 2008
In the previous version of this page I noted that the 50, then running between Croydon and Streatham, had once run further north to Stockwell, and commented that such an alignment could be useful today. Now, just that has come about! We will come back to the history further on, but here are examples of the present rolling stock on the route. The scheduled type is the VDL DB250LF/Wright Pulsar Gemini combination, of which DW35 (LJ53 NJF), from the first batch, passes along Wellesley Road, near West Croydon bus station, on 9 October 2008, at least one passenger making the most of the Indian summer!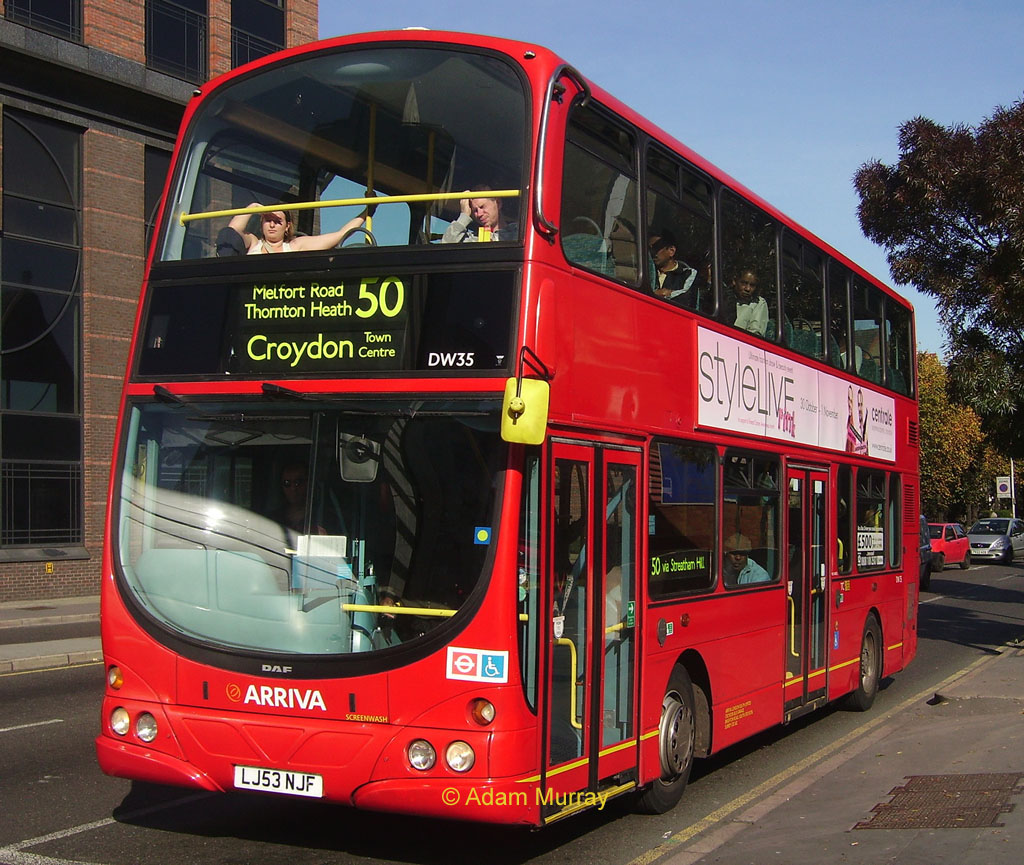 Photo © Adam Murray.
Further along Wellesley Road, nearer East Croydon station, heading the other way, is DLA178 (W378 VGJ), one of the earlier DB250LFs bodied by Alexander, on 13 November 2005, displaying what was then the northern terminus of the route, Streatham Hill Station. Contrast the cramped via blind display, hard to read even at this proximity, with the much larger, albeit less informative, information on the DW above.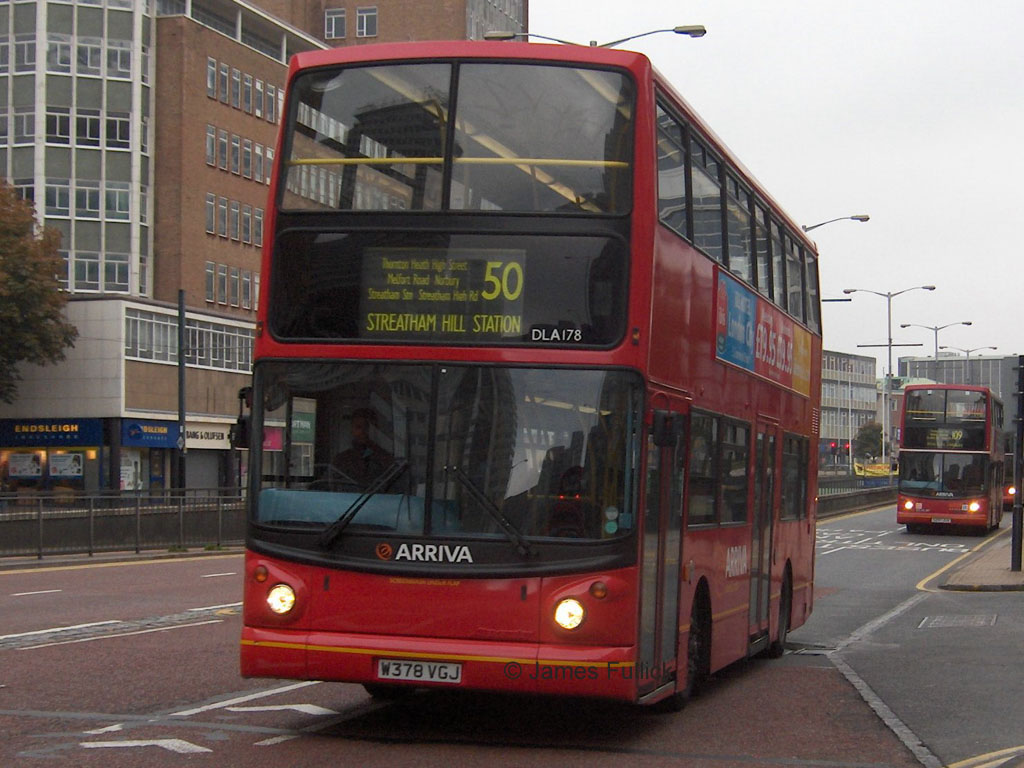 Photo © James Fullick.
The 50 has had quite a complex history, and here is a summary.
January 1951: Commenced as Embankment Horse Guards Avenue – Streatham Hill Telford Avenue via Westminster Bridge and Stockwell, as replacement for the eastern side of circular tram routes 22/24, operating Monday to Saturday rush hours only.
October 1957: Extended to Addiscombe Black Horse via Streatham and London Road, and introduced off-peak between Stockwell and Addiscombe, replacing route 59A. The Saturday service was withdrawn, the 59A continuing to operate to Addiscombe on this day, otherwise being curtailed to Streatham garage. The 50 was also diverted via Lambeth Bridge, a peak-hour only 50A maintaining the route via Westminster Bridge.
November 1958: Saturday service re-introduced.
January 1964: Diverted to Victoria.
December 1966: Withdrawn Victoria - Stockwell off-peak and Saturdays.
June 1968: Withdrawn Streatham – Addiscombe on Mondays to Fridays, the Thornton Heath – Addiscombe section being covered by new route 289.
October 1970: Saturday service withdrawn again; route 289 introduced Saturdays.
July 1971: Major re-structuring, making it much more recognisable today. This was part of a complicated re-shuffle of routes to complement the extension of the Victoria Line to Brixton. Withdrawn north of Stockwell but extended from Streatham via former 133 route via Norbury and Melfort Road to Thornton Heath, and on to Croydon Katharine Street. Full Saturday and Sunday service introduced, except that the Sunday service terminated at Thornton Heath. Also converted to one-man operation using DMSs.
September 1982: The 50 was one of many routes to lose its Sunday service at this time.
February 1987: Allocation moved from Brixton (BN) to Streatham (AK) garage upon re-opening after refurbishment. The route had been allocated there before, briefly, during the 1960s.
May 1988: Withdrawn between Stockwell and Streatham Garage, but extended from Croydon to Old Coulsdon replacing route 190, which was withdrawn on Mondays to Saturdays. Part of the allocation was transferred to South Croydon (TC), using L class Leyland Olympians. These were joined by ex-London Forest Titans from November 1991. So at this point there was zero overlap with the original route from Westminster to Streatham Hill, but with a direct line of descent.
July 1990: Extended in Streatham to St. Leonard's church. Main allocation transferred to Thornton Heath (TH) garage (not on the line of route!). Sunday service introduced, allowing the 190 to go completely.
June 1991: Withdrawn again between Streatham Garage and St. Leonard's Church.
October 1993: Allocation transferred back to TC again.
August 1998: Withdrawn between Old Coulsdon and South Croydon Swan & Sugar Loaf
August 2003: Withdrawn between Swan & Sugar Loaf and Croydon High Street, but extended at Streatham to a more useful destination at Streatham Hill station.
August 2008: Extended to Stockwell, but not via the original route – this extension replaced route 255 via Clapham South, providing a needed boost in capacity over this section. Ironically, the single deck 255 was created as a localisation of the northern end of the 60!
The 1998 changes were said to be 'to improve reliability' by shortening the route, though this has to be nonsense as the section was replaced by a southwards extension of the 60, which shared the Streatham Common terminal of the 50 and was thus just as long. As I understand it, the real reason for those changes was actually to extend the 60, in order to provide a direct link from Coulsdon and Purley to the Mayday Hospital in Thornton Heath, the main hospital in the area, which the 50 does not serve – finally answering complaints that had been pouring in ever since the 190 was withdrawn 10 years previously.

The terminus of Streatham Common introduced in 1988 also seems a bit of an odd place to terminate buses from the south, just short of the major destinations that can be found in Streatham proper – but the residents living off Melfort Road, for whom the 50 is their local bus, had to wait 15 years to have this link fully restored.

Navigation

See also routes 60, 133, 289, 255

Photo Gallery | Bus route list | Operational details | Service changes | Operators & Garages