Home | Bus routes | Operational details | Service changes | Operators & Garages | Photo gallery
---
Route 133
29 July 2011
Recent London bus history has been marked by the re-award of several major routes to different operators. In the early days of tendering this was a rare event, as "away" operators would rarely have the resources to take on a major operation in one go. However, with the consolidation of companies into mostly a few big groups, coupled with an easier recruitment position and TfL driving tender prices right down, it is becoming more common for routes to change operator based on comparatively marginal differences in tender price. That has seen more big routes change hands, and one such is the 133, which passed from London General to Arriva on 23 January 2010.
A batch of new Trident/Enviro400s was ordered, and a selection of three photographs is provided on this page. The first shows T109 (LJ59 LYH) passing the unusually deserted centre of Brixton on Saturday 13 February 2010 on a southbound trip.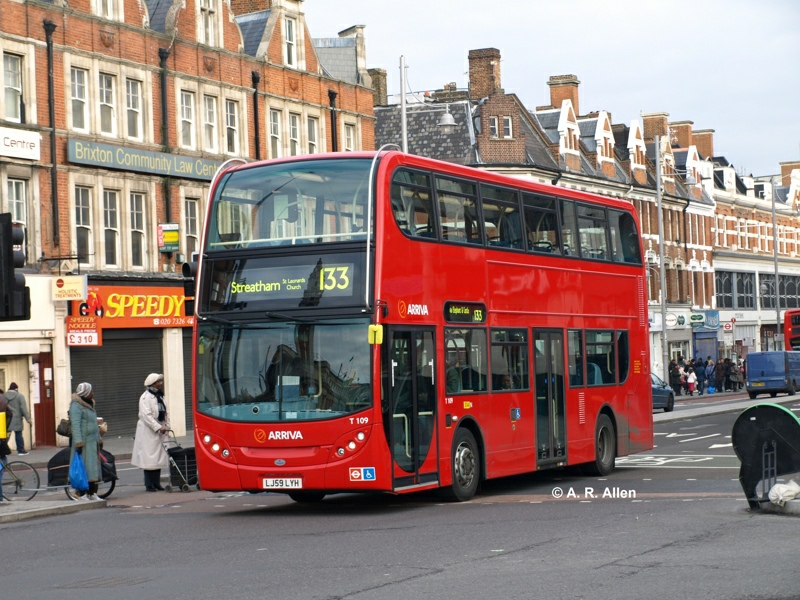 Photo © Andy Allen.
Another picture shows T110 (LJ59 LYK) waiting time at Newington Causeway, Elephant & Castle, on Wednesday 16 June 2010.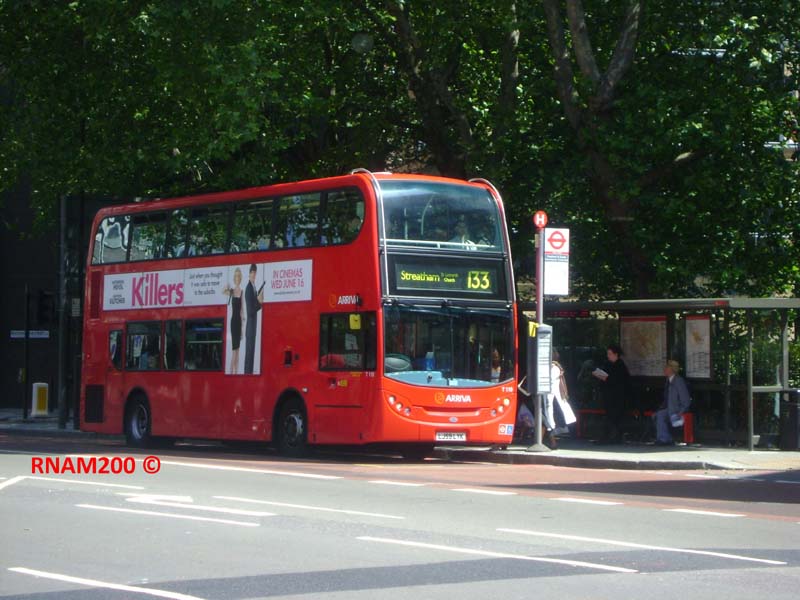 Photo © RNAM200 (Robert Mighton).
Finally T91 (LJ59 LZM) was on the north side of London Bridge on Saturday 6 February 2010. A driver on the route has stated that the route is always heaving at weekends (which would be rather abnormal for a route whose main traffic destination is the City) but these picture suggest otherwise!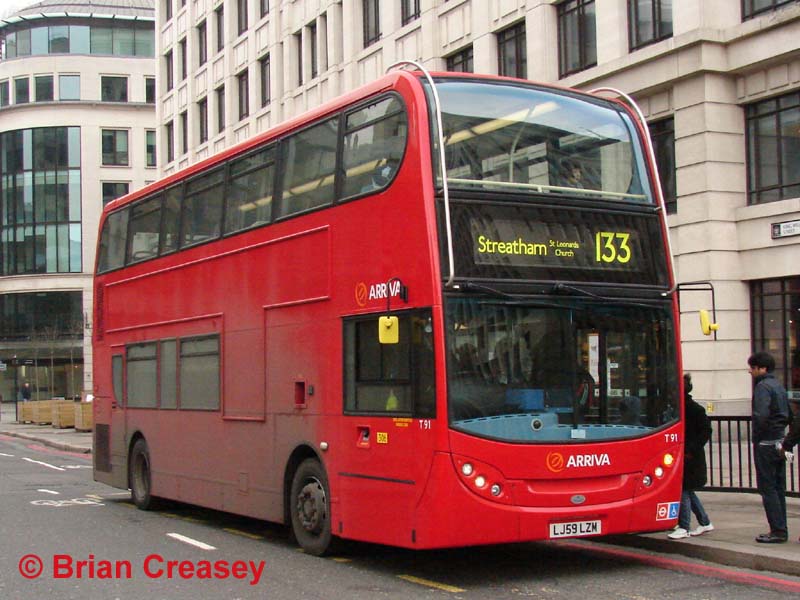 Photo © Brian Creasey.

The route is now based at Arriva London's Norwood garage, which previously had a bit of a hole in it following loss of the 68 and X68 to London Central in 2006. London General latterly ran the route from Mandela Way garage, but it had been based at Stockwell since 1990 when London General won the route on tender with new Volvo Citybuses. The trunk of the route between Bank and Streatham has run for many years, though at times ran further south to Thornton Heath (now the 50), and South Croydon before that, or Tooting (replaced by the 333). The northern terminus was Finsbury Circus for many years, but extended to Liverpool Street Bus Station in 1992, but from 14 February 2011 had to be diverted via Old Broad Street owing to Crossrail construction works and therefore no longer serves the Moorgate area.

Navigation

See also routes 68, X68

Photo Gallery | Bus route list | Operational details | Service changes | Operators & Garages