Home | Bus routes | Operational details | Service changes | Operators & Garages | Photo gallery
---
Route 135
5 July 2008
Slowly but surely, the last few gaps below 300 in the route number system are being filled in as Transport for London thinks up more new routes to use the numbers. The latest creation is the 135, which links the Isle of Dogs with Old Street in London. The 135 number was vacated in the autumn of 2000; the previous route with that number ran between Archway and Oxford Circus, and was replaced by increases on the 134 and an extension of the 88.
The new version is a partial re-creation of one of the former D-series routes, albeit after a gap of 17 years! The short-lived route D3 operated between Docklands and Old Street by much the same route, although it differed within the Isle of Dogs, and continued further east to East Ham. The direct link provided by the 135 between Liverpool Street and Canary Wharf will no doubt be useful to some; both are important commuter destinations, but the rail-based route between the two is a little awkward. Old Street is also the location of the Moorfields Eye Hospital, so the route provides links there from the East End.
The route was awarded to Arriva, which operates it from the former Grey Green Barking garage – some way off route, although this route does not pass particularly near any other garages. New Enviro400s are used, from a large speculative order placed by Arriva last year. Most unusually they have a form of route branding to help promote the service, although this has been fitted to the standard advert frames and is therefore likely to be temporary. The "U-bend" the route does in the Isle of Dogs rather neatly coincides with the "T" part of the advert frame! The vehicles show the latest form of Arriva London livery, which has lost the "cow horns" stone-coloured feature, and is thus all red apart from a yellow band above the skirt area. The blind displays are plain, but neat and clear.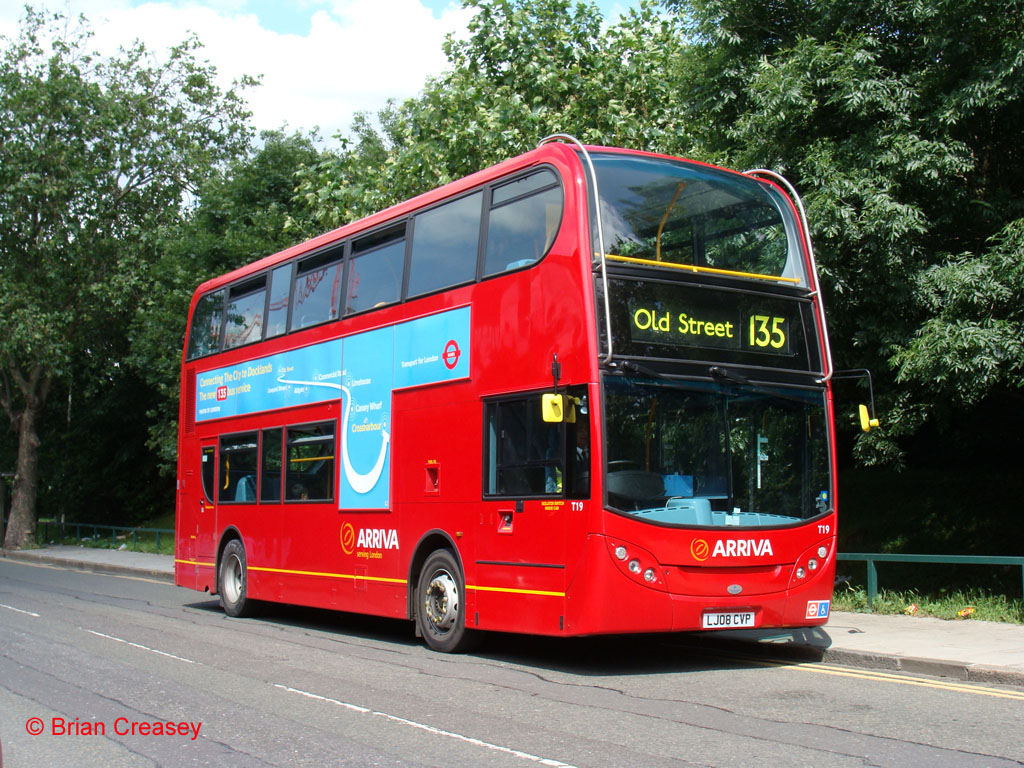 Photo © Brian Creasey.
Three photos have been provided (and several more were offered!) by a variety of photographers who were out and about in the first few weeks. T19 (LJ08 CVP) was captured on 4 June, just ready for the off at Crossharbour.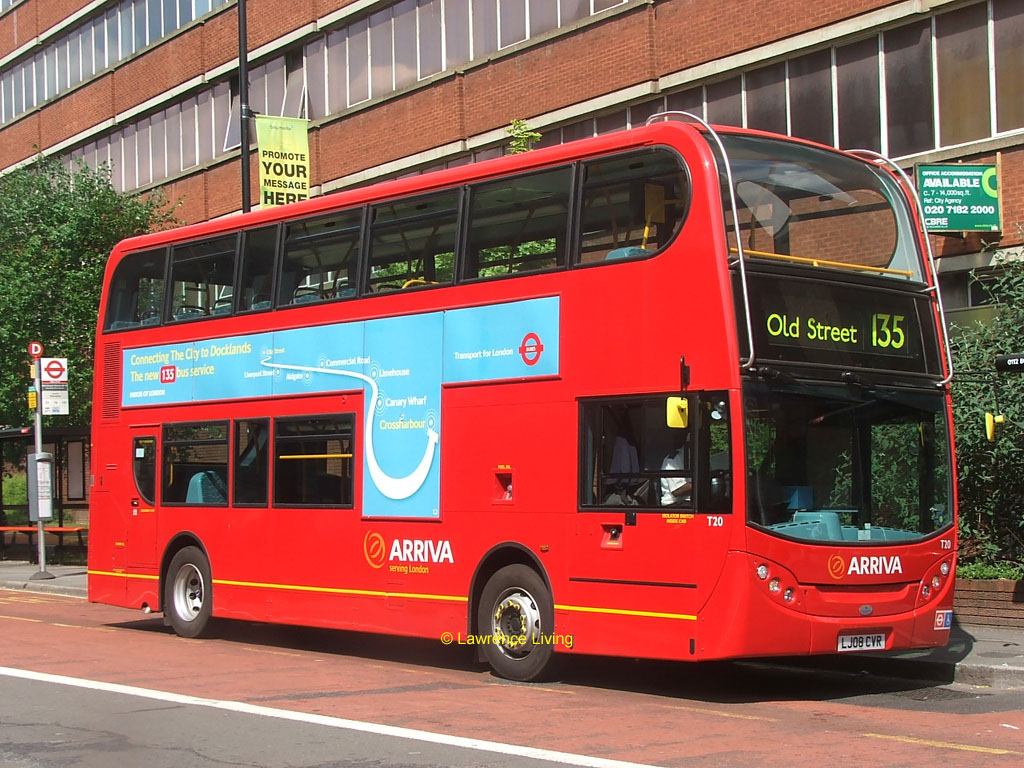 Photo © Lawrence Living.
The other two photos were both taken on the first day, Saturday 24th May 2008, and depict T20 (LJ08 CVR) at Old Street, and T15 (LJ08 CVL) at Crossharbour ASDA, respectively. The latter location is a temporary stand just outside the bus station, which is currently being enlarged to accommodate the new route.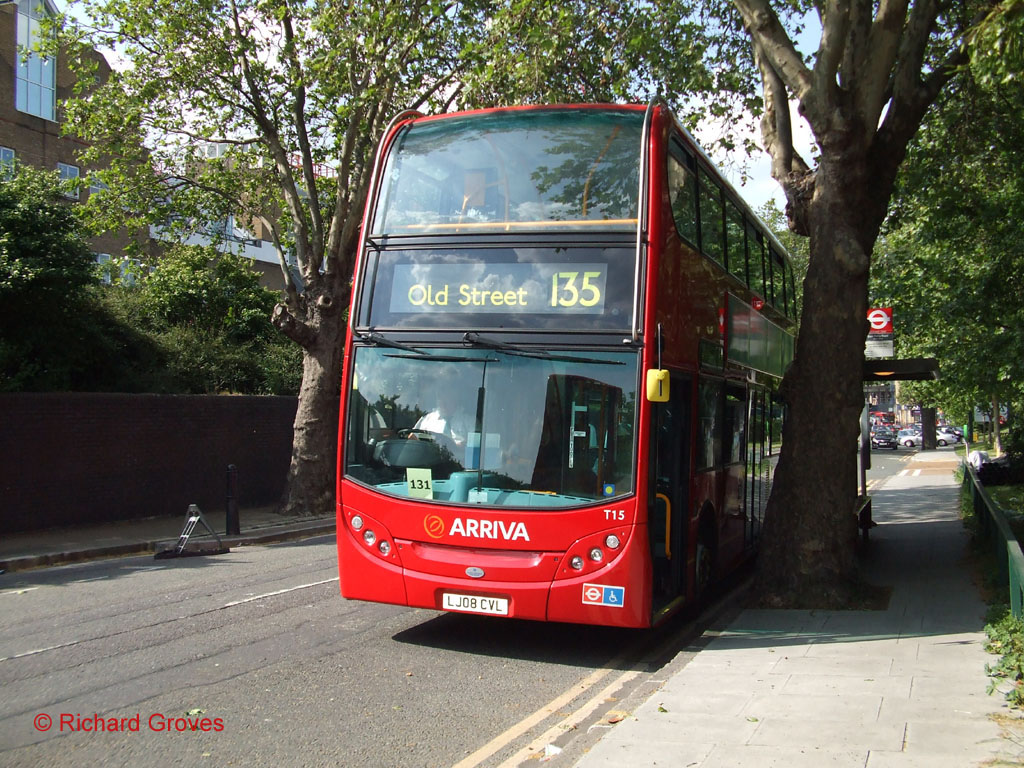 Photo © Richard Groves.

In addition to various new links provided by the route, part of the reason was to provide increased capacity within the Isle of Dogs itself. Route D7 had previously had additional journeys between Island Gardens and Canary Wharf during peak hours, as this section has been massively re-developed in recent years leading to increased demand. The introduction of the 135 has allowed these extra journeys to be withdrawn.

Navigation

See also routes 134, 88, D3, D7

Photo Gallery | Bus route list | Operational details | Service changes | Operators & Garages