Home | Bus routes | Operational details | Service changes | Operators & Garages | Photo gallery
---
Route 129
6 July 2011
It's unusual these days to get a completely new route starting, much less one that doesn't serve any new bus territory. The 129 however does just that, running just from Greenwich to North Greenwich. This partly duplicates route 188 which already links these points (and, it might be added, is very lightly used), but the 129 differs in operating via the Millennium Village. All other routes serving the Millennium Village head off in an easterly direction, towards Woolwich, so the 129 provides a connection into Greenwich town centre. Nevertheless it does seem rather extravagent, particularly when route 228 proposed for the same area, which would have provided all sorts of useful new links, had been abandoned.
The route is reasonably frequent at every 12 minutes Monday to Saturday daytimes, 20 evenings and Sundays, but still only needs 4 buses. At first all stand time was taken at the North Greenwich end, though stand space was subsequently released in Greenwich town centre. The contract for the new route was awarded to Travel London, starting 3 June 2006, and was operated from the reopened Walworth garage. One of the reasons the 228 failed is that it would have been a long way from any garages, pushing costs up, but the 129 is no different! After a start with standard Dart/Pointers, the route gained new Wright Electrocity hybrid vehicles, although their appearances on the route became quite sporadic owing to reliability issues. It has to be said that, as the 129 seems rather superfluous, withdrawing it completely would reduce pollution more than using any hybrid!
There was an intention to extend the route, which would have made it a bit more substantial. This would take in the Convoys Wharf redevelopment and some currently unserved roads in the South Bermondsey area. However there has been little progress on the Convoys Wharf development, so it seems unlikely that the extension will take place.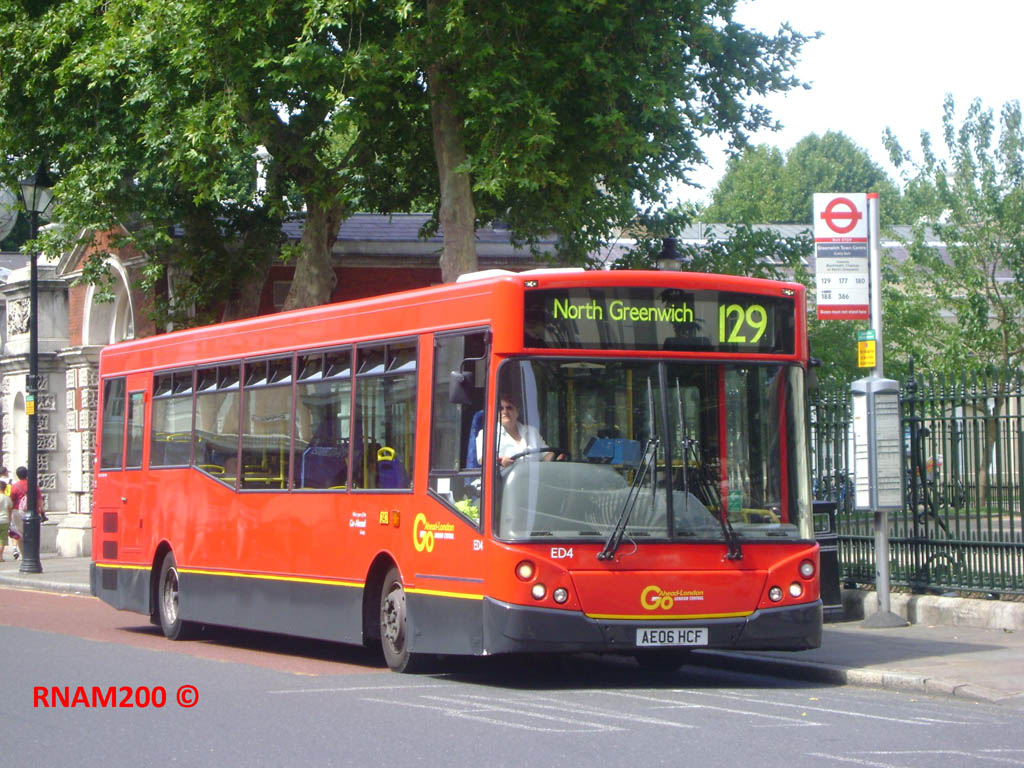 Photo © RNAM200 (Robert Mighton).

Meanwhile the original contract has expired, and the 129 passed on re-tendering from 4 June 2011 to London Central, which runs it from New Cross garage using Dart SLFs made spare with the loss of the 368 by Blue Triangle earlier in the year. They are MCV Evolution bodied 10.8m vehicles and have been refurbished and painted into Go-Ahead London livery with charcoal skirt – which has now been outlawed by TfL, so enjoy it while you can! ED4 (AE06 HCF) is seen in King William Walk, Greenwich, on 28 June 2011, about to commence the 18 minute journey to North Greenwich. At under 3 miles, this is certainly one of London's shortest routes.

Navigation

See also routes 188, 368

Photo Gallery | Bus route list | Operational details | Service changes | Operators & Garages