Home | Bus routes | Operational details | Service changes | Operators & Garages | Photo gallery
---
Route 172
29 July 2011
Routes 141 and 171 had for many years plied across central London from North to South via not dissimilar routes, meeting in several places. Both have now been split in two in the central area however, with the new sections numbered to reflect their similarities. The north end of the 171 is now the 341 (in part parallelling the north end of the 141) while the south end of the 141 is now the 172 (partly following the remainder of the 171).
In the case of the 141/172, however, subsequent changes mean that the routes no longer meet. The 141 had run daily from Wood Green to Moorgate, continuing thence on Mondays to Saturdays to Catford via London Wall, Blackfrairs, Old Kent Road and Brockley Rise and further on Mondays to Fridays to Grove Park via the 36B. However, buses only ran through on Saturdays, this allegedly being to provide links from South London to the large shopping centre at Wood Green, though it is doubtful whether many people actually used this facility.
Then, on 1 February 1992, the route was cut in half at Moorgate, with the southern leg renumbered 172. There was really little change on Mondays to Fridays, with the 172 running from Grove Park to Moorgate as before, but terminating a short distance away at Liverpool Street station rather than continuing a little further to Newington Green. There was no change on Sundays either, when the 172 simply did not run and, as before, the 141 ran to Liverpool Street Station (since cut back to Moorgate and then extended to London Bridge). But on Saturdays, the 141 became self-contained, and to meet the needs of Saturday shoppers the 172 ran to Bromley instead of Wood Green (albeit after a six-week gap), with no service north of Elephant & Castle.
Although mainly operated from New Cross garage with Leyland Titans, Catford garage also had a small allocation from March 1992 until March 1994, when the route was cut back to Brockley Rise with the 171 running to Catford instead. The Saturday service was withdrawn at this time, the route now being primarily a commuter route from the Brockley, New Cross and Old Kent Road areas to the City.
This seemed to have been forgotten by September 1999 however, when the route was diverted via Waterloo and Aldwych instead of taking the quicker route into the City via Blackfriars, and was also cut back from Moorgate and Liverpool Street to terminate at St. Paul's station, with route 100 taking over along London Wall. Plans to introduce a weekend service at the same time did not come to fruition until March 2000; a year later the Titans were finally replaced by modern Volvo B7TL double deckers with Plaxton President bodywork.
Routine tendering saw the route pass to Abellio London from 19 March 2011, surprisingly with "existing" double deckers even though the company did not have any suitable vehicles available. The buses turned out to be former Armchair and Metroline Dennis Tridents that had been returned to dealers after being displaced from route 237. They have been fully refurbished and painted into all-over red with Abellio logos, and 9841 (KN52NEU), former Armchair DT20, passes through New Cross on the first day of operation by Abellio.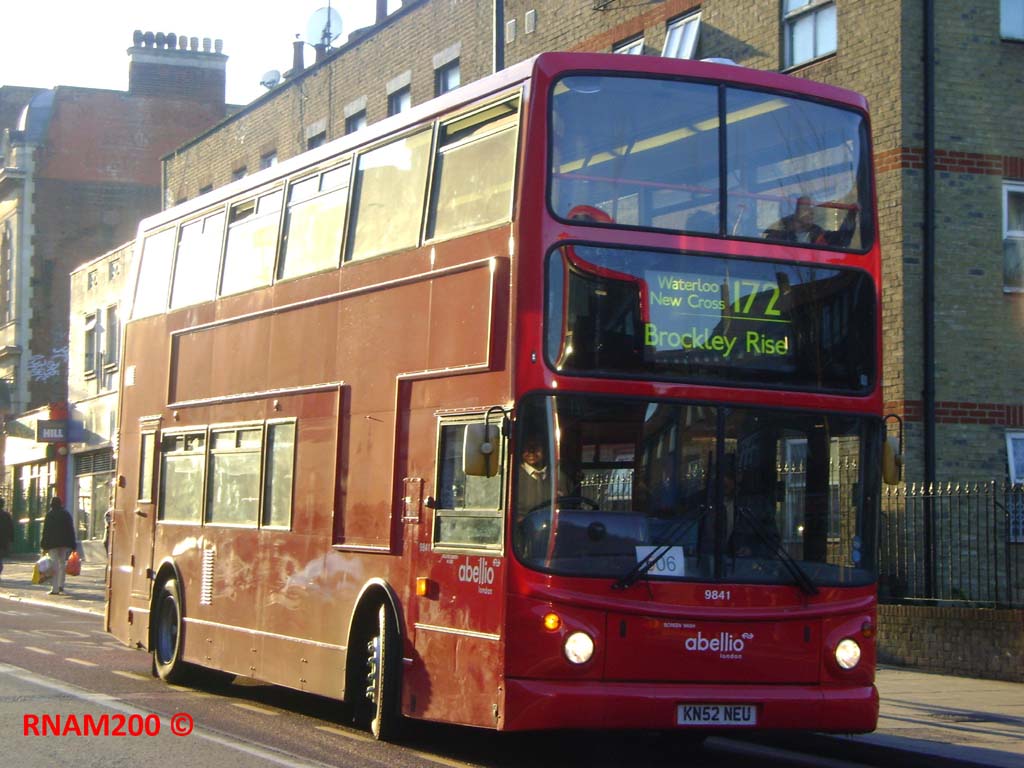 Photo © RNAM200 (Robert Mighton).

The route is operated from Walworth garage, a little way off-route (but passed by the 171!). In practice, Enviro400s from route 40, also based at Walworth, often deputise for the Tridents. Walworth also has a quantity of Volvo B7TLs with Wright bodywork, but these seem not to be favoured for odd workings.

Navigation

See also routes 141, 171, 341, 136, 100, 237, 40

Photo Gallery | Bus route list | Operational details | Service changes | Operators & Garages