Home | Bus routes | Operational details | Service changes | Operators & Garages | Photo gallery
---
Route 170
4 March 2011
The 170 has over the years migrated from being a trunk cross-London route to a local minibus route in the Wandsworth area, and is now back to serving central London again. It is a relative newcomer having started in October 1950 running between Wandsworth and the old Hackney garage on Well Street, via Battersea, Nine Elms, Westminster Bridge, Victoria Embankment, Aldwych, Clerkenwell and Cambridge Heath. The southern end of the route was part of the tram replacement programme, but the Hackney end largely duplicated other routes. In April 1959 it was extended to Leyton Green, with some journeys to Leyton (Downsell Road), but lost its weekend service.
The eastern end of the route was replaced by new route 55 in October 1969, the 170 being lopped back to Red Lion Square (Shoreditch in peaks). It was diverted via Trafalgar Square in the July 1971, the eastern extremity now being Aldwych, although in peak hours buses now continued northwards to Euston. The first resemblance to today's route came in April 1981, when the route was diverted between Wandsworth and Battersea via Clapham Junction and extended from Wandsworth to Roehampton, replacing route 168 between Putney Heath and Clapham Junction. There was no Sunday service; no evening or early Saturday morning service Clapham Junction – Vauxhall; no evening or Saturday service Vauxhall – Aldwych; and no service outside of peak hours Aldwych – Euston! This unusual array of eastern termini was simplified in September 1982, with the Monday to Friday service standardised to run between Roehampton and Aldwych at all times.
In interesting footnote to insert at this juncture concerns the Alternative Vehicle Evaluation (AVE) trials conducted in 1984-1985 from Stockwell garage on the 170. Having amassed large Titan and Metrobus fleets LT wished to assess what the future might hold in terms of fleet orders, and ordered 3 demonstrators of each of the available models – Leyland Olympians L1-3, Volvo Ailsas V1-3, Metrobus Mark IIs M1441-1443 (of which 1443 was never built) and Hestair Dennis Dominators H1-3. The Olympian was the successful type, with an order for 260 following, although smaller numbers of Mark II Metrobuses and secondhand Ailsas were taken.
The route assumed a much more basic form in the Wandsworth area route scheme of 25 May 1991, running only between Roehampton and Clapham Junction (Meyrick Arms). The former section of the 170 between Clapham Junction and Lambeth Palace was replaced by new route 344, the final section to Aldwych not being replaced. This change meant it lost the last part of its original route, apart from a few roads in the Wandsworth one-way system. The route inaugurated the DR class of Reeve Burgess Pointer bodied Dennis Darts (although in practice all but the first 19 were bodied by Plaxton), a design which must class as one of the most successful in recent times having only very recently ceased production with many thousands in service across the country. Operation soon moved to Putney garage and Merton also had an allocation for a while, but it is now back in the hands of Stockwell.
A new contract in November 2002 saw the Clapham Junction terminus moved to Asda, swapping Meyrick Arms with the 39. However a much more fundamental change took place from 16 February 2008, when the 170 was extended from Clapham Junction over the entirety of route 239 (formerly part of the 39) to Victoria. The exact reason for this change is not known, but it created useful new cross-Clapham Junction links, restored a direct service from Roehampton to central London that had been lost with the split of the 74, and eased pressure on stand space at Clapham Junction (the 219 was belatedly moved from Meyrick Arms to Asda in May 2009).
Because the 239 was only a short way into a contract, the combined route 170 contract was extended and a new contract eventually began on 11 December 2010. The route (and the 239 before it) has long had capacity problems, but a low bridge in Battersea precludes use of double deckers. The new contract therefore specified slightly larger single deckers, thought to be the largest buses practicable due to some tight corners. Part of the allocation is made up of new 10.8m Enviro200Darts, and SE52 (YX60 EOK) is seen on 24 December 2010 on the stand in Wilton Road, Victoria.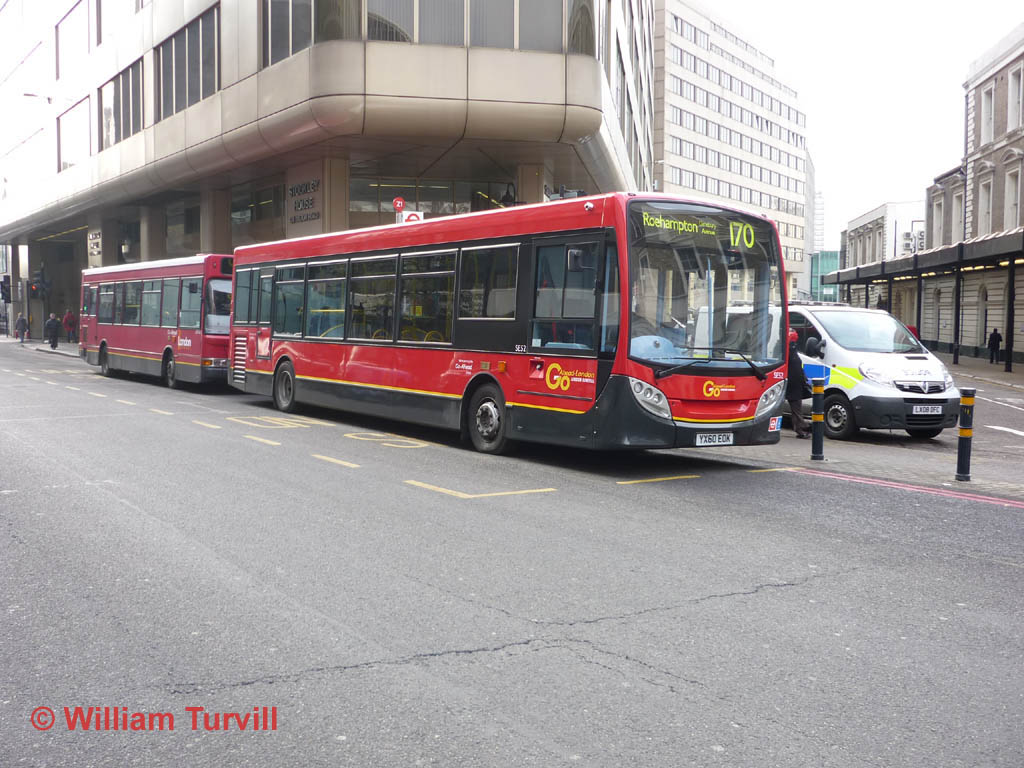 Photo © William Turvill.
The other part of the allocation, however, is more interesting, as some long Dart SLFs had recently been displaced from route 66 right the other side of London. These were originally Blue Triangle machines, that company having been sold to Go-Ahead in June 2007. The 66 was lost to Arriva in September 2010, but Go-Ahead has taken advantage of the common ownership and found an innovative solution by moving the Darts to London General for the 170, after full refurbishment to Go-Ahead London standard. They do, however, retain the Blue Triangle DP class codes; Go-Ahead's new build similar buses were classed LDP, embracing four different lengths over the years including this less common 10.8m length!
I was supplied with several possible pictures but I chose this one simply because it is the only one at a location other than the stand above! Still it is not far away, DP198 (EU53 PYF) in Buckingham Palace Road next to Victoria station on 15 December 2010.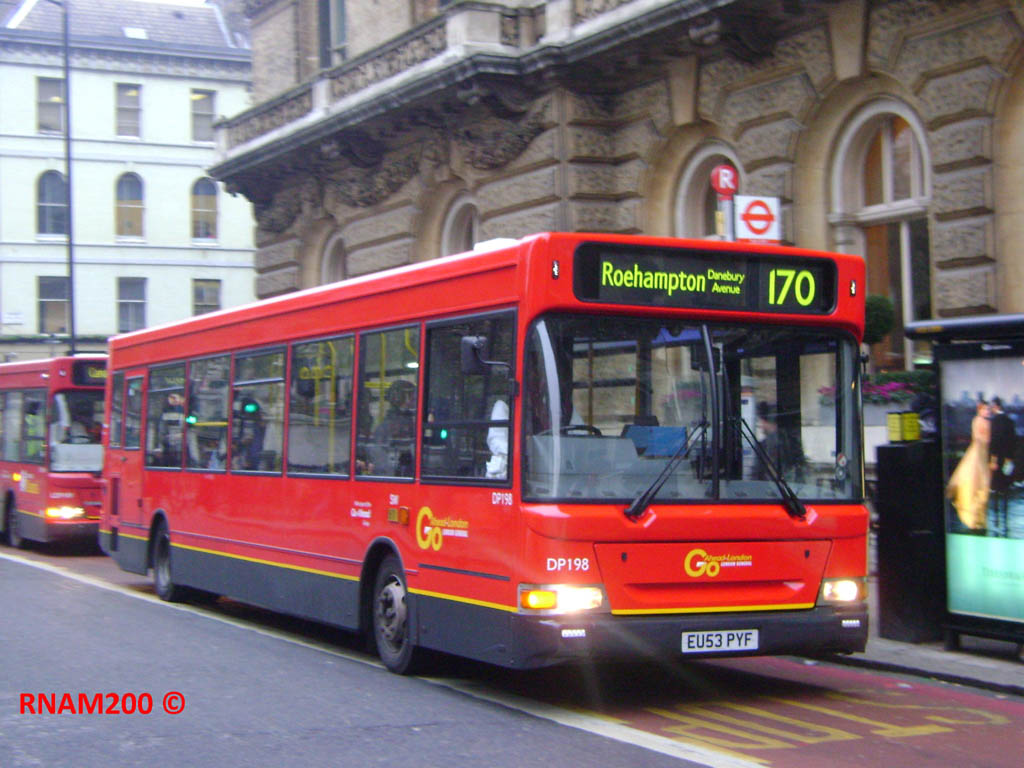 Photo © RNAM200 (Robert Mighton).

Navigation

See also routes 344

Photo Gallery | Bus route list | Operational details | Service changes | Operators & Garages