Home | Bus routes | Operational details | Service changes | Operators & Garages | Photo gallery
---
Tramlink line 2
15 January 2009
After taking over the 99 year private finance initiative concession that was let to design, build and maintain the Croydon Tramlink network, Transport for London has re-launched it as London Tramlink with a new green livery. Reaction to the new colours, which replaced a more traditional red and white scheme, has been mixed; the combination of colours is quite pleasing, but the application to the tram ends perhaps rather untidy. 2552 approaches East Croydon bound for Beckenham Junction on Saturday 1 November 2008.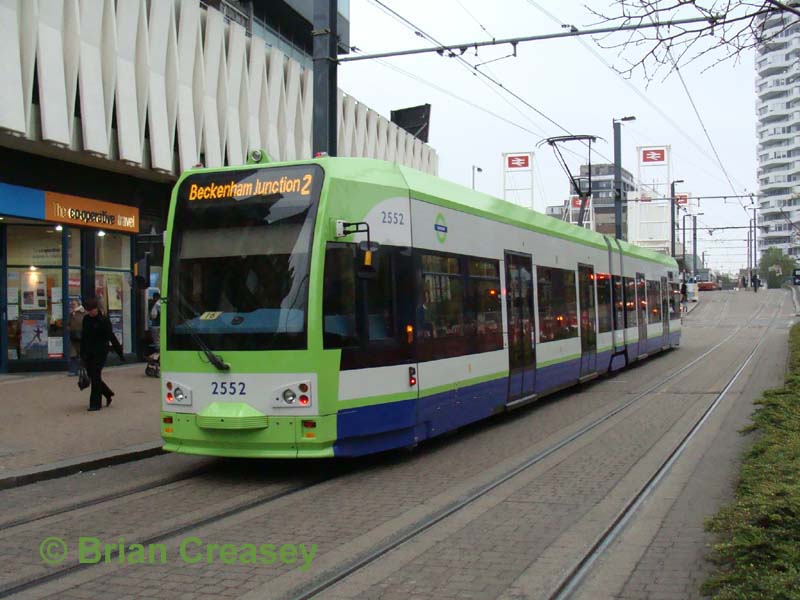 Photo © Brian Creasey.
The whole idea of trams is that they can run along streets with other traffic in areas where there is not enough space for designated track. However, on Croydon's tram system, there is relatively little street running, this being confined to the town centre area. One of the roads concerned is Addiscombe Road between East Croydon and Sandilands; and even there, apart from buses and trams, the road is now restricted to local traffic only. 2540 heads away from East Croydon on the afternoon of 15 November 2008.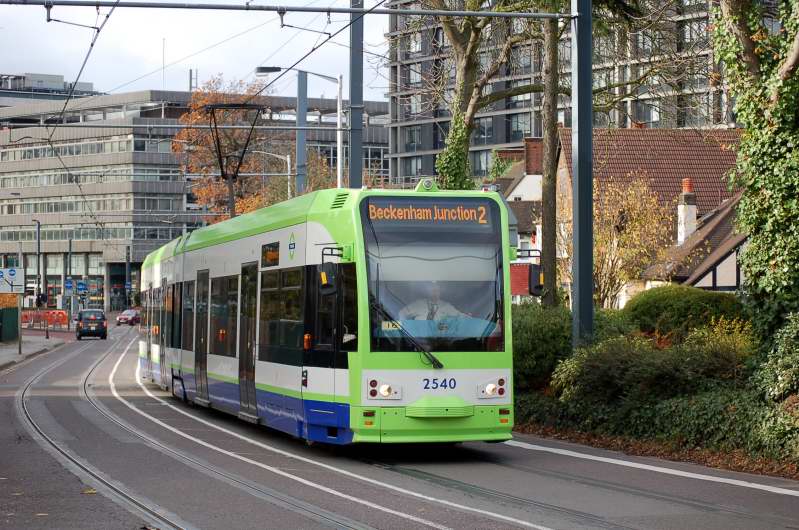 Photo © John King.

The 2 is perhaps the most innovative of the three Tramlink routes. From the town centre, trams follow the 1 as far as Arena stop – near the unexciting Croydon Sports Arena, and unfortunately a trouble spot for vandalism – the section from Addiscombe being along the old alignment of the Mid Kent Line, as explained on the route 1 page, although, where the railway was on an embankment with bridges over roads, trams now run at ground level, with traffic light controlled level crossings at either end of the Addiscombe stop.

After Arena, the 2 branches off, taking a sharp left across the South Norwood Country Park to reach Harrington Road, a residential stop at the back of South Norwood. Then, after a hard right, trams once again use a railway alignment to take them to Beckenham Junction, although in this case it is not a 'former' railway alignment, as it is still used by heavy rail services.

The established line is a branch off the line from Crystal Palace to Croydon, serving an intermediate stop at Birkbeck before terminating at Beckenham Junction. This route does not really fit in with the South London network map, and has seen many changes and cutbacks to the service provided, with a complicated and not very useful service structure. I am sure the various rail companies to have operated the line (British Rail, Network Southeast, Connex and now Southern) have been itching to scrap the service!

Anyway, the line was singled some years ago, and this provided Tramlink with an opportunity to use the other half of the alignment to put in a single track line into Beckenham Junction. There are passing places at Avenue Road and just north of Beckenham Road, these two being additional stops served by Tramlink. At Beckenham Junction there is a twin track tram terminus, although this is not used to its full potential.

As on the 3, the single track sections can play havoc with reliability. Beckenham Road and Birkbeck stops are actually on the single track sections, thus unusually having only one platform (Birkbeck being opposite the single platform on the heavy rail line). At one time trams on the 2 were timed to leave Beckenham Road stop at the same times in opposite directions – which is clearly not possible! In practice trams are rarely dead on time anyway though, so this is not too much of a problem. Trams are now scheduled to pass at Avenue Road, where there are two platforms.

The 2 is a likely springboard for often-mooted extensions of the Tramlink system to Crystal Palace. If Southern would close the Birkbeck/Beckenham Junction branch, probably diverting trains to Croydon, Tramlink could take over the other track, and by installing a new curve where the line from Harrington Road meets the branch, trams could run along the railway alignment at least as far as so-named Bromley Junction where it joins the main line into Crystal Palace. However, what happens next is the problem, both in terms of getting to Crystal Palace and what to do when you do get there! This scheme is currently on the back burner once again, as there is currently no funding to take the scheme forward.

Originally the 2 was operated as a standalone operation, running every 10 minutes with 5 trams during the day on Mondays to Saturdays. In the evenings and on Sundays trams were extended to Therapia Lane, and later through to Wimbledon. However, the Wimbledon service was transferred to Line 3 in July 2006, and the 2 was linked operationally with Line 1, so that trams shuttle between Elmers End and Beckenham Junction with a shared allocation of 9 trams. Trams change their destination displays on the inbound trips upon departure from East Croydon, to allow for anyone wishing to board at George Street – obviously, it does not matter to passengers already on the tram. This applies in the evenings and on Sundays as well; the service at those times was at last increased from every 30 to every 15 minutes in July following the TfL takeover.

However, following a major crash in the town centre involving a stray bus, the Monday to Saturday daytime service on the 1 and 2 had to be reduced from 6 to 5 trams per hour to save a tram, although this does actually provide a completely even interval service between Arena and central Croydon for the first time ever and may be retained permanently.

Navigation

See also routes Line 1, Line 3

Photo Gallery | Bus route list | Operational details | Service changes | Operators & Garages