Home | Bus routes | Operational details | Service changes | Operators & Garages | Photo gallery
---
Route 225
1 August 2007
The 225 has undergone substantial change since its introduction in the Catford Minibus scheme of 1989. It was formed by splitting route 181 in half at Lewisham – an historical link that, ironically, has recently been revived. The residual section of the 181 was much the busiest part, running daily from Catford Garage to Lewisham via Lower Sydenham, Catford and Hither Green – as can be seen the routeing was very convoluted! On Mondays to Fridays (except evenings) and Saturday shopping hours buses continued beyond Lewisham via New Cross, Surrey Docks and Salter Road to Rotherhithe Station.
It was this latter section that became the 225. Buses terminated from the north in Molesworth Street, at the back of the Riverdale Centre, a terminus that has since become much busier. Operationally, buses were linked with the much enhanced L1 (Lewisham to Brockley, now part of the 484), both routes running every 20 minutes and buses switching routes on every trip at Lewisham, this arrangement saving a bus across the two routes.
In 1993 it was announced that a large tranche of work, mainly in the Lewisham and Bromley areas, had been awarded to Kentish Bus upon re-tendering, and contracts started in March 1994. The 225 started a month early on 12 February 1994, to ease the change in staffing levels at both companies. Initially Volvo B6s, ordered for route 108, were used, but soon the intended Northern Counties bodied Darts arrived. Buses ran from a base in Dragoon Road, Deptford, although this garage was coded LM (for Lewisham).
Splitting the route from the L1 (which continued standalone for 4 weeks) meant the 225 had a dedicated allocation of 4 buses, and London Buses made the most of this by lengthening the route, firstly with an extension to Bermondsey (Jamaica Road), and secondly by diverting it via Brookmill Road and Deptford Broadway, providing useful links to Deptford from both ends of the route. Your webmaster frequently used this section of route to travel to and from school during this period! An evening service was introduced but the route still did not run on Sundays. A couple of years a minor diversion took place with the route running along the redeveloped Rotherhithe Street, rather than direct along the parallel Salter Road.
The opening of the base in Deptford had been partially political as the area was one of low employment and this was seen as a way to improve matters. Unfortunately things did not work out as well and the "new blood" quickly found that bus driving was not what they had expected, and left. The result was a severe driver shortage and an inability to continue operations. Gradually routes were given up or moved to other Kentish Bus bases. Eventually the Deptford base closed completely, and the 225 transferred to Cambridge Heath (aka the old LT Ash Grove garage), joining the 22A, 22B and 55. Control of Cambridge Heath passed within the Arriva group to Leaside Buses from 1 January 1998, prior to its closure operationally with the loss of route 55 to East London and amalgamation of the other two routes as route 242. At this time the 225 transferred to yet another Arriva company, Arriva London North East (formerly Grey Green), at Barking.
However this inefficient, and presumably loss-making, arrangement did not last long, as agreement was reached to transfer the contract to Stagecoach Selkent from 26 September 1998, returning the route to Catford garage, and Dart/Pointers from their own fleet were used. Opening of the Jubilee Line Extension in 1999 saw the route extended a short distance to the new Bermondsey Station, diverted via Canada Water Station, increased in frequency to every 15 minutes, and a Sunday service added. When the original 7 year contract expired in 2001 the route was awarded to London Central, who ran it from New Cross using single door Dart SLFs displaced from route 345.
Further contract renewal in 2006 provoked some thoughtful changes. The 181 had long been under pressure between Hither Green and Lewisham, and so it was sensibly decided to extend the 225 to Hither Green Station. This established terminus, in Springbank Road, had for many years been used only at night by route N171. At the other end, the route was curtailed to Canada Water Station, with an extension of route C10 taking over the service via Rotherhithe Street.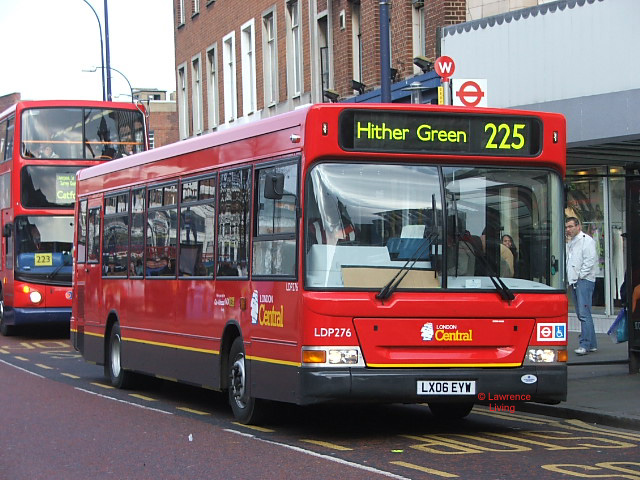 Photo © Lawrence Living.
The peak vehicle requirement of 7 buses was retained, but new dual door Darts were specified, and two views are presented here – firstly LDP276 (LX06 EYW) in Lewisham High Street (only served by northbound buses prior to the extension) and secondly LDP275 (LX06 EYV) on the stand at Hither Green. Since this photo was taken the N171 has been curtailed away from this point.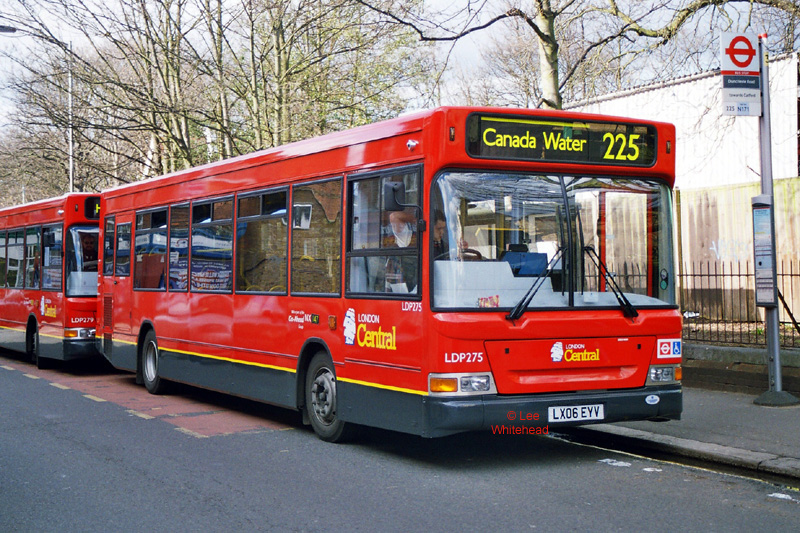 Photo © Lee Whitehead.

Navigation

See also routes 181, 484, 108, 55, 242, 345, N171

Photo Gallery | Bus route list | Operational details | Service changes | Operators & Garages