Home | Bus routes | Operational details | Service changes | Operators & Garages | Photo gallery
---
Route 221
27 August 2007
The 221 is (if I am not mistaken) one of just three remaining Transport for London routes with a main daytime service pattern that includes an enhanced frequency over part of the route; the other two are routes 186 and 208. The short workings cover the heavily used Wood Green - Bounds Green - Friern Barnet - North Finchley section, with a combined frequency of every 6 minutes during the day on Mondays to Saturdays. Alternate buses continue over the more sparesely populated section via Mill Hill East and Mill Hill Broadway to Edgware. Proposals have been mooted to standardise the frequency to every 8 minutes throughout, but this would appear to be an inefficient use of resources. During early mornings, evenings and Sundays buses run every 12 minutes throughout, giving a rather good level of service at the Edgware end!
The route is run from Wood Green garage using some of the oldest double deckers in London, DLA class DAF DB250LFs with Alexander ALX400 bodywork. The vehicles on this route are among those to have had rear windows fitted – for some reason the body builder did not provide these originally. DLA37 (S237 JUA) is seen in Edgware Bus Station – obviously, before the current protracted closure for resurfacing work! The precise time was 19:35 on Wednesday 26th May 2004.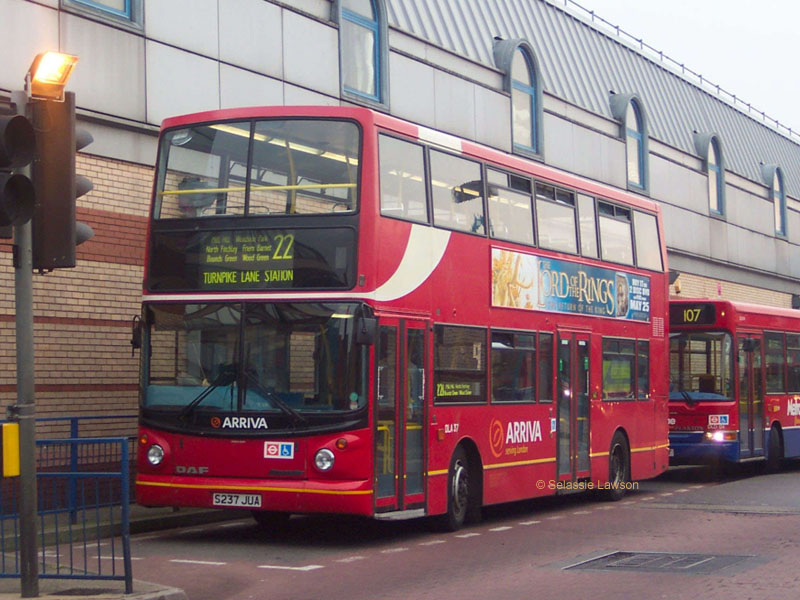 Photo © Selassie Lawson.
The route involves climbing the very steep Bittacy Hill in the Mill Hill East area, which these early DLAs seem to have a struggle to achieve. Newer DLP and VLW class buses, which sometimes appear on the route, manage this hill a lot more easily!
Here is a brief history of the route, with thanks to the photographer for compiling it.
Route commenced 8th November 1961, as replacement for trolleybuses 521/621.

Route was from North Finchley to Farringdon Street (King's Cross only on Sundays)
RMs class Routemasters were used, from Finchley (FY) and Wood Green (WN) garages.

WN has had an allocation ever since apart from a short period in 1962 when it was solely an FY route.

Extended from North Finchley to Edgware in 1966 via the 125 and withdrawn 240A.
For a short while in 1970-71, WN allocation used RMLs on weekends alongside RMs.
Central London terminus changed to Holborn Circus in 1972.
Conversion to one person operation with DMSs in 1973.
Converted to M class Metrobuses in 1980 (Finchley) and 1981 (Wood Green).
Edgware (EW) gain small allocation between 1986 and 1987.
Route withdrawn between Turnpike Lane and Holborn Circus/King's Cross in 1992, except for Mon-Fri early morning journeys to Holborn Circus.
Route used DRLs class Darts off the 84A (now 184) on Sundays between 1993 and 1995.
Full withdrawal between Turnpike Lane and Holborn Circus in 1995, standardising route as Edgware - Turnpike Lane.
Converted from Ms to DLAs in 1999.
Navigation

See also routes 186, 208, 125, 240, 184

Photo Gallery | Bus route list | Operational details | Service changes | Operators & Garages