Home | Bus routes | Operational details | Service changes | Operators & Garages | Photo gallery
---
Route H20
8 August 2007
The H20 has the distinction of having been London's first ever low floor, wheelchair accessible bus route. However, we are not talking about low floor buses as we know them today, but of operation by what was very much a specialist vehicle type, the CVE Omni, coded CV. Three were purchased by London Borough of Hounslow to run a new route, funded by the council, from March 1989 linking some back streets south east of Hounslow with the town centre, and a new terminus at the Civic Centre on Lampton Road. They were operated by the "low-cost" Westlink operation of London Buses, although two were painted in their owner's colours.
CVE stood for City Vehicle Engineering, and their Omni is amongst the shortest bus types to have worked in London, at 6.625m (21'9"). The floor was higher than is achieved today, but nevertheless with a single step up from the road, while wheelchair access was by doors at the rear of the bus. Strangely the nearside (left) of the bus was fitted with longitudinal seating, rather than forward facing as is usual. Three further examples arrived for routes R61 and R62, funded by the London Borough of Richmond (these were formerly Richmond Health Authority routes RH1 and RH2, and are now part of the 485 and 481 respectively).
Unfortunately, the Omni was not exactly renowned for its reliability — hardly surprisingly, given its specialist status and the small quantities produced. Therefore London United, which had by then acquired Westlink and the H20, decided to replace the CVs on the H20 with surplus MCW Metroriders. These are not low floor buses, but were converted for wheelchair access by fitting a lift on the main, passenger, door. They served their purpose, but on re-tendering the H20 was awarded to Tellings-Golden Miller on the basis of low floor buses once again — and this time of the modern variety!
Dennis/Plaxton Mini-Pointer Darts were specified, and have recently been repainted into allover red to comply with the terms of a new contract. Tellings-Golden Miller sold their buses to National Express and they are now run as part of the Travel London operation. The MPD was a relatively recent invention, and remains the shortest mainstream low-floor bus. However, it has proved an extraordinary success, especially outside London, where its short length allows it to run on many routes where longer buses might have difficulty — and nevertheless can seat a respectable 29. These ones had 26, no doubt giving a more practical interior layout, and now further reduced to 24 by removal of tip-up seats.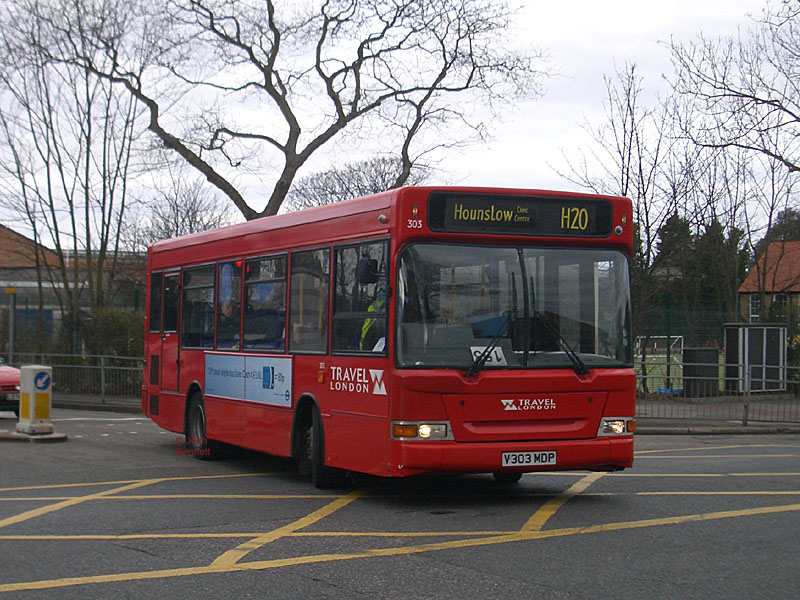 Photo © John Bennett.

Here 8043 V303 MDP (formerly TGM 303, then DP43) pulls out of Worton Road into Twickenham Road, Isleworth, on 22 March 2006, showing the wrong destination. The route originally terminated in a loop via Summerwood Road, but was diverted via the nearby Tesco during store opening hours when absorbed into the LTB network in 1995. When TGM took over in 2000 it was further altered to terminate at the Tesco, running via Summerwood Road in both directions.

Navigation

See also routes 485, 481

Photo Gallery | Bus route list | Operational details | Service changes | Operators & Garages