Home | Bus routes | Operational details | Service changes | Operators & Garages | Photo gallery
---
Route H22
10 September 2008
Most letter prefix routes were completely new when introduced, but a few were created by renumbering of existing services. The H22 falls into the latter category, being a replacement for the 202 between Richmond and Hatton Cross via Twickenham, Whitton, Hounslow and Hounslow West. (The section to Terminal 4 was left to the new H23.) The 202, incidentally, was the main service to use the Cargo Tunnel into Heathrow's Central area before that was closed to external traffic in 1989 – access to the tunnel requires vehicles to go airside, which obviously poses a potential security risk.
New Dennis Darts were used, operator London United being quite proactive in introducing this then-new type to London. The original Duple/Carlyle-bodied concept was soon joined at Hounslow garage by Plaxton Pointer bodied versions. Now Darts, in many different forms, operate a good chunk of London's Bus network, although the fact that it is a 1990s bus shows now when compared to newer designs.
The section between Hounslow West and Hatton Cross was handed over to the short-lived 201 (Hounslow to Staines via Hounslow West, Hatton Cross and Bedfont) route in 1992. The 202 did not have a Sunday service between Richmond and Hounslow, and neither did the H22 until 1994, when one was introduced as an experiment — and the experiment must have been a success, as it has remained. The route was further curtailed to Hounslow (Bell Corner) on contract renewal in March 1999. New low floor 10.7m Darts with Plaxton Pointer 2 bodies replaced the original Darts.
However, a need for these vehicles for route 81 due to capacity issues resulted in the H22 being downgraded to smaller vehicles, and this update is provided to feature these. A sequence of changes took place from 12 November 2005, on which date route 33 had been lost by Transdev to NCP. The DPS buses from this were originally intended for the 81, but were to be put on the H22 instead, with the 81 gaining the DPs from the H22. Furthermore, the opportunity was taken to swap the allocations of the two routes – for historical reasons, the 81 was based at Hounslow Heath and the H22 at Hounslow, but it was more effective operationally to swap them over, which duly took place on the same date.
In consequence the DPs at Hounslow for the H22 stayed there for the 81, while the DPS buses from the 33 were transferred directly to Hounslow Heath for the H22. They have been repainted and refurbished as planned for and paid by the 81 contract, even though they now operate on the H22! DPS522 (X522 UAT) is seen on 11 August 2007 on its old stomping ground from 33 days in Wakefield Road, Richmond, which is the closest this town gets to a bus station.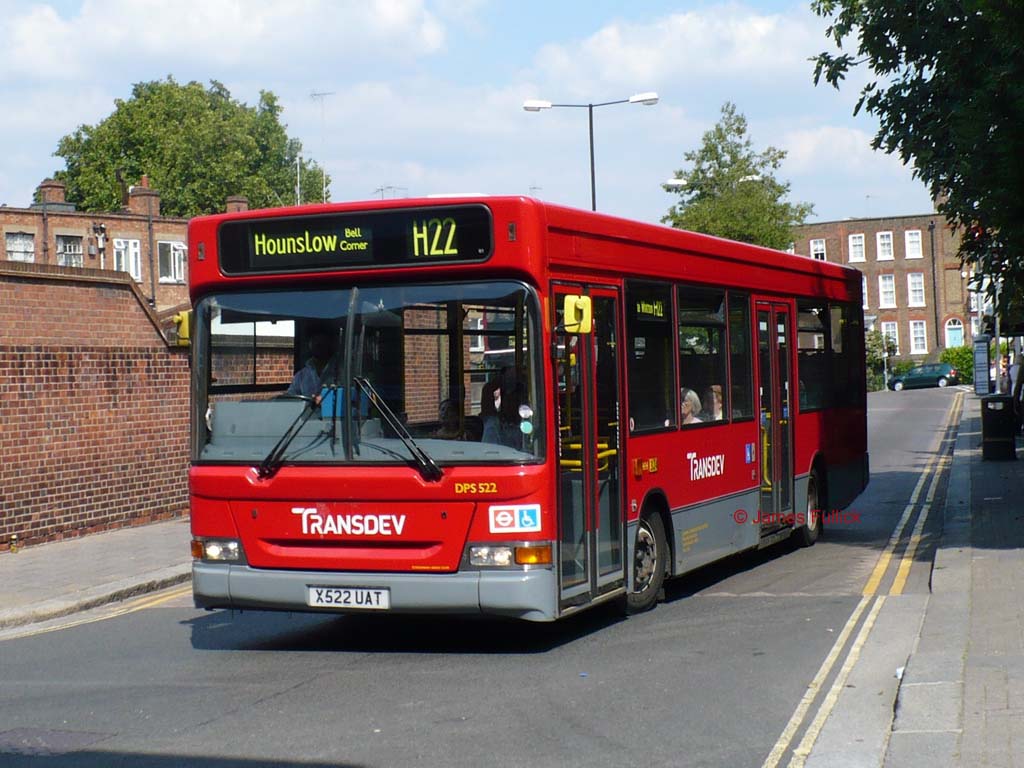 Photo © James Fullick.

Navigation

See also routes 423

Photo Gallery | Bus route list | Operational details | Service changes | Operators & Garages