Home | Bus routes | Operational details | Service changes | Operators & Garages | Photo gallery
---
Route 661
16 April 2008
Route 661 was introduced in March 1994 when route 161A was withdrawn. The 161A was replaced south of Chislehurst by new route 162, but after travelling from Petts Wood to Chislehurst this headed west to Bromley, rather than continuing north as the 161A had done. For the most part, this part of the 161A had been a local link, but there was a significant demand across Chislehurst by school children for Eltham College, and so route 661 was born – actually doing better than the 161A by running right through to the College, rather than dumping pupils half a mile away!
Initial operation was retained by Selkent (who had lost the 161 to Kentish Bus) but in due course the route was retendered, and awarded in 1997 to Harris Bus, which had a fledgling operation based in Belvedere. That company got into well-documented financial difficulties, and folded, eventually passing to London Transport on 25 March 2000, which re-named the operation East Thames Buses.
Initially, the DAF DB250s used by Harris Bus were retained, but a relatively heavy programme of fleet replacement was set in motion, eventually converting the whole fleet to low floor. In practice, the 661 normally uses the only remaining acquired buses, which are some Plaxton President bodied Volvo B7TLs dating from 2001, which came to ETB with route 185 following the collapse of DTS and are now the oldest buses in the fleet. VP14 (X166 FBB) is seen passing along Centre Common Road, Chislehurst, on the afternoon working on 26 September 2006. Having said that there was a need to retain the cross-Chislehurst link, there do not appear to be many passengers on this bus!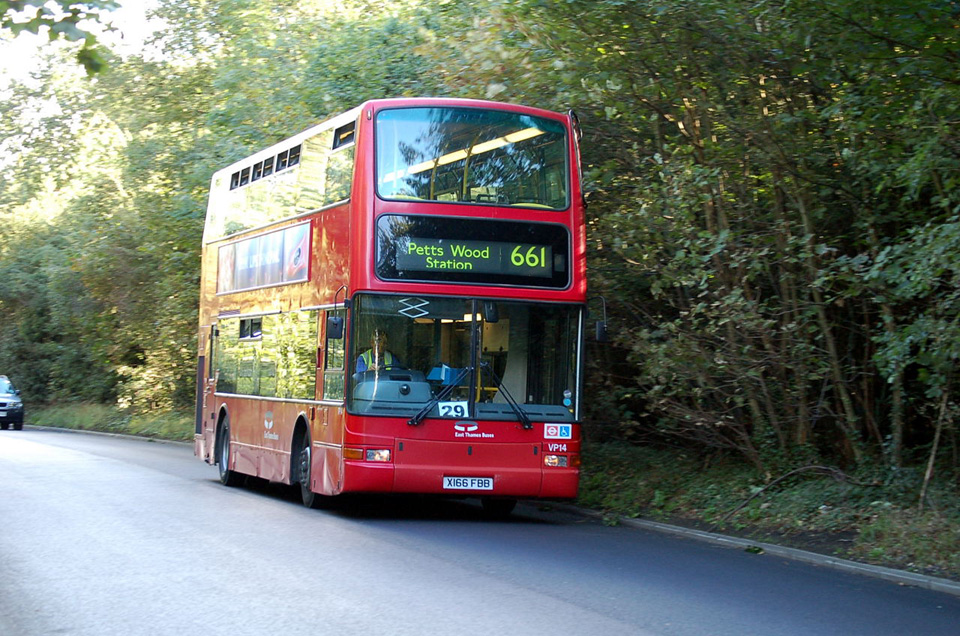 Photo © John King.

There have been no major changes to the route since its introduction – in fact, the morning journey has remained on exactly the same timings ever since introduction, which must be some sort of record. The afternoon journey has however been re-timed to run a few minutes later, which is to allow the same bus to provide a second, earlier, journey, just from Chislehurst to Petts Wood, to carry children from some of the other schools in the area. Presumably this is the main function of the morning bus as well – the 273 (which has taken over from the 162 as the main Petts Wood – Chislehurst service) would not be able to accommodate them with its infrequent small buses.

Navigation

See also routes 161, 162, 273, 185

Photo Gallery | Bus route list | Operational details | Service changes | Operators & Garages