Home | Bus routes | Operational details | Service changes | Operators & Garages | Photo gallery
---
Route A10
16 April 2008
The A10 started life in 1996 to provide a much improved service to the new Stockley Park business park, providing a non-stop service to Heathrow via the A408 and M4 spur, and a much quicker route to Uxbridge both from Stockley Park and Heathrow. The initial contract was awarded to London Buslines, but that company was teken over by Centrewest before the route was assumed. However, the London Buslines influence could still be seen, as the buses ordered for the route had Plaxton bodywork, whereas Centrewest's preference at that time was for Marshall. But the takeover did provide a much more convenient operating base: Buslines would no doubt have operated from Southall, whereas the A10 terminates at Uxbridge garage.
The buses were numbered L1-7, perhaps for Low floor; at this time minimalistic class codes were in vogue at Centrewest. Had they been London Buslines buses, they would probably have been numbered 401-407 in the numeric sequence, being Buslines' first low floor Darts — and indeed amongst the first low floor Darts in London. A special blue and yellow livery was commissioned by Ray Stenning – the yellow was possibly a Buslines influence, but a similar style was adopted for the H50 which also serves Stockley Park.
The original buses in their original livery continued on the route until earlier this year, possibly the last buses to operate on a Transport for London service in a non-red livery. However, a new contract has been awarded with new vehicles, to be painted in standard red. Although these buses have not yet arrived, the departure of the Ls has been accelerated by the use of some similar vehicles on loan from First London East, where they are intended for route 498, where a badly-planned route scheme has held up takeover by the company, meaning the buses intended for it have nowhere to go!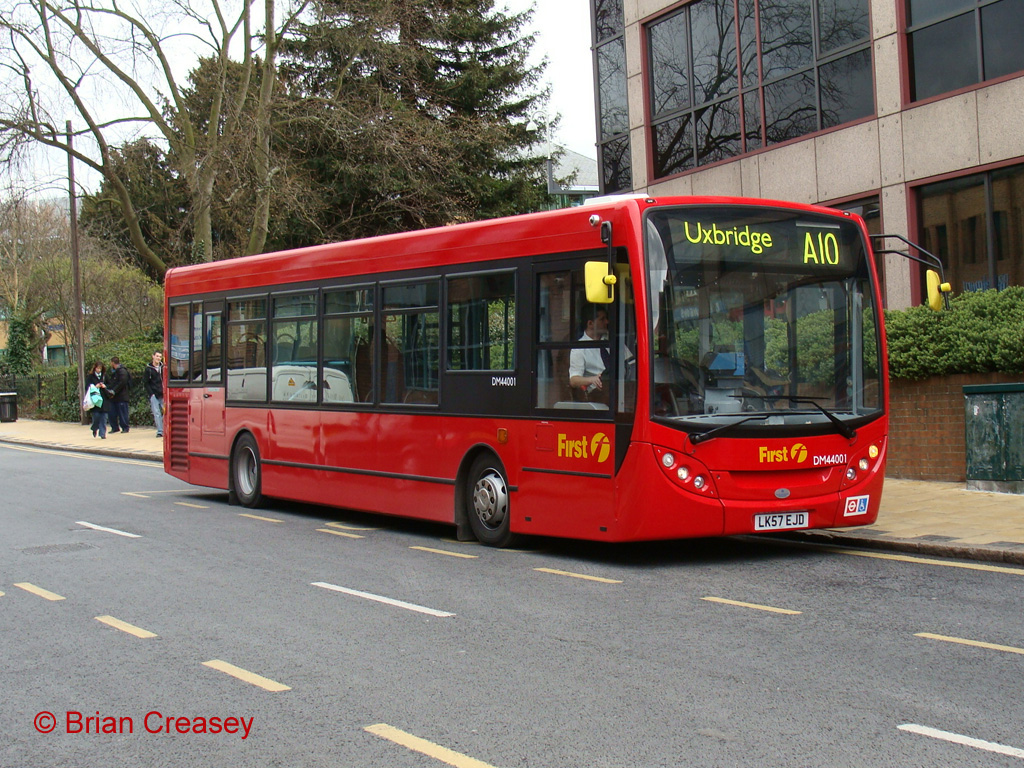 Photo © Brian Creasey.

Like the buses on order for the A10, these are standard length Enviro200Dart integral buses, a type now becoming increasingly familiar around London. They seem to be suffering an identity crisis, as though they should be code DML (itself a code also used for Marshall bodied Darts), some have come with DM codes! DML44001 (LX57 EJD), setting down passengers in Uxbridge on 26 March 2008, falls into this category. Centrewest is now part of FirstGroup which recently introduced a national fleet numbering system of up to five digits, which when combined with London style class codes gives Centrewest the longest fleet numbers anywhere in London or, I suspect, the UK. With 8 characters this is in marked contrast to the two character codes of the previous vehicles!

The precise fastness of the service has varied since introduction. The original timetable, using 6 buses, was rather pessimistic, and was soon tightened up and a bus saved. L 7 was transferred to London Buslines to assist on other routes. Later the A10 was altered to serve the business park better, and the running time has gone up again slightly.

Stockley Park is in two sections either side of the A408, known as Stockley Park West and East. Both halves are accessed by a short slip road coming off a roundabout under the A408, with further roundabouts at the entrances to the estate, one either side. Stockley Park West is linear and it is not possible for buses to penetrate any deeper, so buses just call on the slip road, circle the roundabout and head back out. This arrangement was also adopted for the A10 at Stockley Park East originally, although this part of the Park is circular and was served more effectively by the U5. But is was decided to serve more of the Park, and the A10 was therefore diverted away from Goulds Green to run via Harlington Road, Dawley Road and Stockley Park East, albeit only serving one half of the loop in either direction, as on the U5 and H50 (now 350).

But, all in all, it is a useful route, especially on Mondays to Fridays, doing good trade carrying business people to and from the Park, and providing a much quicker journey from Uxbridge to Heathrow than the U3 did, taking around 30 minutes.

Navigation

See also routes U5, U3, 350, 498

Photo Gallery | Bus route list | Operational details | Service changes | Operators & Garages