Home | Bus routes | Operational details | Service changes | Operators & Garages | Photo gallery
---
Route 350
4 February 2013
To the west of London lies Stockley Park, a modern high-tech business park. Its developers have been keen to promote public transport. In its early days the park was served by two bus routes, A10 and U1, on north-south and east-west axes respectively. However, a need was identified for more direct links to the nearest rail stations, at West Drayton and Hayes & Harlington; these are both on the Great Western Main Line, just over two miles apart, and Stockley Park is quite near the railway but about halfway between the stations.
Although the U1 (now U5) did connect Stockley Park to these stations, it goes via a rather roundabout residential route, and the new H50 therefore gave a much quicker journey to both West Drayton and Hayes & Harlington. It also restored a bus service along Horton Road that had been lost in a rearrangement of local services a few years earlier.
Funding for the new route, branded as Trainlink, was provided by the Hayes West Drayton Partnership and the Government's Challenge Fund, with contracts arranged in the standard London Buses system. The route was awarded to Wings Buses with three new single deckers, painted in a dedicated green livery, incorporating an element of route branding, and in a similar style to buses on route A10. Other refinements included air conditioning, audio-visual passenger information (although I couldn't find any trace of this when I first travelled on the route a few years later) and tinted glazing. Most unusually the route also had a dedicated web site!
The route soon became very popular with commuters, mainly from the Hayes end. This created a bit of a problem as there were two departures in the morning which were getting severely overloaded and often left people behind, but for the rest of the day the route remained very quiet. As there are only 3 buses on the route it made sense to convert the whole service to double deck. By this time Wings had sold out their bus operation to Tellings-Golden Miller, and TGM had never operated double deckers. When the route came up for tender various options were considered, the award being delayed by over a year in the end, negotiations being further complicated by doubts over the external funding.
The problem appeared to be solved by Tellings-Golden Miller selling its London/Surrey bus operations to Travel London, which had no qualms about operating double deckers. Even then, the new contract did not start until 14 January 2006 (it should have been 2 April 2005). Standard Travel London issue long wheelbase Volvo B7TL/Wright Eclipse Gemini were used; regrettably it was not permitted to continue the special livery, and the buses were in drab allover red. Being an isolated allocation meant 4 buses were needed for the runout of three – bearing in mind that the H50 did not run in the evenings or at weekends, this represented exceptionally low utilisation of brand new assets!
Perhaps this inefficiency prompted London Buses to look at the route again when services were being reviewed for the opening of Heathrow's new Terminal 5. Rather than extend or divert existing routes serving Heathrow Central to serve Terminal 5, it was decided that Terminal 5 should have its own dedicated routes. These have been extensions or diversions of existing routes, often with a re-numbering in the process, and one such was the H50, which became the 350.
Surprisingly, Travel London agreed to have their contract for the H50 terminated, and the 350 was re-tendered, but in the event Travel London retained the contract. Even though the new section via Harmondsworth has seen double deckers before, it was decided to convert the route back to single deck with a frequency increase to 5 buses per hour, along with an evening and weekend service. Brand new Alexander Dennis Enviro200Dart single deckers were introduced. To maintain capacity the route reverted to the original option of operating a single double deck journey from Hayes to West Drayton in the morning peak, returning in the afternoon – although the planners did not appear to have got it at quite the right time. Last time I wrote that it would probably have been more useful to curtail the journey at Stockley Park East and send the bus back to do a second journey - and hey presto, on 9 July 2011 that was almost exactly what happened, though the journeys terminated at Stockley Park West instead.
On the whole the route is not all that busy as it does not serve any major areas of high population density, although it does connect with various other buses in West Drayton and Hayes. The direct link from Stockley Park to Terminal 5 is no doubt useful for any business passengers with BA flights to catch. However, the capacity problems soon returned and so it was decided to convert the route to double deck again, which took place on 31 March 2012, the short workings also being withdrawn from that date. Some redundant Tridents were brought in from Beddington garage, where they had been replaced by new buses. Thus we see 9771 (YN51 KWF) about to set off from Heathrow Terminal 5 on Sunday 27 January 2013.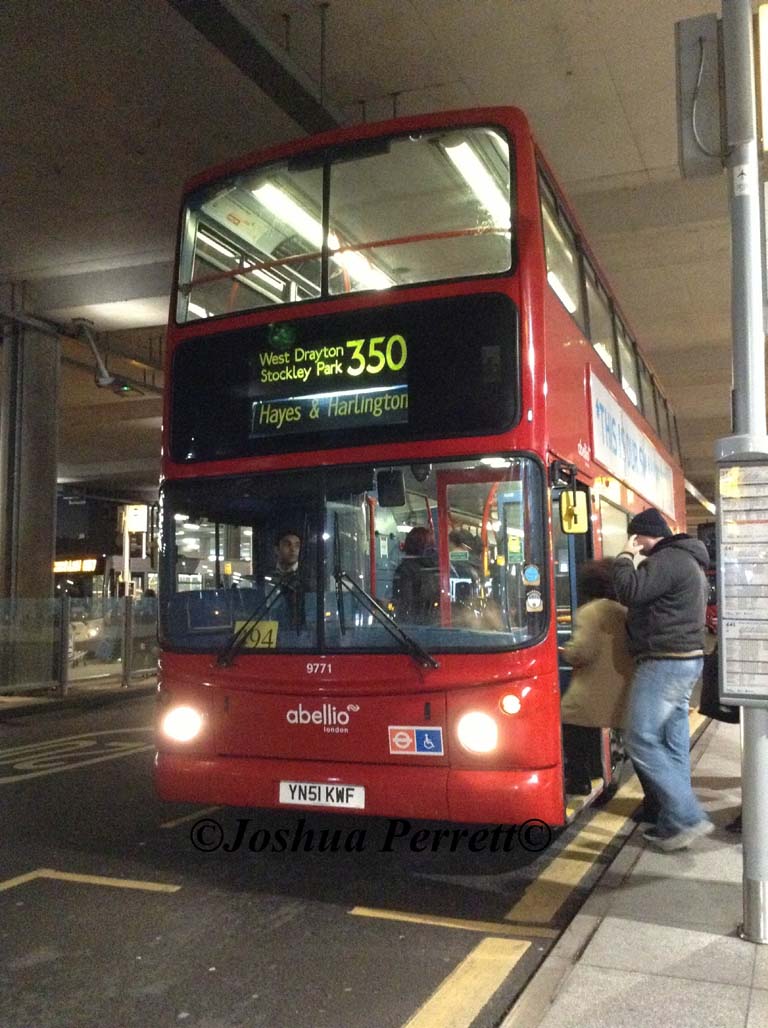 Photo © Joshua Perrett.

An early aberration by TfL's newly formed "bus blinds committee" (not an official name!), still not rectified, was to specify the destination display for Hayes as merely "Hayes & Harlington" – although this is meant to refer to the station of that name, there is no way for passengers to know this, and they could quite reasonably assume it means buses serve Hayes and serve Harlington – which, in most cases, they do not. The previous display was "Hayes Station" which is equally incorrect, as Hayes station is in Kent! Actually, "Hayes & Harlington Station" is not strictly correct for the 350 either, as there is one further stop beyond the station, in Clarendon Road, where buses turn and stand.

Navigation

See also routes U5, A10

Photo Gallery | Bus route list | Operational details | Service changes | Operators & Garages