Home | Bus routes | Operational details | Service changes | Operators & Garages | Photo gallery
---
Route E2
14 January 2013
In September 1968 London Transport launched a series of Flat Fare bus routes around London. Quite why it was deemed necessary to differentiate them from other services I am not too sure, but it was, the affected routes being renumbered into a new series with letter prefixes to denote the general area. Perhaps the letters were to remind passengers that the fare might be different from the same journey on a different route.
Three of the routes were in the Ealing area and consequently became the E1, E2 and E3 from 1968, although the E3 did not serve Ealing itself. Since that time the routes have enjoyed a remarkable degree of stability. The E2 replaced the 97, running from Brentford via Northfields and Ealing to Greenford. The 97 had had a Sunday extension to Ruislip but this was absorbed into the new daily route 273 (now E7).
Since then, the E2 has been unchanged except that the Brentford terminal was moved from the traditional County Court stand to Armchair's depot in Commerce Way/Road when that firm took over from Centrewest (the former London Buses subsidiary) in 1997. The route has run from there ever since, although Armchair was purchsed by Metroline in 2004.
The route has become one of the latest to convert from single to double deck operation, albeit with a reduction in frequency from 10 to 8 buses per hour during the day on Mondays to Saturdays and 6 to 5 during evenings and Sundays. New TE class Enviro400s were on order but came late, so initially the route was operated using older TP class buses spare from elsewhere.
However, in another game of Metroline busical chairs it was decided to standardise Brentford garage on Volvos instead, and so the E2 got a second batch of new buses in less than a year, displacing the TEs to Cricklewood which already had a large number of the type. The B9TLs followed a batch of similar buses for the 237, and VW1065 (LK60 AEM) nears the end of its journey in Greenford (photographed from the steps of the Lidl store) on Tuesday 2 November 2010. The taxi in the background is disappearing along Costons Lane, the other side of which is Perivale Park.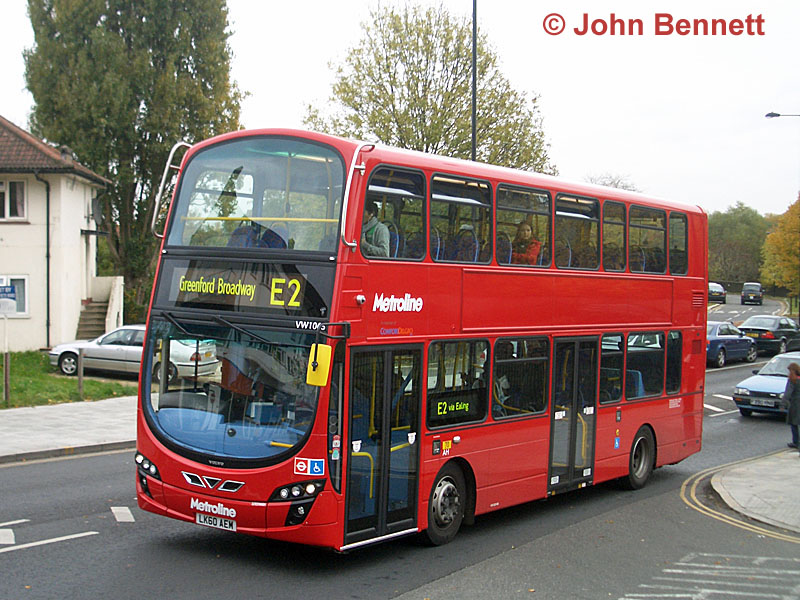 Photo © John Bennett.
Navigation
| | | |
| --- | --- | --- |
| | Previous | Next |
| Chronologically | 370 | 350 |
| Numerically | D6 | E6 |
See also routes E1, E3, E7, E8, 237

Photo Gallery | Bus route list | Operational details | Service changes | Operators & Garages