Home | Bus routes | Operational details | Service changes | Operators & Garages | Photo gallery
---
Route E6
13 December 2012
The E6 is one of three 'E' routes that does not go anywhere near Ealing, running as it does from Greenford to Hayes. The E-line network was launched in 1990 using RW class Wright Nimbus-bodied Renault S75 minibuses, and the new E6 was designed to serve the newish Willow Tree Lane estate and also Ferrymead Gardens, but had no evening or Sunday service. During Monday to Friday peak hours buses omitted the diversion via Ferrymead, running direct along Ruislip Road to Greenford (Red Lion) and thence to Greenford Station. At other times buses ran between Hayes & Harlington Station and Greenford (Red Lion).
In 1993, the section to Greenford Station was abandoned. Commuters will have been inconvenienced, while it left this part of Greenford really quite poorly served. However, nine years later, the E6 was to be restored to Greenford station (not, by any chance, after planners read my rant in the first version of this article?).
It was not until the Ealing network was re-tendered in 1997 that the E6 routeing was standardised, with all buses running via Ferrymead, and an evening and Sunday service was launched. Much of the Willow Tree Lane area is a considerable distance from the main roads and other bus services, and it is surprising how limited the service to this area has been. In addition to the increased service, the route was extended a short distance from Hayes to Bulls Bridge Tesco, serving the Cranford Drive area on the way, again new territory.
New buses were also specified, and a batch of Marshall Minibuses was ordered by Centrewest for the E5, E6 and E10. They took a dreadfully long time to arrive, and when they did they kept breaking down. Despite modifications by Marshalls they were still pretty unpleasant buses to ride on – though, in fairness, not as bad as the Renaults they replaced. They did not last long, a deal being struck with Marshall to replace them with Marshall Capital bodied mini Dart SLFs.
The E-line network came up for tender again in May 2002, and, as seemed to be quite common with such large area networks at that time, one route was lost by the major operator to an independent, in this case Wing's Buses of Uxbridge. This pushed Wing's firmly from the minor league, with a fleet of just 7 buses, into an operator to be reckoned with, the E6 more than doubling the fleet size. New mini Pointer Darts were introduced. As mentioned before, the E6 has been re-extended to Greenford Station, on a daily basis this time. It was also diverted away from the Ferrymead area, the shortened E10 taking on this role from the same date. Extending the E6 also made room at the Red Lion stand in Greenford for the new E11 route. Wing's subsequently sold out to Tellings-Golden Miller, who in turn sold out to Travel London in 2005.
The E6 was one of the few routes from the 2002 tendering exercise not to be granted a 2 year extension for good performance, and upon re-tendering was lost to Metroline. It is now run from the former F.E.Thorpe base in Perivale – the official London Buses garage code of PA has now been adopted, replacing the old Thorpes code of FE. Perivale is a couple of miles down the A40 from the Greenford Station terminus of the E6, although not as close as the Wing's/TGM/Travel London/Abellio Hayes depot is to the other end! A substantial frequency increase also took place at the same time, from 4 to 6 buses per hour during the day on Mondays to Saturdays, and from 3 to 4 in the evenings and on Sundays. Given the size of the Willow Tree Lane area this seems easily justified. Unfortunately the route was awarded on the basis of a tighter schedule, and was dogged by poor reliability with numerous unscheduled short workings being noted, although an extra bus was eventually added.
Again new Darts of the shortest variety were specified, although they were to the now familiar Enviro200Dart design. Given the severe capacity problems the route had faced latterly it was perhaps unfortunate that small buses were again specified, as there are no physical restrictions on the route. Perhaps it was thought that the frequency increase would be enough to solve it, but thankfully when this proved not to be the case agreement was reached with London Buses to introduce larger vehicles, with the smaller buses being cascaded to Potters Bar for routes 383, 384 and W9. The original E200Darts, which had already been a month late in arriving, with a variety of older vehicles used temporarily, were removed as quickly as possible and again replaced by older, but larger, buses from elsewhere until new longer Enviro200Darts could be delivered.
Metroline often shuffles its bus types around between garages, and the E6 is now operated by MM class MAN buses as part of exercise to allocate the entire class to one garage, PA being selected as it already had the majority. MM820 (LK57 AYP) passes along the section of Ruislip Road that was originally only served during Monday to Friday peak hours, passing the recently rebuilt Ravenor Primary School on 25 June 2012.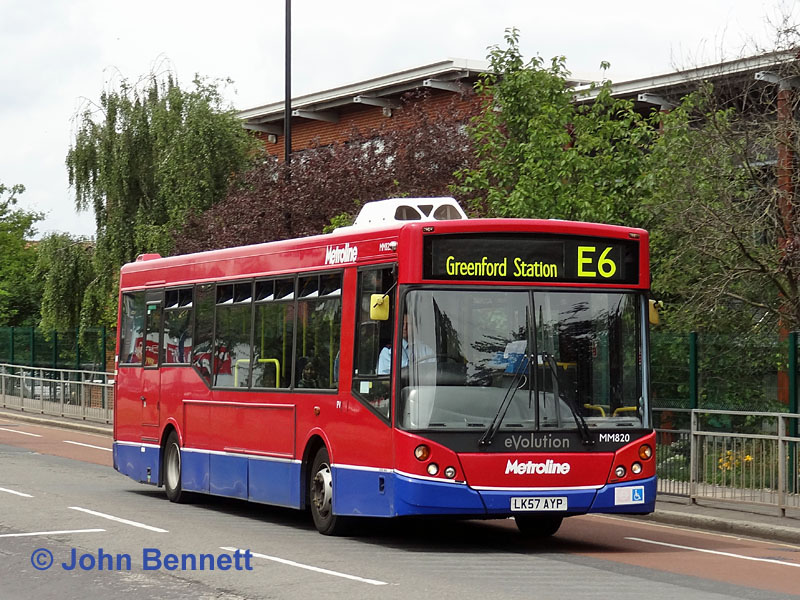 Photo © John Bennett.
Navigation
| | | |
| --- | --- | --- |
| | Previous | Next |
| Chronologically | 227 | 15 |
| Numerically | E2 | E8 |
See also routes 92, 105, E5, E10, E11, 383, 384, W9

Photo Gallery | Bus route list | Operational details | Service changes | Operators & Garages