Home | Bus routes | Operational details | Service changes | Operators & Garages | Photo gallery
---
Route 353
20 January 2007
There have, over the years, been a number of attempts by private operators to run commercial bus services within the regulated confines of Greater London, but few have had any real or lasting success, many quickly being abandoned, and the lucky few getting absorbed into the London Transport network. However, a notable exception is the 353, which was started in April 1969 as route 853.
This route is especially significant in that, in a way, it sowed the seeds for the now substantial Metrobus company. However, the beginnings were very small. A long standing deficiency in local transport provision meant that journeys between Orpington and Croydon could only be made by a variety of slow, inconvenient and expensive routes involving at least one change, the most popular choice being by 61 to Bromley and then route 119.
North Downs (no connection with the more recent Northdown incidentally) was set up to provide a direct service, cutting across from Locksbottom to Coney Hall along roads previously to a large extent unserved. From Coney Hall buses ran via Addington and Coombe Lane along fast roads, rather than taking the direct route via West Wickham, and a remarkable average speed of 23mph was achieved, using minibuses rather than full size buses. (Full sized buses were tried for a short time, but their lower running speed caused operational problems with the tight timetables.)
This route initially ran two-hourly, though soon doubled to hourly, using just one minibus, initially a converted Ford Transit van (as opposed to the later, and, by the 1980s, widespread, Transit bus). The number (853) was chosen to fit between routes the company operated in the Horsham area, numbered in the 840-852 range, and the 493 (formerly 854, now R9) on which Sunday services were to be provided by North Downs.
Development of Forestdale led to a second service being introduced, but this was soon hived off to Orpington & District, resources again being concentrated on the 853. However, many efforts to keep the business in good shape were frustrated, and, after many changes to vehicles and timetables, the 853 was also handed over to O&D in January 1976, and the number 353 was adopted. However, O&D also fell into financial difficulties, and its services passed to Tillingbourne from February 1981. More experienced management turned the services into a resounding success, and these lucrative operations were separated off into a new company, Metrobus, from 24 September 1983.
O&D had already made some progress in integrating the Forestdale services into the Orpington route. Direct services from Orpington under the 353 number were restricted to peak hours only, the Forestdale journeys being numbered 355, while offpeak the two were amalgamated as the 357, buses therefore running from Orpington to Croydon via Forestdale. Keeping the services separate at peak hours enabled the faster journey times to be retained on the 353, which was more likely to be appreciated by commuters. This type of service structure is considered normal on the railways, yet is relatively uncommon in the bus industry.
Tillingbourne introduced a further route, the 354 from Sanderstead and Forestdale to Bromley. Although initially a shoppers' service, extension to Selsdon and later Croydon in 1987 gave it an important commuter role. Metrobus continued to develop the services, gradually building up the frequencies and vehicle requirement. The big change occurred in 1995, simplifying the service by reinstating the 353 as a daily service, running regularly every half hour during the day on Mondays to Saturdays and hourly evenings and Sundays. The 354 was greatly enhanced to cater for virtually all Forestdale traffic. Most 353 journeys were operated by Olympian double deckers, with the odd single deck Lynx on some of the quieter peak journeys.
The opening of Croydon's Tramlink in May 2000 was bound to have an effect on the 353, running as it did pretty much parallel with the 353 between Addington and Croydon. Unfortunately London Transport Buses decided to take control and withdrew the 353 between Addington and Croydon, forcing passengers to change to the tram and removing one of the original benefits of the 353, that of a direct service between Orpington and Croydon. Even though the frequency was doubled, and new low floor Darts were introduced, loadings on the 353 dropped dramatically.
That said, the 353 does carry very heavy schools loadings in the Orpington and Coney Hall areas, and so two double deck workings were re-introduced after a few years. Most recently the Mayor's free travel for children exacerbated the problem, and it was decided to effect a full conversion to double deck, with some additional vehicles being ordered especially.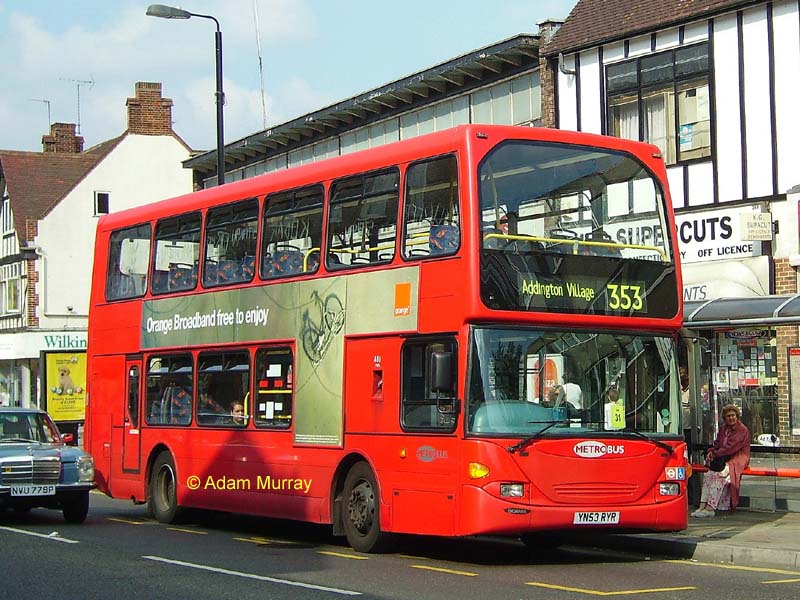 Photo © Adam Murray.
Two photos from Orpington in July, both showing the standard all-red livery Scania/East Lancs double deckers now normally used on the route. Above is 481 (YN53 RYR), an earlier model – along with a veteran Mercedes which may interest some viewers! Below 903 (YN55 PZE), one of the new ones, rounds the War Memorial roundabout.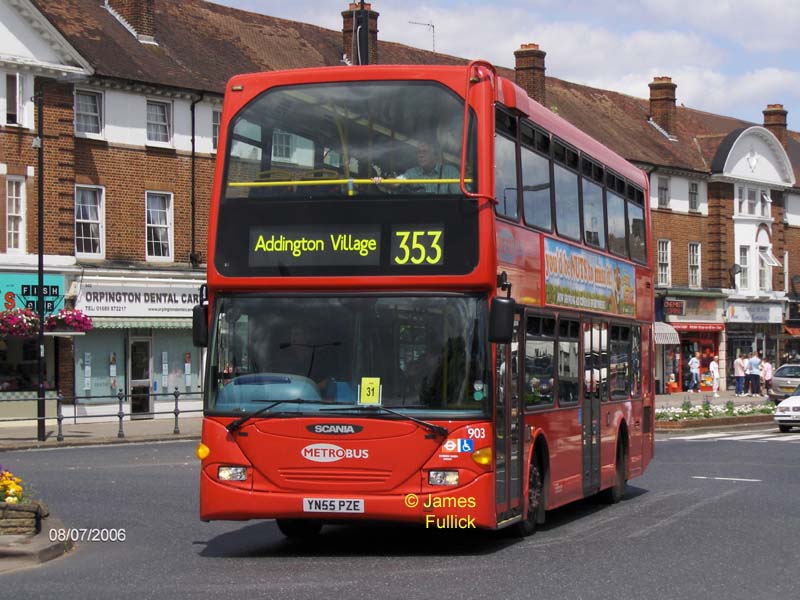 Photo © James Fullick.

It is unfortunate that L.T. Buses stepped in when it did, undoing in a stroke 30 years of hard work and development by a succession of companies as described above. All credit is due to North Downs, Orpington & District, Tillingbourne and Metrobus for trying out what London Transport, never an organisation with common sense or initiative, failed to see the need for.

Navigation

See also routes 61, 119, T33, R9

Photo Gallery | Bus route list | Operational details | Service changes | Operators & Garages