Home | Bus routes | Operational details | Service changes | Operators & Garages | Photo gallery
---
Route 182
5 February 2008
The trunk 182 across north west London has recently had a type change from Dennis Tridents to Volvo B7TLs. Metroline regularly re-shuffles its buses between garages, the aim being to standardise types at each garage as far as possible. Harrow Weald (HD), which runs the 182, previously had a mixture, but the loss of route 24 at Holloway meant that VP class vehicles based there could be moved to HD to replace the TAs, which are due shortly to convert route 210 (at Perivale garage) to double deck.
Although Harrow Weald should be a full VP allocation now the vehicles have come in several batches, not all new to HD, and vehicles from two different batches are depicted here. First up is VP610 (LK04 UWS) negotiating Staples Corner near the end of its journey from Hatch End in June 2005, part of a large batch delivered to HD for the 140.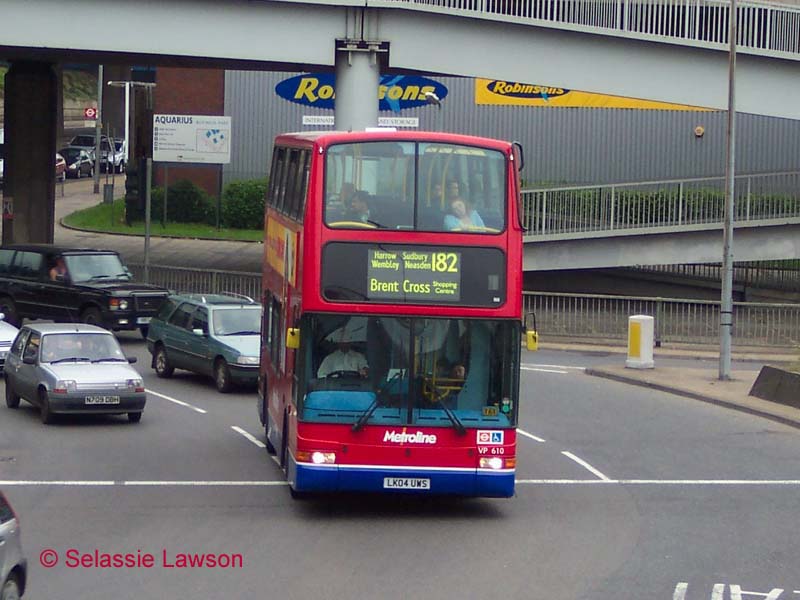 Photo © Selassie Lawson.
The other photo shows VP325 (LR52 BMY) at Harrow Bus Station at January 2005. This batch was transferred in from Holloway (HT) garage the previous September to cover newly won route H12 – the VPs being replaced at HT with the TPLs displaced from the 140! Both photos were taken when the route was scheduled for TA operation, although being similar in passenger terms the types were frequently mixed between routes. Since then, as mentinoed above, further VPs have been transferred from HT to complete the allocation of the type at HD.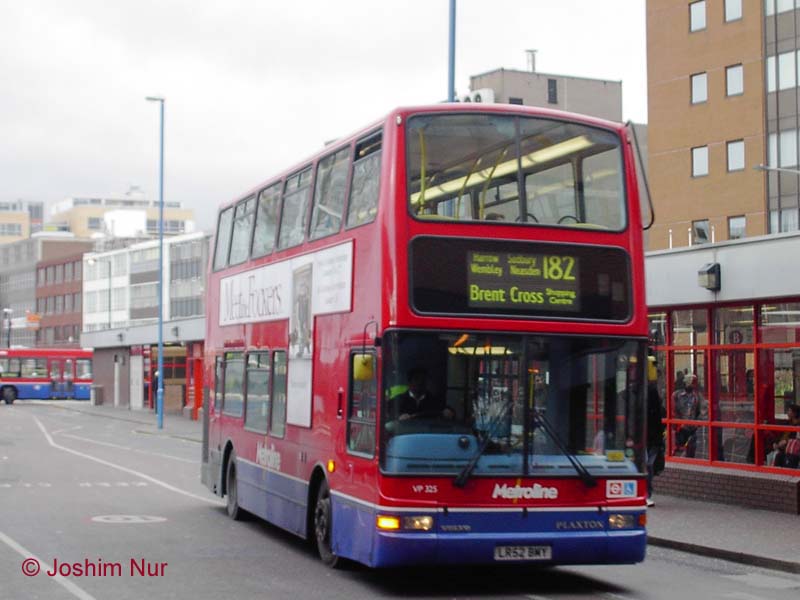 Photo © Joshim Nur.

Route 182, along with the 186, were introduced in 1970 to replace the western end of the 18, which was truncated at Sudbury Swan, still its terminus today. The 182 ran from Wembley Stadium Empire Pool via Epmire Way, then following the 18 as far as Wealdstone. From there it ran on to Harrow Weald and then replaced the 158 to Watford. Some rush hour journeys ran to Wembley Trading Estate instead of Empire Pool. The Edgware section of the 18 was covered by the 186. In 1972 the 182 was curtailed at Harrow Weald Garage, being replaced north thereof by new route 258.

A short, and short-lived, extension to Wembley Stadium Market on Sundays was introduced, and withdrawn, in 1974. However, the opening of a large new shopping centre at Brent Cross in 1976, coinciding with the arrival of the M1 motorway there, triggered a major extension from Wembley to Brent Cross Station via Neasden. Wembley Trading Estate was still served during peak hours, whilst the evening and Sunday service continued to terminate at Empire Pool (no Sunday trading in those days, of course!). During Monday to Friday shopping hours the service terminated at the shopping centre, and the rest of the service was curtailed to there from 1976.

On 1978 routes 112 and 212, running along the North Circular, were merged back into one route between Ealing and Palmers Green, and to replace the enhanced frequency between Brent Cross and Manor Cottage Tavern the 182 was extended to the latter point on Mondays to Fridays (not evenings). This lasted until the major service changes of 4 September 1982. The odd journeys to Wembley Trading Estate were withdrawn in 1990. The evening and Sunday service was extended as far as Neasden in 1993, and a Sunday shopping hours service to Brent Cross was introduced in 1995. Hours of operation to Brent Cross were standarised throughout the week from 1998, although the bus station still closed in the late evenings until 2003.

Meanwhile, a short extension was added at the Harrow Weald end in 1999. Route H15 was withdrawn, partly replaced by doubling the frequency on route H14, but the section between Harrow Weald and Oxhey Lane was replaced by extending the 182. Frequencies were increased when the current contract began in September 2004.

Navigation

See also routes 24, 210, H12, 140, 186, 18, 258, H14

Photo Gallery | Bus route list | Operational details | Service changes | Operators & Garages