Home | Bus routes | Operational details | Service changes | Operators & Garages | Photo gallery
---
Route 192
5 March 2008
The 192 is a local minibus service in the Enfield area, taking a decidedly roundabout route from Enfield to Tottenham Hale. The route was started in 1995, then running from Enfield to Northumberland Park Tesco, and providing some subsidised competition to the commercial services 363 and 517 that County Bus had just launched. The extension to Tottenham Hale occurred during 2001, after Arriva East Herts & Essex (the new name for County Bus) withdrew from the 363 and 517, the 363 previously having covered the Watermead Way section.
Initially, Optare StarRider minibuses from Leaside's Enfield garage were used, but these were past their best and were replaced by Darts after a few years. More recently, a new contract beginning in November 2002 called for low floor buses, so the motley collection of Plaxton and Northern Counties bodied Darts that had been running the route was swept aside by a batch of new 8.8m Mini Pointer Darts.
A further new contract commencing in October 2007 surprisingly specified new vehicles again, and this time the latest Enviro200 bodywork (which replaced the Pointer) was specified. The vehicles are still to the shortest length however, and EN7 (LJ57 USY) lays over at Tottenham Hale bus station on 16 February 2008. The EN code is perplexing – these are the shortest length, whereas longer 9.3m vehicles have been coded ENS and the longest 10.2m examples ENL. Perhaps someone didn't think of the possibility of 8.9m vehicles when devising the earlier ENS and ENL codes!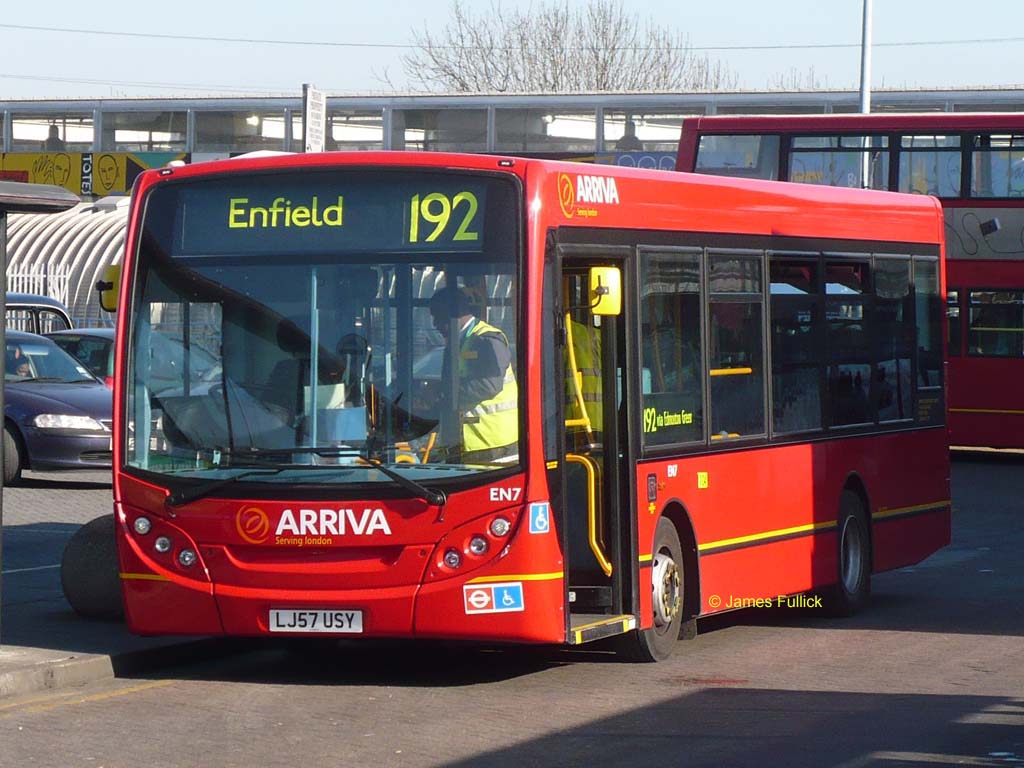 Photo © James Fullick.

The 2002 tender saw a massive service increase. The daytime service on Mondays to Saturdays was upped from 4 to 6 buses an hour, and evenings and Sundays did even better with an increase from 2 to 4 b.p.h., while much earlier and later journeys were added. The route is one of those that is a victim of its own success, with very heavy loadings being carried throughout the route – including the relatively new section to Tottenham Hale, which has gone from strength to strength, in stark contrast to the situation with the previous infrequent service. This is perhaps surprising as there is no residential population around Watermead Way – presumably the passengers are travelling to or from the superstores in the area, and/or Tottenham Hale station (for the Victoria Line or fast train services).

It is therefore disappointing that the latest contract does not offer any increase in capacity, although longer vehicles would be impractical due to some of the narrow roads the route uses. An extra bus was, however, added to the schedule, purely to counter the delays caused by the overcrowding on the route.

Navigation

See also routes 407, 377, 491, 184

Photo Gallery | Bus route list | Operational details | Service changes | Operators & Garages