Home | Bus routes | Operational details | Service changes | Operators & Garages | Photo gallery
---
Route 469
24 April 2009
A need for extra capacity on the Bexleyheath end of route 469 saw the section between there are Erith hived off route 99. The shortened 469 thus runs between Erith and Woolwich, which is what the 99 previously did, but the 469 takes a much more convoluted intermediate routeing. Prior to this, the 469 was a mishmash of various local links strung together into one implausibly long route.
It all started with the 98 tram, which started from Abbey Wood and ran via Abbey Road, Belvedere, Erith and Bexley Road to Bexleyheath. When trams in this area were replaced by trolleybuses this one became the 698 and was extended from Abbey Wood to Woolwich via McLeod Road, Woolwich being a more obvious focal terminus than Abbey Wood. The 698 in turn was replaced by extending the rapidly lengthening 229 route, which therefore ran from Orpington to Woolwich via a rather indirect route!
The time came for the 229 to be split and the Woolwich to Bexleyheath section was transferred to the 269. Later the 269 was itself split at Bexleyheath, and thus was born the 469; but the legacy of the 269 lived on as, inexplicably, one early morning journey from Abbey Wood to Bexleyheath on Mondays to Fridays was numbered as a 269! The 269 had been extended from Woolwich to the Queen Elizabeth Hospital on Woolwich common; although a number of routes now run there since a major redevelopment and expansion to replace Greenwich District Hospital, for many years the 469 was the only route.
The convoluted routeing mentioned above was created on 23 January 1999 in a far reaching reorganisation of bus routes in Bexleyheath and Woolwich. The route was increased from 3 Titans an hour to 4 Darts, and changes were made to the route increasing through journey times quite considerably. Between Woolwich and Abbey Wood buses were diverted via the Abbey Estate (Church Manorway and Sewell Road) in replacement for route 177, albeit representing a reduction from 5 to 4 buses an hour on that section. This enabled the 177 to revert to the more direct routing via McLeod Road and thus to revert to double deck operation to relieve overcrowding further down the route. And between Erith and Bexleyheath buses were diverted via Manor Road, Slade Green, Parkside Avenue and Barnehurst in replacement for the B13, which was being cut back to improve reliability.
Unexpectedly the Darts for the 469 conversion turned out to be new, low floor, ones. London Central had "on paper" acquired 15 of the notorious Marshall Minibuses from London General ("Minibus" being actually the name of the type) for certain routes in the Bexleyheath scheme, but a deal had been struck with Marshall to replace these unreliable integral buses with an equal number of Marshall bodied Dennis Darts of the same size, while Marshall would rebuild the disastrous Minibuses for re-sale. But in addition to the 15 DMSs, as the replacements were classified, 29 DMLs were purchased to oust all remaining Optare Metroriders. Not that they are very long; London Northern had some identical buses classified DMS, S for short!
However London Central has now found itself with more low floor Darts than it needed, and so has decided to standardise on the more numerous Plaxton bodied vehicles and dispose of the Marshall examples. As a result some early LDP class Darts have been drafted in from sister company London General – these are some three years older than the vehicles they replaced!
The route shortening mentioned at the top of the page was part of a further retendering exercise – the long route structure was retained in the 2004 exercise, but from 24 January 2009 the route was curtailed at Erith, reducing the vehicle requirement to 8 vehicles (plus a spare). This change also meant the route did not pass its home base, London Central's Bexleyheath garage, and it was not therefore a big surprise when the route was awarded to Selkent, whose Plumstead garage the route does pass. Following its split from Stagecoach, East London and Selkent have been diversifying their new vehicle orders, and Optare Versas were specified for the 469. Two shots of these are provided here, first being 37006 (LX58 CHL) in Woolwich (Vincent Road) on 28 January 2009.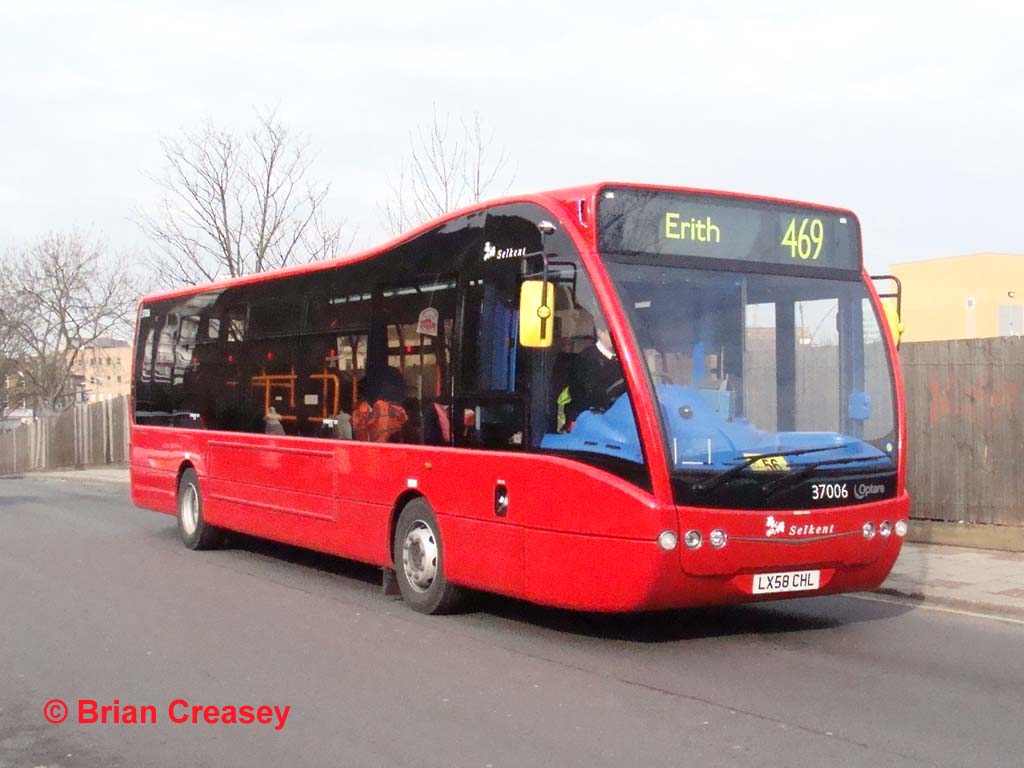 Photo © Brian Creasey.
The second view shows 37009 (LX58 CHV) in Woolwich, Plumstead Road, heading the other way, on Tuesday 14 April.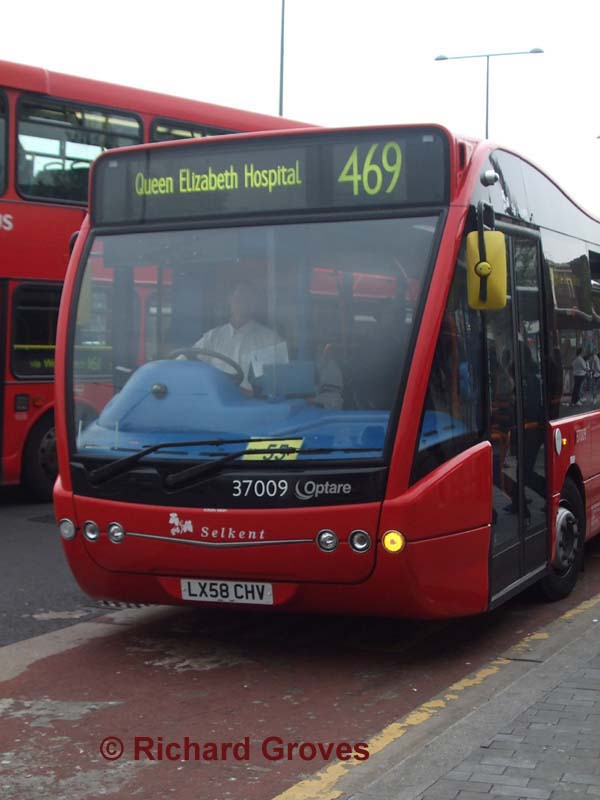 Photo © Richard Groves.
Finally, a regular strange working is 36033 on 20 February 2009, at the Erith terminus prior to starting its journey. This is a 9.3m Enviro200Dart and should be on route 386, but being only a few months older its use on the 469 is probably not too great a concern!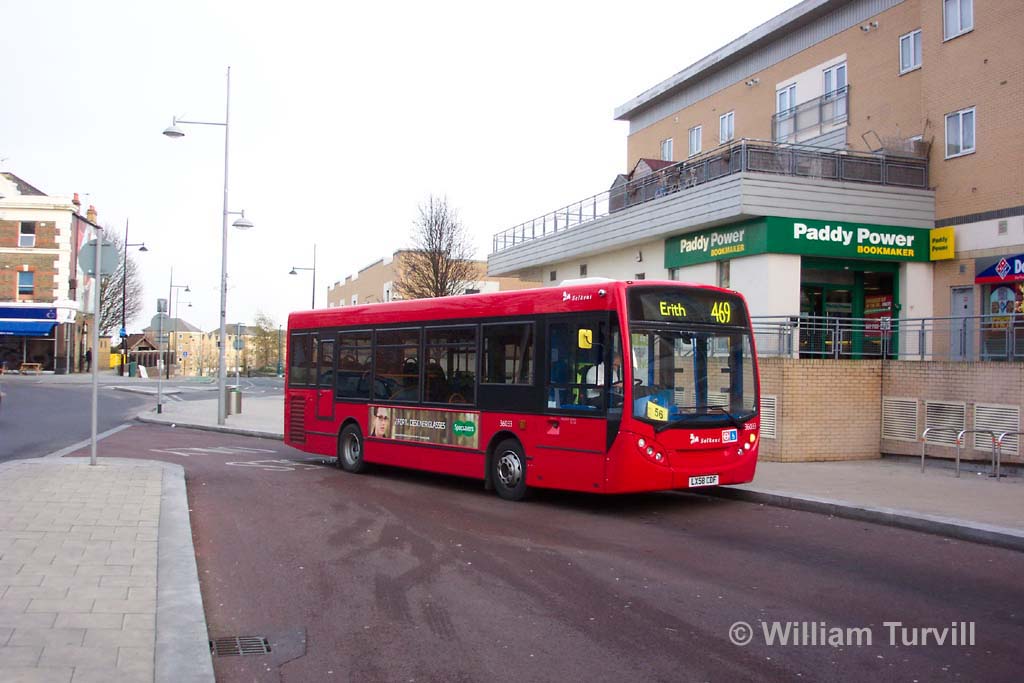 Photo © William Turvill.

Navigation

See also routes 269, 229, B13, 177

Photo Gallery | Bus route list | Operational details | Service changes | Operators & Garages