Home | Bus routes | Operational details | Service changes | Operators & Garages | Photo gallery
---
Route 471
7 December 2007
The cross-border 471 is one of London & Country's creations of the late 1990s. An established route network had been in place in the part of Surrey immediately south west of London, but in its latter days before becoming part of Arriva L&C decided to withdrawn most of the routes and replace them with a completely new network from 1997. This was all very innovative, if slightly confusing to passengers, and simultaneously the network was upgraded with a large batch of new low floor Dart SLFs.
The idea was to replace the old system of a limited number of fixed corridors by a wider range of cleverly interlinked services, mostly running hourly and with 4x1 numbers, and timetabled to provide even services on common sections. One of the new routes was the 471, running over the Kingston – Esher corridor, then replacing the 427 via Hersham and along part of Queen's Road before diving off up Ashley Road to serve Walton; the rest of Queen's Road was now served by a diverted 431. From Walton the 471 replaced the 451 via Weybridge to Byfleet and into Woking, before continuing over the 436 roads via Send to Guildford. Like the 427 and 451 there was no evening or Sunday service, but route K3 was interestingly extended from Esher to Byfleet on Sundays to cover.
However, someone somewhere had made a few mistakes and the new network was not terribly successful, and within a year various bits were being changed around, often wrecking that careful planning of the 1997 changes. In 1998 the 431 was withdrawn with a further re-arrangement of routes to cover, the 471 now serving the full length of Queen's Road between Hersham and Weybridge (as the 427 had done) and being diverted after Weybridge via the former 431 roads to Addlestone, Rowtown, Woodham and Woking, although approaching central Woking from the opposite direction by serving Kettlewell Hill first.
Even that was not enough to make the routes commercially viable, and a further round of cutbacks saw the 471 given up completely towards the end of 1998. Tellings-Golden Miller took the route on under contract to Surrey County Council and purchased a couple of Plaxton Pointer 2 bodied 10.7m long Dart SLFs (S518/9 TCF), highly similar to what L&C had been using, plus a Mercedes Vario (S708 TCF), which was used on workings interworked with school route 803.
Thankfully the 471 has not been subjected to any further major changes, although other routes still operated by Arriva have been altered frequently, and many of them were given up in January 2001. There were however changes to interworkings with other routes, and minor changes to the timetable, but things are now simiplified with a basically hourly service with 3 Dart SLFs. Following introduction of new dual door Darts on some London routes the Surrey routes now mostly use the single door cast-offs and are not generally kept to specific routes.
Tellings-Golden Miller sold their London and Surrey bus operation to National Express on 17 June 2005, who incorporated it into the Travel London brand. London vehicles were repainted all-over red, but the Surrey ones are mostly white with a red skirt, and have since been re-branded Travel Surrey. 8708 (R508 SJM) was new as TGM 508 on route 235, and was renumbered DP708 some time after becoming part of Travel London, which is the number it was carrying when photographed setting off from Kingston on Friday 3rd August 2007.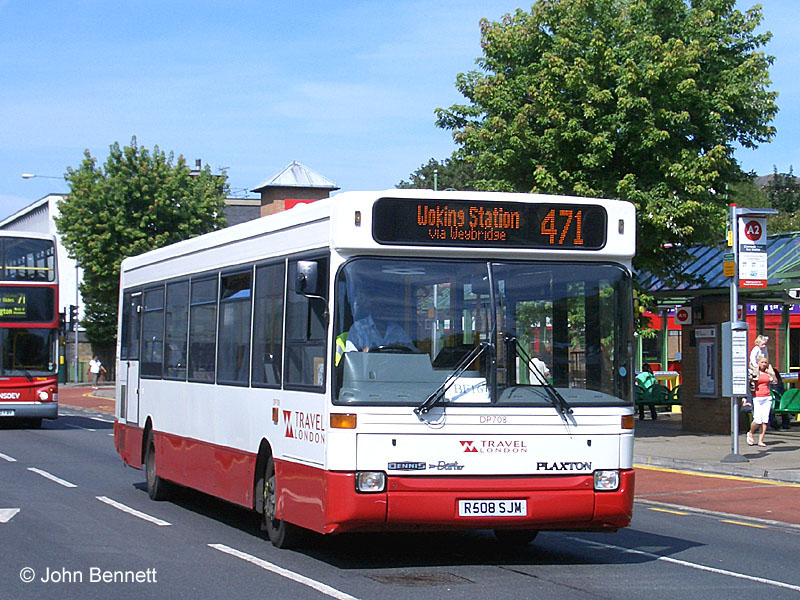 Photo © John Bennett.

The 471 now has itself to itself to a large degree, and bears a high degree of similarity to the former 427. After sharing Kingston – Hersham with the (re-introduced) 218, the route is not in competition with any other. It should also be noted that while there is a regular hourly service between Kingston and Addlestone, the service through to Woking is somewhat irregular in the peak hours, especially in the morning peak when one bus is used on another route. The solitary AM peak journey towards Woking and one afternoon journey from woking are diverted via Byfleet instead of Coombelands in order to serve school requirements. There is no evening or Sunday service either — though that is not so unusual outside London, even though it does leave large areas completely busless at these times.

Navigation

See also routes 451, K3, 235, 218

Photo Gallery | Bus route list | Operational details | Service changes | Operators & Garages