Home | Bus routes | Operational details | Service changes | Operators & Garages | Photo gallery
---
Route 248
21 February 2009
Following an absence of 20 years, the 248 has now reverted to its previous operator, East London. This time the route runs from a new base at Rainham garage, which is technically a separate operating company, East London Bus Ltd., and is rumoured to be operated as a low-cost unit, something not seen in London for over 10 years. The following notes are from the ELBG website:
East London's Rainham garage returned to frontline action from Saturday 27th September as the operating base for route 248, recently awarded under the TfL tendering process. The route returns to a company of London Transport parentage exactly 20 years since Hornchurch garage closed following an initial round of tendering. The service will use existing Trident buses until new Scanias, currently on order, become available.
Ironically the premises at Rainham were used by East Midlands based Frontrunner buses who won the contract to operate the route in 1988. Ensignbus then took over, followed by Blue Triangle, whose current base is adjacent to the East London garage. The garage was purchased in 2007 and was used briefly by route 25 following the closure of Waterden Road garage. The garage also looks after buses based at West Ham garage, pending completion of construction there.
The new Scania OmniCity double deckers mentioned in this item are now in service, hence an update to this page is in order. The Scanias mark a departure from previous policy with this operator when it was part of the Stagecoach group – the fleet double deck fleet had been standardised entirely on Alexander bodied Tridents. Free of Stagecoach corporate policy, ELBG has so far gone for the Polish-built OmniCity for its double deck orders. Those for the 248 are the first in the fleet, though they were not ordered for the 248 originally – extended delivery schedules have led to some shuffling, and as the 248 was a new acquisition it was prioritised.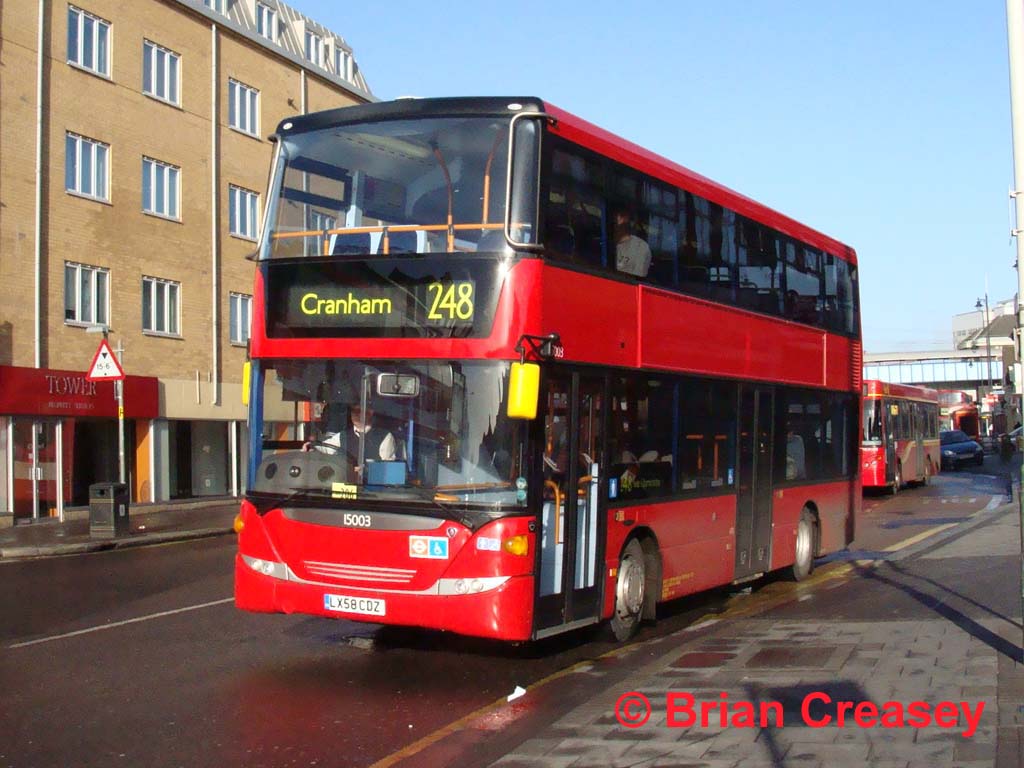 Photo © Brian Creasey.
Two views are given here, and the above photograph shows 15003 (LX58 CDZ) in South Street, Romford, on 17 January 2009. The second view is of sister 15001 (LX58 CDV) on Sunday 16th November 2008 in Western Road, Romford. Note how both buses are completely devoid of fleetnames – something that I am sure would not have happened in Stagecoach days! Thus it is very hard to work out who actually runs the route, unless you know where to look.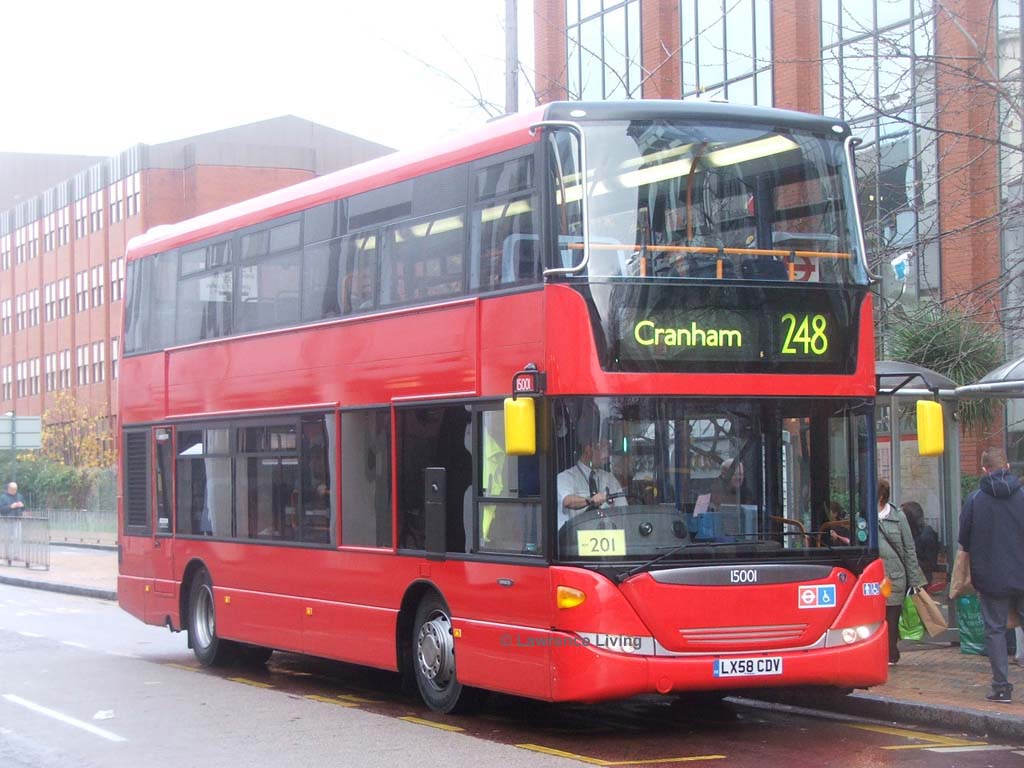 Photo © Lawrence Living.

The 248 started in the 1920s as a local route running just from Cranham to Upminster via St. Mary's Lane. Buses, or rather the one bus, ran every 17 minutes, which was presumably the most frequently it could run, given the 7 minutes end-to-end journey time. On Saturdays the frequency was boosted to every 8½ minutes, using the bus off the 249 (Corbets Tey to Upminster, every 16 minutes) which did not run on Saturday afternoons (or Sundays). The 248 and 249 were one-man-operated using Dennis Darts of an earlier generation, and, later, T-class AEC Regals.

The main service to Romford was the 109, which carried on the other side to Collier Row and ran about every 10 minutes (every 7½ minutes Saturday afternoons and every 24 minutes Sundays, extended to Corbets Tey to replace the 249). The 86A provided an alternative from Upminster to Romford, running on to Stratford, and this was boosted when the 109 was withdrawn in November 1940.

As further development took place in the area, in 1951 the 248 was extended north from Upminster Station along Hall Lane, as far as River Drive. The 249 soon joined in and did even better by running on along the new Avon Drive. In 1959 things were re-arranged, with the 86 replacing the 86A and continuing to Avon Drive, and the 249 renumbered 248A and reduced again to Corbets Tey - Upminster Station running during peak hours only, London Country route 370 maintaining a service to Corbets Tey at other times.

In 1964 the 193 replaced the 86 as the service to Avon Road and Upminster Park, but during 1970 there was a more major re-structure making the 248 a much more prominent service. The 86 was curtailed to Romford Station – the first route to terminate there, in a far cry from today – and the 193 to Hornchurch, with the 248 extended from Cranham to Romford, passing through Upminster a second time on the way. The first leg from Cranham completed the rectangle by running along the middle section of Front Lane to Upminster Park, where a new loop via Waycross Road was introduced, before running via Avon Road and Hall Lane back to Upminster and then on to Hornchurch and Romford to terminate at Parkside Hotel in North Street. A Sunday service was re-introduced, but only on the new section to begin with.

The route had to be single deck operated due to the low bridge in Cranham, but a further re-structuring in November 1981 allowed Titans to replace Leyland Nationals on Mondays to Saturdays when the service was curtailed to Cranham – now approaching from the opposite direction from before 1970. The 246 replaced this section, which is now covered by the 346. About 1984, the Sunday extension back to Upminster was removed in favour of a Sunday service on the 246, but in addition the 248 was split with a new 244 running from Upminster Park via Cranham to Romford, as opposed to the 248 which ran from Cranham via Upminster Park. The Romford terminus was also revised to the Market at this time. The 244 was rather short-lived however, lasting only until 1986.

As far as I know, the 248 was operated continously until this time by the Hornchurch (RD) garage mentioned on the ELBG site, and thus the award to Frontrunner South East, part of the East Midland group, from 24 September 1988 ended a lengthy period of history. East Midland was purchased by Stagecoach, which decided to dispose of the London operation, which was duly purchased by Ensignbus on 30 June 1989. (Ironically, East London was also owned by Stagecoach for 8 years following privatisation, but that was before they re-gained the 248!). Ensign did not keep the operation long however, selling all the local bus work to the CNT group of Hong Kong on 29 December 1990, leaving themselves to concentrate on the London Pride sightseeing operation and the second-hand vehicle dealership.

CNT quickly changed the fleetname to Ensign Citybus, and then Capital Citybus with a new yellow livery. The fleet was quickly modernised, and the operation continued to expand. The 248 had been upgraded with new Dennis Dominators just before Ensign sold the company. Capital Citybus was then sold by CNT to its management on 21 December 1995, who in turn sold out to FirstGroup on 8 July 1998. The resultant First Capital operation remains the largest operator in London other than those descended from London Transport.

Having built itself quite a reputation for operating special services in London, Blue Triangle of Rainham started to get into mainstream TfL bus route contracts around the turn of the millennium. The third route to be added to its portfolio was the 248, which commenced with the company on 29 September 2001.

Navigation

See also routes 25, 474, 86, 370, 193, 346

Photo Gallery | Bus route list | Operational details | Service changes | Operators & Garages