Home | Bus routes | Operational details | Service changes | Operators & Garages | Photo gallery
---
Route 246
12 August 2009
Route 246 started as a commercial operation by Metrobus in August 1998, and was introduced in conjunction with other changes. The original route had a distinctly traditional "country bus" feel to it, running hourly from Edenbridge to Bromley via Four Elms, Chartwell, Westerham, Biggin Hill, Keston, Coney Hall and Hayes. The new route replaced the Westerham to Biggin Hill section of the 320, which Metrobus took over from the same date, and the Biggin Hill to Coney Hall section of the 356 (Tatsfield to Croydon) which was withdrawn. The route also served to provide an improved overall service between Keston and Bromley, albeit by different routeings, as the routes were timed to provide roughly a half hourly service between those points. Indeed, for a time the 146 and 246 were jointly worked from Godstone garage.
The route was extended to East Grinstead in 2000, replacing the 509 and 529 between Dormansland and East Grinstead, and opening up some new links, giving it an end to end journey time of just under two hours. However, Metrobus were unable to continue running the route commercially, and so TfL stepped in to take over the Westerham – Bromley section from 18 May 2002, with Surrey tendering over the East Grinstead – Westerham section as route 236. The 246 retained a summer only extension to Chartwell during the day on Saturdays and Sundays. Both routes were awarded to Metrobus, in the case of the 246 initially on a temporary 18 month contract, and then a full 5 year term from September 2003 with the frequency increased to half hourly during the day on Mondays to Saturdays.
From September 2008 the route was lost by Metrobus and awarded to Selkent, who obtained new Enviro200Darts for the route. 36018 (LX58 CBU) is seen at Chartwell, now reached only on summer Sundays, on 15 March, the first day of the 2009 season. This is one of a batch of shorter Darts intended for route 354, but often to be found on the 246 on Sundays when the Chartwell service is in operation.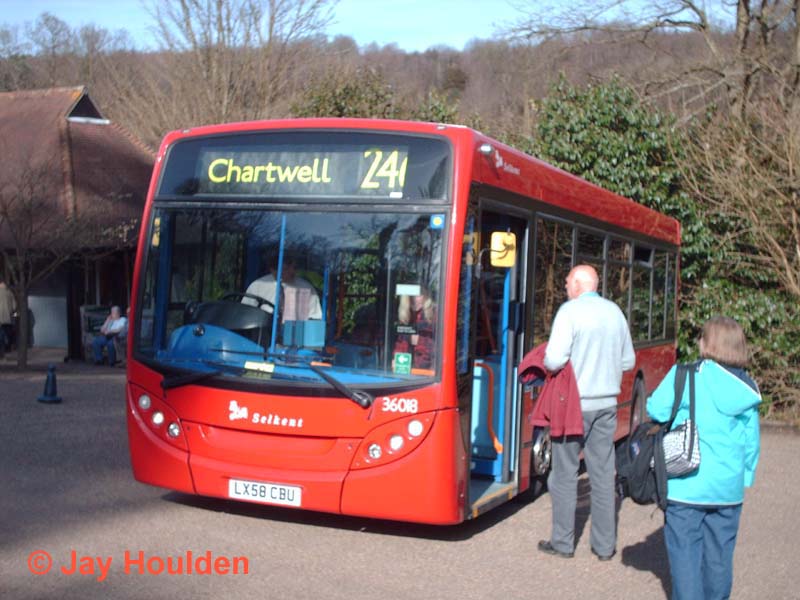 Photo © Jay Houlden.
The correct vehicle type is shown by sister 36011 (LX58 CAA) at Bromley North on 28 April 2009, showing the usual weekday destination of Westerham.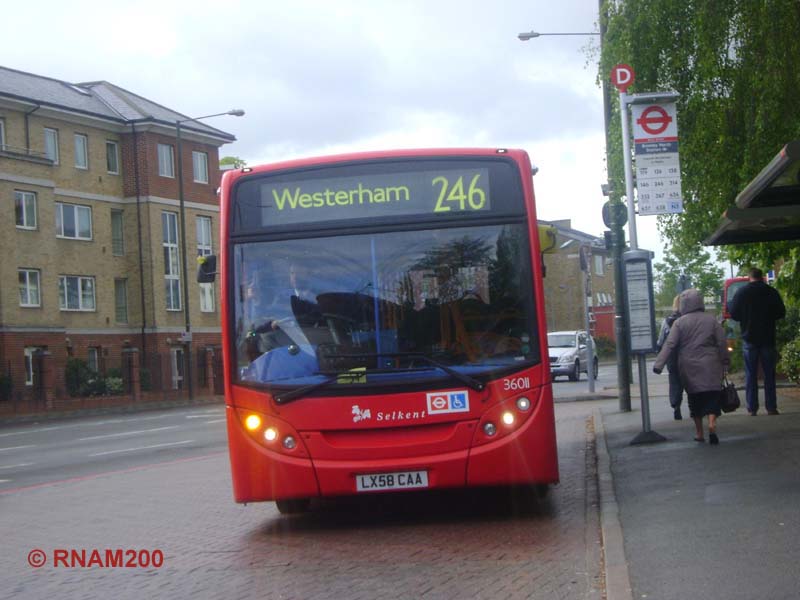 Photo © RNAM200.

Navigation

See also routes 146

Photo Gallery | Bus route list | Operational details | Service changes | Operators & Garages