Home | Bus routes | Operational details | Service changes | Operators & Garages | Photo gallery
---
Route 253
14 January 2013
Route 253 has finally been formally split into its two constituent sections, route 254 taking over the Aldgate-Holloway section from 31 May 2003, leaving the 253 to run between Hackney and Euston. It had been the intention to do the same in 1998, and routes 253 and 254 were tendered separately, but in the event Arriva retained both parts so the route number was not changed at that time. However the confusing arrangement of effectively having two separate routes with the same number has now been abandoned; indeed, the two legs are now operated from different garages and are thus operationally separate as well.
The route was one of the last to retain existing step entrance buses on contract renewal in 1998, but modern Leyland Olympians were already in place. However, the 2003 contract specified low floor buses; the 253 gained DLA class DAFs, Arriva's most numerous type. Although some new buses were ordered, these were mainly used on the 242, while the 253 used earlier vehicles drafted in from a variety of locations.
Subsequent developments meant that the route is now largely in the hands of Wright Eclipse Gemini bodied Volvo B7TLs, and so we have VLW187 (LJ03 MKM) in Seven Sisters Road bound for Hackney Central on Wednesday 21 September 2011 at 10:35.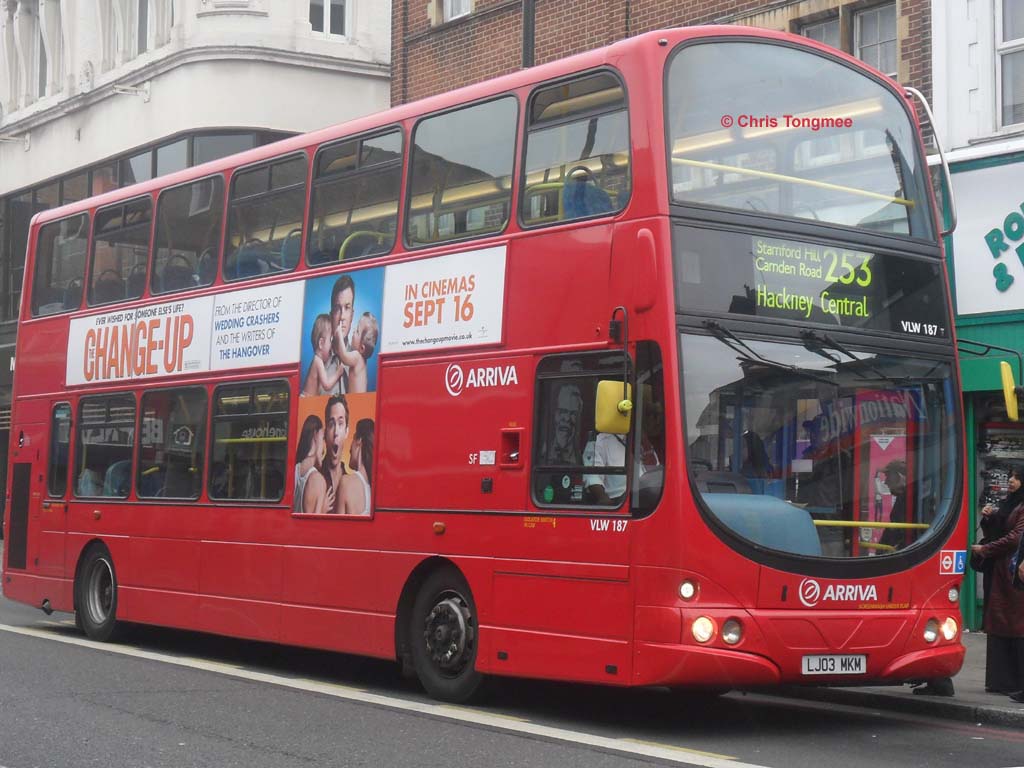 Photo © Chris Tongmee.
The 253 shares Stamford Hill garage with route 73, and so the buses from the 73 are liable to appear on it too. At present these comprise a mixture of DW class VDL SB300s and Volvo B5L hybrids. I am able to illustrate the former, although they are currently being displaced from the 73 by more B5Ls. The picture shows DW444 (LJ11 AAE) at Stamford Hill on Wednesday 19 October 2011.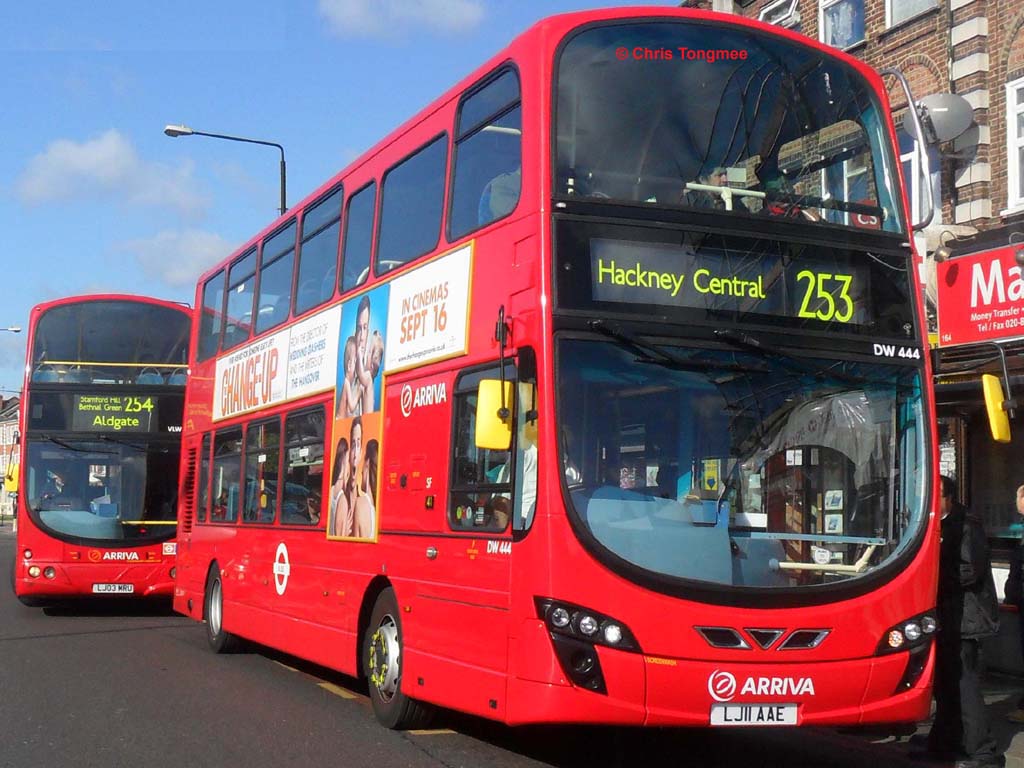 Photo © Chris Tongmee.

The 253 is one of the trolleybus replacement routes, in this case replacing the 653, which until 1960 ran much the same route, but diverting at Camden Town to Warren Street rather than Euston, as indeed did the 253 to begin with. The 653 in turn had replaced tram number 53 on 5 March 1939, both operated by Holloway tram/trolleybus depot (now HT).

The 253 has been operated by a variety of garages during its history, with frequent changes of allocation. Holloway, Edmonton, Stamford Hill (SF), Clapton (CT), Dalston and Ash Grove (AG) have all been involved over the years. One-person operation did not arrive until 21 November 1987, the AG and SF allocations being converted to Titan and Metrobus respectively. When AG closed in 1991, the whole route was concentrated at SF, taking a few Titans with it. However, Titans did not last long at SF, as they were replaced in 1992 by the new Olympians, which converted about half of the 253, as well as the 67.

In 1995 it was SF's turn to be mothballed, and the whole allocation moved to CT, peaking at an impressive 48 buses. SF later re-opened and took back part of the 253, but when the route was split SF originally took on the 254, with CT handling the 253 which terminated there. The 253 later moved back into SF when space was needed at CT for the 38, re-uniting the two routes; then when the 73 moved to SF it was the turn of the 254 to move, this time to the re-opened Ash Grove (which the 254 passes), which brings us to where we are today!

Navigation

See also routes 254, 242, 67, 73

Photo Gallery | Bus route list | Operational details | Service changes | Operators & Garages