Home | Bus routes | Operational details | Service changes | Operators & Garages | Photo gallery
---
Route 266
18 June 2012
The 266 is a major trunk route across inner west London, and its high number derives from its origins as trolleybus route 666. The 666 began on 5 July 1936, broadly replacing the 66 tram (Acton - Harlesden - Willesden - Cricklewood - Edgware - Canons Park); the 666 ran from Hammersmith to Edgware, the section from Hammersmith to Acton replacing short-lived trolleybus 660, which itself had been the replacement for the short 89 tram on 5 April that year. The 666 itself was reduced to Monday to Saturday rush hours and Sunday afternoons after only 7 weeks, when tram 64 became trolleybus 664 were introduced (Paddington to Harlesden, then via the 66/666 to Edgware). By now a new 660 (replacing the 60 tram, and now the 260) duplicated the 666 between Hammersmith and Acton.
The Saturday and Sunday services were lost after the war, although a full Monday to Friday service was then provided, the 664 being reduced to Mon-Fri rush hours, Sat and Sun instead. Withdrawal of the 664 in 1959 resulted in the 666 becoming daily again, but from 1962 the route was converted to diesel buses and re-numbered 266. Initially there was no change to routing other than a short extension to Edgware station. Then in 1970, route 142 (Watford to Kilburn) was split at Edgware, with the London end becoming the 32. The increased service consequently on offer south of Edgware meant that the 266 could be cut back to Cricklewood garage from the south (West Hendon on Mondays to Fridays), though a peak hours extension as far as Colindale was retained to replace a similar facility on route 245.
This paved the way for the route's extension into Brent Cross Shopping Centre on Mondays to Saturdays (except evenings) from 1975. Since then there has been little change apart from ever extending opening hours at the shopping centre. In addition a night service was added on the morning of 23 Sept 2000, initially running only to Cricklewood garage. From February 2003 Brent Cross bus station was opened 24/7 and routes now run there at all times; even when the shopping centre is closed, this provides a number of connectional opportunities, even at night.
Something of a surprise was that Metroline lost the route to First Centrewest from 19 May 2012. In the past First might not have been a serious contender for the route, but the company has opened not one but two garages on the line of route in the Harlesden area. The 266 is operated from the newer one, Atlas Road, originally opened to take some work from Westbourne Park, which has had to be reduced in size owing to the Crossrail project. (The former lower parking area is now the site being used to launch the tunnel boring machines.) Presumably, therefore, the garage is not intended to be temporary!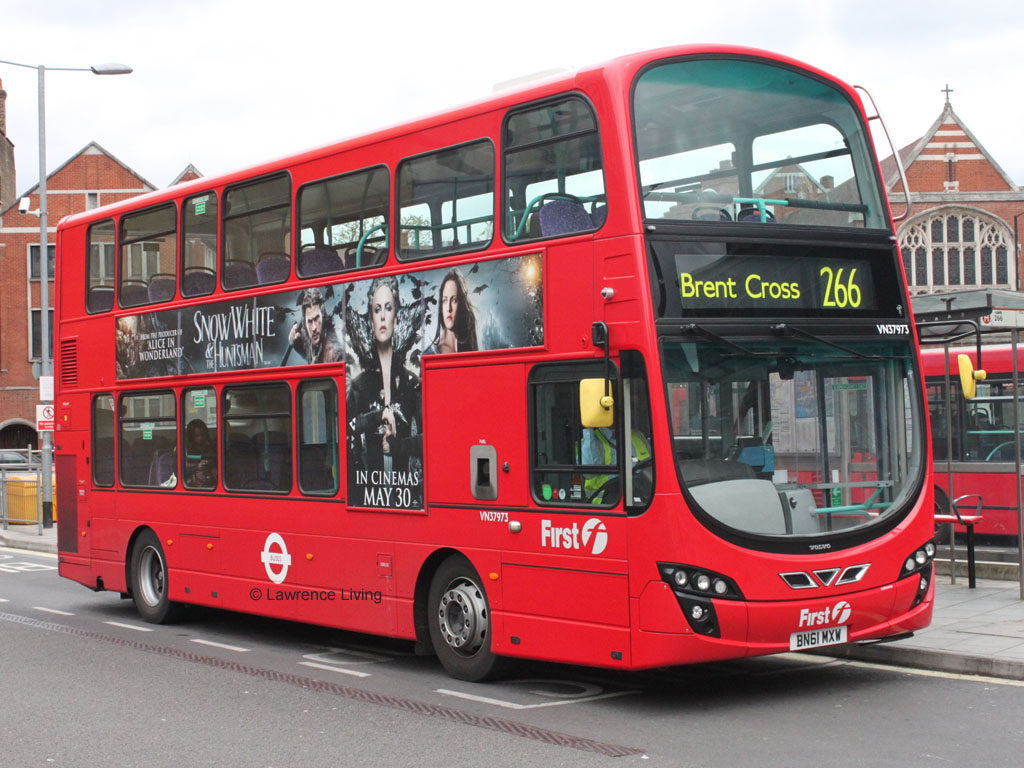 Photo © Lawrence Living.

First use Volvo B9TLs with Wright bodywork, and VN37973 (BN61 MXW) takes stand time at Hammersmith "Lower" Bus Station on Saturday 9 June 2012. This was opened to February 2008 to ease pressure on the older "Upper" Bus Station, which in turn allowed three routes that had formerly terminated in Hammersmith Grove to be extended into one or other of the bus stations. The 266 is one of those routes, and the only route to use the Lower Bus Station not to cross Hammersmith Bridge. The 266 uniquely departs Hammersmith via Dalling Road, and so can be accommodated in either place as required without splitting departure stops for common destinations.

Navigation

See also routes 260, 142, 32, 245, 84, 52

Photo Gallery | Bus route list | Operational details | Service changes | Operators & Garages