Home | Bus routes | Operational details | Service changes | Operators & Garages | Photo gallery
---
Route 268
7 April 2007
The system of competitive tendering for London's bus network still throws surprises from time to time. In the early days all sorts of new, low cost, operators found their way into the market, and the bigger companies with higher overheads had to innovate to keep their bids down. Nonetheless the cheaper operators were often able to win routes miles from their bases, incurring considerable lost mileage in the process.
These days that is much less common and the winner is most likely to be an operator with a base on or near the route – rising fuel costs having taken their toll and bidding processes have matured and stabilised. However a recent trend has been for operators on the edge of London to win contracts often quite a way into London, their drivers no doubt not subject to the stiff wage inflation that the London Mayor's socialist policies have brought on.
One such success recently was Arriva The Shires winning four routes in the Golders Green area from Metroline, of which one was the 268. What no doubt worked in their favour was that, although the previous operator, Metroline, has bases nearby at Cricklewood and Holloway, space constraints meant that the routes were operated from North Wembley, 6 miles away. Although Arriva's Garston base is 15 miles away, it is for the most part a quick run along the M1, so the extra dead time in the schedules can quite easily be offset against lower overheads and wage rates from the base north of Watford.
Through an old dealership connection Arriva prefers VDL (formerly DAF) chassis, usually specified with Wright Cadet bodies. A batch of 7 were delivered for the 268, and the first of the batch, 3704 (YJ06 LFE), was seen nearing journey's end in North End Road on 31 March 2007.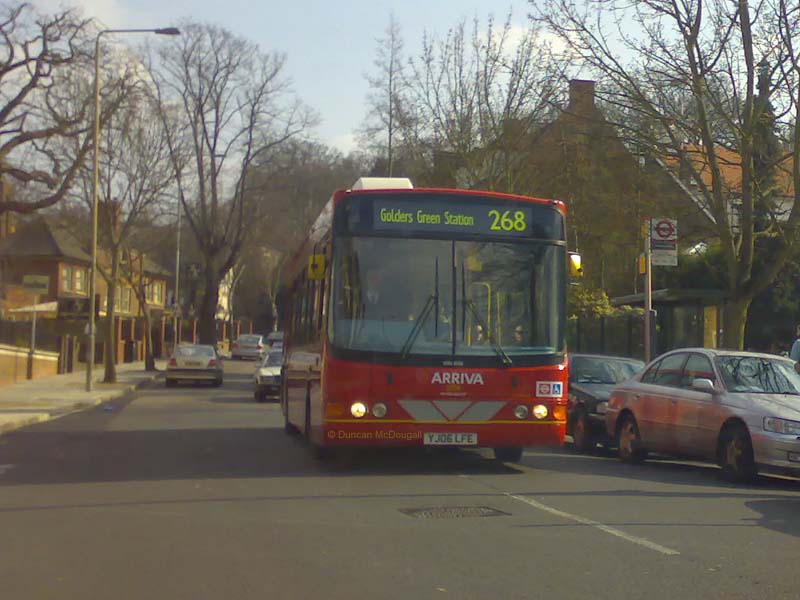 Photo © Duncan McDougall.

The 268 is quite a short route with an end to end running time of just 14 to 32 minutes, depending on the time of day. It is one of just two daytime routes to serve Hampstead village – the other is the 46, both of which are single deck – linking it to Golders Green and the Finchley Road shops, the former link in parallel with the Northern Line. Hampstead village had no bus services at all until the 268 was introduced on 7 September 1968 – I do not know if there was some historical reason for this, but the area is noted as one of the most up-market areas of London. Incidentally, the route number has no connection with the 68 group of routes even though the 168 links the two.

Initial operation was from Cricklewood garage over essentially the same route as today, but the route was in the second batch of routes put out to competetive tender in 1986, and was awarded to London Country (North West). Unlike the present operation that was a proper low cost operation, using Mercedes L608Ds based at Scratchwood services on the M1, with maintenance carried out at the Mercedes dealership in Colindale. LCNW later opened its own base on Muswell Hill, coded ML, where the 268 was joined by routes 153 and C2.

Re-tendering saw the route pass to R&I in 1990, based at North Acton and later Harlesden; that company was later taken over by MTL and merged into the London Northern operation, MTL in turn selling its London bus operations to Metroline, who retained the route until 10 June 2006 when the route was awarded back to Arriva The Shires – the successor to LCNW.

Navigation

See also routes H1, H2, H3, 46, 68, 168

Photo Gallery | Bus route list | Operational details | Service changes | Operators & Garages