Home | Bus routes | Operational details | Service changes | Operators & Garages | Photo gallery
---
Route 152
7 April 2007
The 152 plies between New Malden, Raynes Park, Colliers Wood and Mitcham, with a relatively recent extension to Eastfields. The route terminates at a 1960s council estate in an area west of Thornton Heath, south of Norbury, east of Mitcham Common and north of Beddington, but which doesn't seem to have its own name! Transport for London calls it Pollards Hill, which it is at the foot of – the much more upmarket Pollards Hill Estate, half a mile away, is on the hill itself.
At one time, the 152 bypassed Raynes Park and the centre of New Malden, and carried right on along the Kingston By-Pass to Hampton Court. Much of this ground is no longer served by buses, but such a link could be quite useful, allowing passengers to travel from south to west of Kingston without travelling through the centre. Furthermore, in June 1951 the route was extended through Bushy Park to Teddington and Feltham replacing route 201 (Kingston – Thames Ditton – Teddington – Feltham), but this was killed off in stages after route 285 was introduced in 1962.
During the 1960s the 152 was diverted off the Kingston By-Pass between Tolworth and Hook, establishing a service along Red Lion Road instead. On 24 January 1970 it exchanged routeings with the 72 west of Tolworth; the 72 only ran as far as Hampton Court, thus ending regular bus operation through Bushy Park, while the 152 replaced the 72 to Esher, and the 72 served Red Lion Road and Thornhill Road with the 152 reverting to Kingston By-Pass.
A further complex re-shuffle of routes occurred in 1974. The 72 was cut back to Tolworth with the 152 being restored to serve Hampton Court, and also re-routed again between Tolworth and Hook but this time via Ditton Road. The 189 was extended to Esher via Hook Rise, although this did not last long. The following year the 152 reverted to Red Lion Road.
In 1980 the 152 was withdrawn between Tolworth and Hampton Court (apart from peak hour journeys, which were renumbered 152A) and diverted to Surbiton Station. The service along Red Lion Road was once again decimated, but the 152 was quickly restored, thereby establishing broadly the current K1 routeing between New Malden and Surbiton. The Sunday service was diverted to Chessington Zoo in September 1982. Introduction of the K1 in 1987 saw the 152 diverted at New Malden to run direct to Kingston.
Meanwhile, new route 352 started in 1989 running on Mondays to Saturdays except evenings from Wimbledon to Eastfields, paralleling the 152 between South Wimbledon and Mitcham. The route at Eastfields was in a loop from Mitcham via Commonside East, Cedars Avenue, Tamworth Lane, Grove Road, Meopham Road, Woodstock Way, Grove Road, Eastfields Level Crossing and Locks Lane back to Mitcham.
There were plans to divert the 352 to Tooting via Southcroft Road and re-structure the Eastfields loop, but these were aborted and the 152 and 352 were merged into more or less the current route, although initially with the 352's one way routeing in the Eastfields area, and standing in Westmorland Way rather than South Lodge Avenue. The new alignment that the 352 extension would have provided had to wait several more years until the 127 was altered. New Malden to Kingston became the exclusive preserve of the 131.
The route was lost upon tendering by its long-standing operator, London General, being awarded to Mitcham Belle, starting 1 December 2001 using new Caetano Nimbus bodied Darts. However Mitcham Belle/Centra's problems in subsequent years saw the route re-tendered a bit early, and the award went to Travel London; once the new operator was known, arrangements were made to transfer operation as soon as possible, who hastily assembled a collection of vehicles to operate the route.
The new formal contract started in December and the vehicle allocation is now made up of a mixture of Dart/Pointers made redundant from the loss of route 203 to Transdev, and some new vehicles. First up are the new Alexander Dennis Enviro200s, and ES401 (LJ56 ONN) is seen on its first day in service, 4 December 2006, collecting passengers for Mitcham and Colliers Wood, in Rowan Road not far from the start of the route.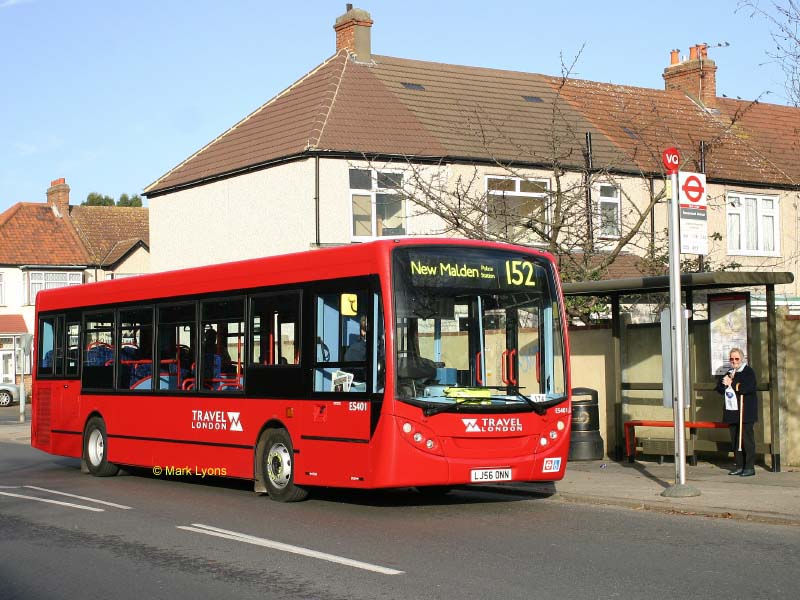 Photo © Mark Lyons.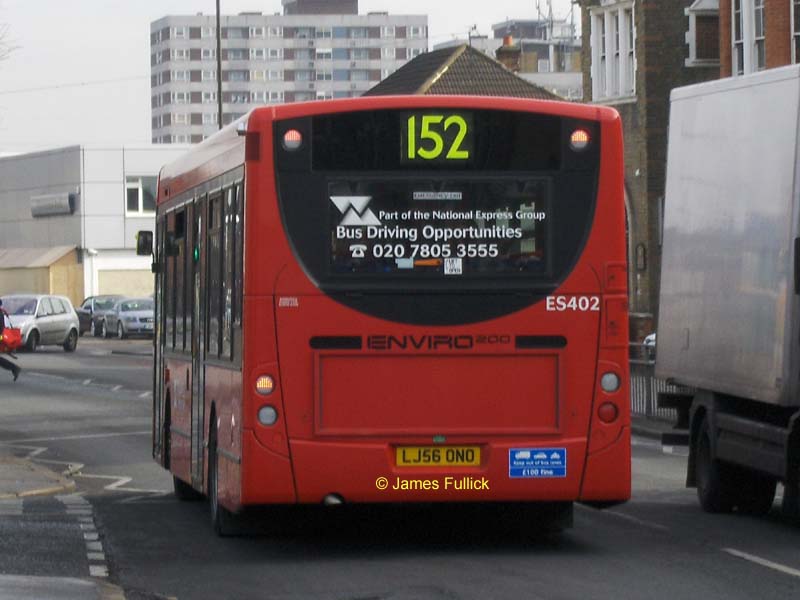 Photo © James Fullick.
A rear view is also provided. The rear window is not particularly large and is almost filled with an amazing clutter of different signs! This and the picture below, of older Dart DP435 (RX51 FGJ), were taken in Colliers Wood on 1 February 2007.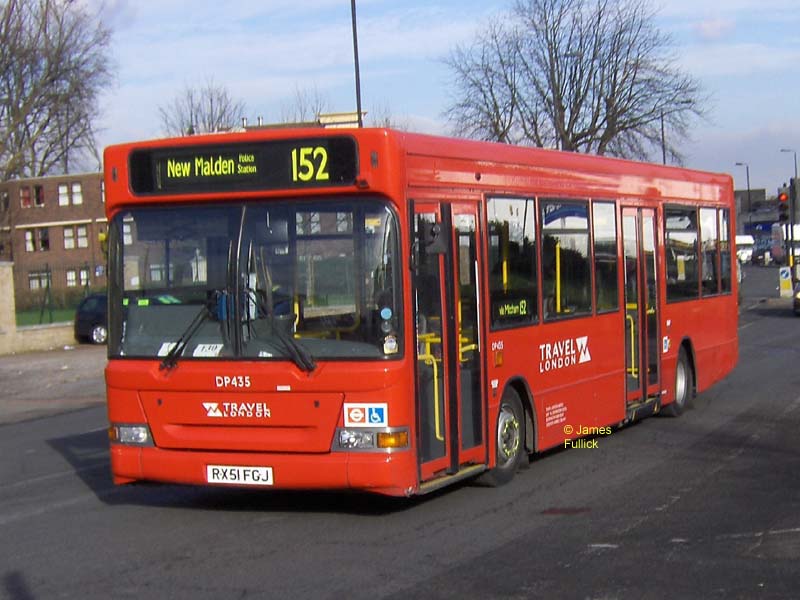 Photo © James Fullick.

As mentioned earlier buses originally terminated in Westmorland Way, but due to antisocial behaviour problems the stand had to be moved into South Lodge Avenue, a more open location. As a result buses only serve Westmorland Way on departure. There are plans to re-route the 152 through the council estate on departure, via Recreation Way, although quite what purpose this would serve I am not sure as the existing stand/stop is quite central to the estate and buses would again only be able to serve on departure anyway. The road has bus stop cages marked out already, even though there are no bus stops and no buses have ever served the road as far as I know! Additionally there is a gate round the back of the estate to block rat running, which would need to be opened up.

Navigation

See also routes 285, 72, 265, K1, 127, 131, 203

Photo Gallery | Bus route list | Operational details | Service changes | Operators & Garages