Home | Bus routes | Operational details | Service changes | Operators & Garages | Photo gallery
---
Route 265
11 June 2005
The 265 has come a long way since its debut as the Roehampton Circular in 1984. The initial routeing (with no Sunday service) was from Putney Bridge via Putney High Street, Upper Richmond Road, Roehampton Lane, Roehampton, Dover House Road and back to Putney Bridge, in that direction only. This largely duplicated the existing 264 (the Putney - Roehampton secrtion of present day 430), but the following year it was given more to itself by operating via Putney Common and into Alton Estate (Bessborough Road).
Fame at last came in the spring of 1990, with the logical step of swapping the Tolworth - Roehampton leg of the 72 onto the 265. This made the 72 less unweildy and provided a better match of service levels, and a batch of 10 brand new Mercedes/Alexander minibuses was purchased and operated from Putney garage as part of London Generalís Streetline network.
In due course the route received cascaded Dennis Darts, but tendering saw the route pass to London United from 29 June 2002, in a neat swap which saw LUís 85 fill the gap at Putney. The service is now operated from Tolworth garage, and has been extended from the Broadway to the Red Lion to serve the area better. New 10.2m Dart SLFs with Pointer bodywork were specified, and here DPS 641 (LG02 FFK) is seen a couple of days after the takeover, pulling away from Roehampton Asda on a journey towards Tolworth (buses in both directions divert onto the Asda slip roads to serve stops, then circumnavigating the same roundabout before returning to the A3).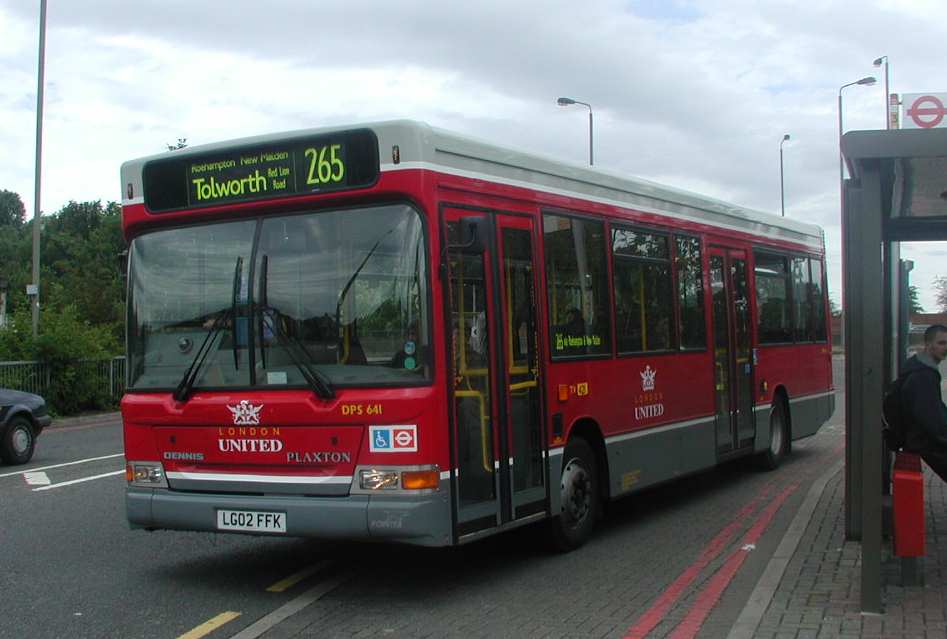 Photo © John Delaney.

The route is a bit of an odd mix of operating territory. From Tolworth to Roehampton is along the A3 dual carriageway Ė diving off along every possible slip road, as buses habitually do, and also operating via New Malden Police Station to serve the shops there. The A3 is notorious for seizing up on a regular basis, taking much of the surrounding area with it, after the slightest mishap. After the Asda, Roehamptonís notorious Alton (formerly Alton East) Estate is served in both directions, providing the only southbound service out of the estate; whilst northbound buses can divert through easily, the local road layout means southbound buses have to do a lengthy circuit, and the 85 doesnít bother with this. The route then proceeds along the relatively sparsely populated Roehampton Lane, before crossing Barnes and Putney Commons and arriving in the outskirts of Putney.

Navigation

See also routes 430, 72, 85

Photo Gallery | Bus route list | Operational details | Service changes | Operators & Garages