Home | Bus routes | Operational details | Service changes | Operators & Garages | Photo gallery
---
Route 81
10 April 2013
One of the longest established, and one of the most intensive, tentacles of central area bus operation beyond the London boundary is the 81. However it is probably even more famous for being the very first tendered London bus route. There is a connection, in that the level of subsidy required to operate routes outside London was a concern, and getting costs down by way of tendering enabled joint LRT/County funding, so cross-border routes were made a priority in the early phases of tendering.
The 1984 LRT act enabled London Regional Transport to invite tenders for the provision of bus services, and six out of the first tranche of 12 routes awarded passed from London Buses operation to other operators. The 81 passed to London Buslines Limited, a subsidiary of Len Wright Travel, one of two privately owned operators to win work, and the 05:00 journey from Hounslow on 13 July 1985 was the very first tendered bus service.
The base for the new bus operation was in Lampton, just north of Hounslow, with full maintenance facilities at Len Wright's Isleworth premises. Later expansion saw this replaced by new premises in Bridge Road, Southall, in October 1989.
Nine ex-London Transport Daimler Fleetlines were purchased from Ensignbus and painted into a yellow and brown livery. This also started a trend: many operators found these LT cast-offs perfectly serviceable once all the fancy gizmos that LT had specified were removed! The Fleetlines also restored double deck operation to the route following its conversion from Routemasters to SM class Swifts in 1970; latterly, Leyland Nationals had been used. That said, further tender wins resulted in an order for six new Leyland Lynx, which settled down mostly on the 81 after delivery in 1987.
The route was lost on re-tendering in 1995 to the newly privatised Westlink low-cost unit of London Buses, based at Hounslow Heath. Westlink was originally sold to its management, but they very quickly sold out to West Midlands Travel, which in turn sold out to National Express! However, in September 1995 National Express disposed of the small Westlink operation to its neighbour, London United. Since then the two fleets have been gradually merged, with the 81ís allocation later transferring to London Unitedís Hounslow garage. After a second spell at Hounslow Heath the route is now run entirely out of Hounslow again.
Westlink initially having used Optare Deltas. A mix of Lynx and all-Leyland Olympians were used during the first operation from Hounslow around 2000. Loss of route R70 later that year saw the fairly new low floor Darts on that route cascaded to the 81, which also had a frequency increase from every 20 to every 15 minutes to compensate for the loss of capacity; even then one double deck Olympian working was retained in the morning peak to cope with schools loadings. Contract renewal in July 2005 resulted in dual door vehicles being specified, cascaded off route H22 that November, resulting in further loss of capacity. The double deck working was converted to low floor by using a bus off route 120 that had been used only in the afternoon, and a second all-day working was converted to double deck to cover certain trips heavily used by shift workers in the Poyle area.
This failed to solve capacity issues, and so in May 2007 the frequency was improved to every 12 minutes, with a 20 minute evening and Sunday service. An unofficial double decking of the Sunday service ended at this time. This was still not enough capacity though, and in October 2009 the route was converted fully to double deck as buses became available off other routes. In April 2012 the Sunday service was further improved to every 15 minutes, in advance of contract renewal on 28 July that year, the change being advanced to avoid conflict with the Olympics.
The new contract also specified new buses, and after being used on Olympics duty these duly entered service. London United had in recent years bought exclusively Scania double deckers, but these are currently not available and so an enforced switch has taken place to the ubiquitous Alexander Dennis E40D with Enviro400 bodywork. ADE11 (YX12 FNS) nears journey's end in Hanworth Road, Hounslow, on 20 October 2012.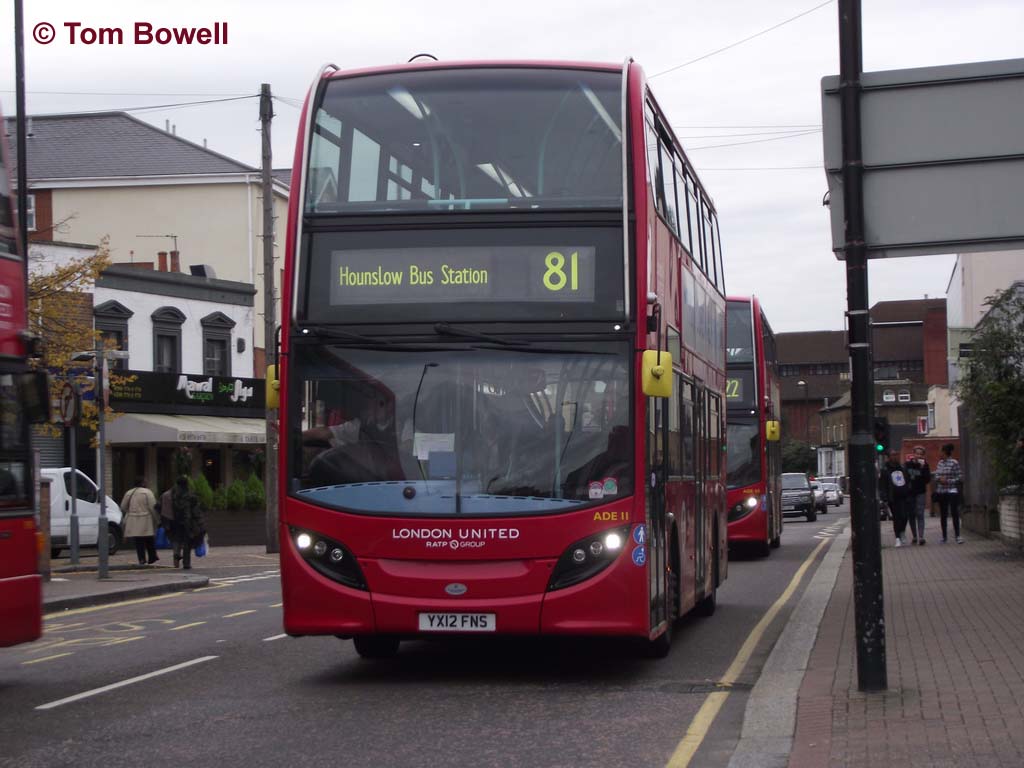 Photo © Tom Bowell.
Most of Hounslow garage's double deck fleet comprises Scania OmniCity double deckers and these can be found on the 81 Ė indeed they are scheduled on certain trips, owing to cross linking with school route 697. SP38 (YP58 ACF) is a comparative veteran from the H32 allocation, and was seen in Hounslow High Street on 15 April 2011, long before the ADEs arrived.
Photo © Ian Armstrong.
Navigation
| | | |
| --- | --- | --- |
| | Previous | Next |
| Chronologically | 357 | 23 |
| Numerically | 80 | 82 |
See also routes H22, 33, 120

Photo Gallery | Bus route list | Operational details | Service changes | Operators & Garages