Home | Bus routes | Operational details | Service changes | Operators & Garages | Photo gallery
---
Route 23
10 April 2013
The route number 23 was for some years vacant and was used by London Transport for marketing purposes. However, a use became available in the grand 1992 central London route scheme, which saw many long cross-London routes worked by garages from both ends split in order to aid privatisation. One of the routes to be split was the 15, which was curtailed from the east at Paddington, the section beyond to Ladbroke Grove and Westbourne Park becoming the 23. The 23 also took over the eastern end of route 9, the logic of which escapes me as the 9 is a shorter route!
Initially Routemaster worked from Westbourne Park garage, the 23 succumbed to One-person-operation in August 2003, and new long wheelbase Tridents took over when a new contract began. Unusually they were ordered with Alexander ALX400 bodywork – most First London double deck orders around that time were for Plaxton Presidents.
Over the last few years the route had had far more than its fair share of new buses! During 2008 First unexpectedly obtained a batch of 10 new Enviro400 bodied Tridents for route 23, stated to be to "upgrade" the route – it is not clear what the reason for this was. Whether it was really an upgrade is debateable, as the new vehicles were shorter; although they have more seat downstairs, the layout is much more cramped, and there is reduced (though still adequate) legroom upstairs.
Then in 2009 arrived four Wright Gemini 2 DL "integrals," a new design which could be regarded as a successor to the Wright Pulsar Gemini as both have VDL chassis components. Again, these appeared replacing older Tridents for unknown reasons, although in this case they are closer to the Tridents' longer length, at 10.4m versus 10.5m.
A new contract began in November 2010 and called for new buses, but these were postponed. In January 2012 however a full fleet of new Volvo B9TLs was introduced. The Enviro400s moved out to route 607 and the Wright Geminis to route 328. However, these were only intended as a temporary stop-gap. In May 2012 some ADL hybrid E40H vehicles arrived, and in October these were supplemented by the straight diesel E40D version. The B9TLs headed off for routes 266 and 295 respectively.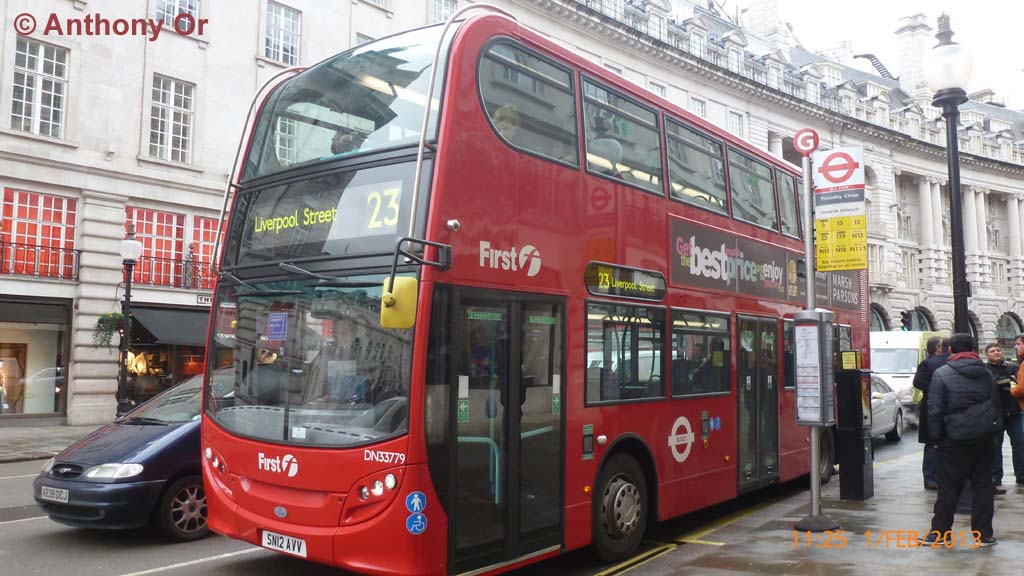 Photo © Anthony Or.
Both types are therefore illustrated here, with above, first, DN33779 (SN12 AVV), an E40D, passing the Piccadilly Circus stop in Regent Street on 1 February 2013. These buses are outwardly similar to the 2008 vehicles with Enviro400 bodywork, but rest on the updated E40D chassis rather than the older Trident. The 23 has had several frequency reductions since its OPO conversion, but is not at all short of capacity in these views!
Then we have the E40H hybrid version illustrated by DNH39113 (SN12 ARF), leading a procession of buses along Cockspur Street at Trafalgar Square on 7 May 2012. Note the incorrect class code – other members of the batch had no class code applied at all. Several routes have mixed E40D/E40H operation, but it is unusual for the hybrid vehicles to come in first. The 'hybrid' branding is very modest compared to earlier buses in this category.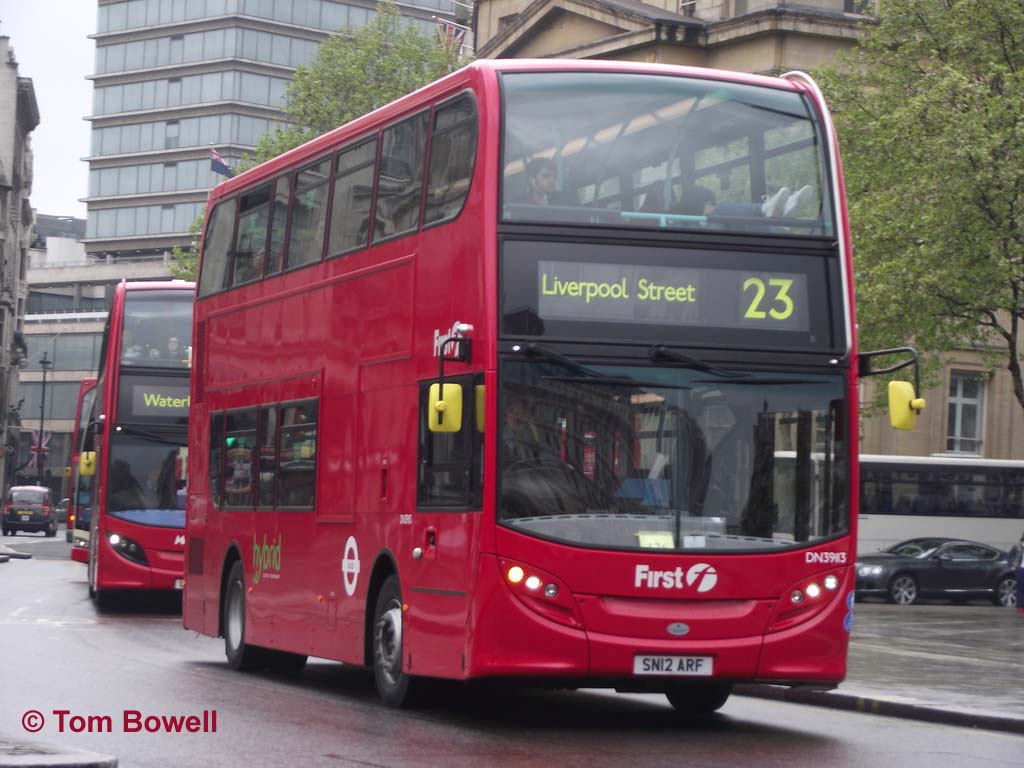 Photo © Tom Bowell.
Navigation
| | | |
| --- | --- | --- |
| | Previous | Next |
| Chronologically | 81 | RV1 |
| Numerically | 18 | 24 |
See also routes 15, 9, 13

Photo Gallery | Bus route list | Operational details | Service changes | Operators & Garages