Home | Bus routes | Operational details | Service changes | Operators & Garages | Photo gallery
---
Route 212
25 March 2010
The 212 was converted to single deck operation as a result of new contracts coming into force in February 2000. The frequency was increased from 4 to 6 buses an hour to compensate. However, as I have often commented on these pages, if these increases make the service more attractive such that custom increases, then original size buses on the new frequency would most likely be needed! The 212 was certainly no exception and had for some time been suffering severe overcrowding at peak times, and it was therefore a great relief when double deckers were restored.
The conversion was prompted by the need for Darts for route 245, newly assumed from Metroline, and DMLs from 212 along with a few from the D6 were duly transferred. This arrangement was initially only intended to be temporary, and there was much comment as to what passengers would say if the route reverted to Dart operation. However, the double deckers continued to operate after the 245's own new buses arrived, and it was later made known that the route was officially converted back to double deck. At this time a single return trip that had been provided by Arriva with a double decker was withdrawn.
Double deck operation has been retained with a new contract commencing on 6 March 2010, when the route was awarded to Hackney Community Transport, trading as CT Plus. First's TN class Tridents were replaced by new double deck Scania Omnicitys, which have been coded SD, perhaps for Scania Double decker. SD4 (YR59 NPF) makes its way through Walthamstow Central bus station on Wednesday 10 March 2010. This was the terminus of the 212 until 2000, when it and the 275 were extended to St. James Street station to relieve pressure on the main bus station. Prior to the rebuilding of the Central bus station during 2007, only buses terminating there served the bus station, with other services serving stops outside; but now through buses call in as well, which improves interchange.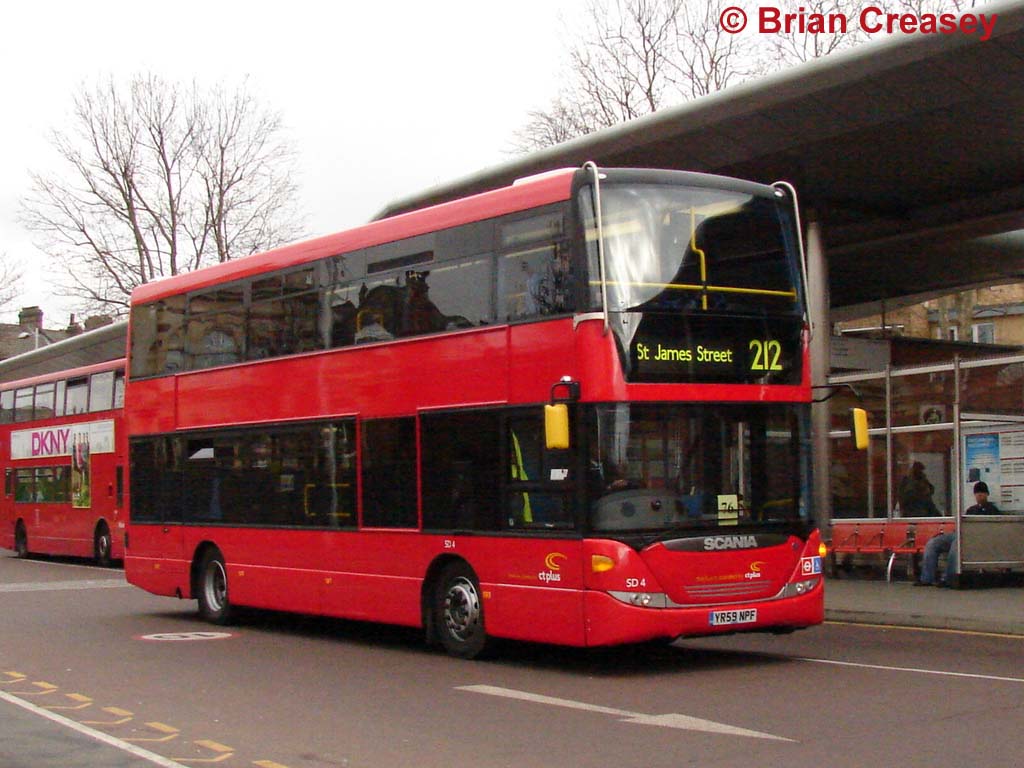 Photo © Brian Creasey.
As can be seen, there is not a great deal of passenger demand for this new link; St. James Street station is on the same line as Walthamstow Central anyway. Coincidentally, the 212's other terminus, at Chingford, is the final station on the same line – indeed, the route runs close to that line for much of its length, and one wonders how much of its popularity is down to abstraction from the railway, with passengers preferring to use the bus to connect with the Victoria Line at Walthamstow Central, where cheaper fares are available!
The blind display gives us yet another example of how TfL's rigid adherence to guidelines can yield displays that are actually incorrect, as the route does not serve St. James Street. The word "station" is generally omitted from blinds now; often it is indeed superfluous, but not in this case! Seen at the actual terminus is SD7 on 7 March 2010.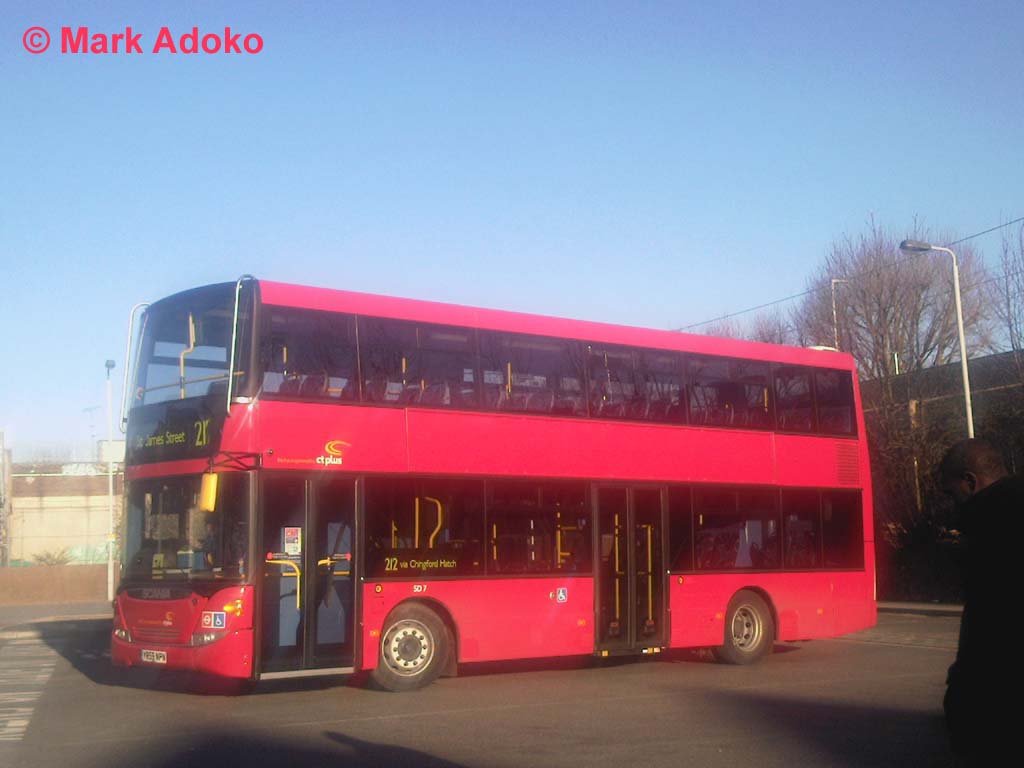 Photo © Mark Adoko.

The body of the present route 212 alignment started in 1968 with the introduction of flat fare route W21. This was a loop based on Walthamstow Central, running via Chruch Hill, Fulbourne Road and Larkshall Road to Chingford Hatch and Chingford Mount, then back via Chingford Road to Walthamstow, in both directions. In 1981, the W21 was split into two routes with 'ordinary' numbers, both projected from Chingford Hatch to Chingford: the 97A (now 357) via Chingford Road and the north end of Larkshall Road, and the 212 via Highams Park and Friday Hill, the latter also replacing the north end of route 235 (now W16).

The first year of the 212 was very eventful, first with the conversion to brand new Titans, then an extension from Walthamstow over route 276 to Yardley Lane on 24 September 1982, making the route into a giant U. This seemingly pointless move was withdrawn on 19 November 1988, resulting in the 215. The route was one of those that passed to Capital Citybus upon the breakup of London Forest in 1991, with CCB starting on 23 November that year, and had remained with the company until this year. A small batch of new Northern Counties bodied Leyland Olympians quickly became the mainstay of the 212, lasting until the 2000 change.

Navigation

See also routes 245, D6, 357, W16, 215

Photo Gallery | Bus route list | Operational details | Service changes | Operators & Garages