Home | Bus routes | Operational details | Service changes | Operators & Garages | Photo gallery
---
Route 211
19 June 2013
In 1998, Travel West Midlands (TWM) was successful in winning two London Transport routes, the 211 and C1. A separate subsidiary was set up, called Travel London. An interesting fleet of buses was obtained, with 21 short Optare Excels for the 211 and 10 Optare Solos for the C1. Despite being only 9.6m long, the Excels were dual door, and hence seated only 26.
However, Travel London failed to win any further routes, and additionally ran into planning difficulties with its base at Stewarts Lane rail depot (which was used by former fellow National Express subsidiary Gatwick Express), so eventually National Express sold the small London operation to neighbouring operator Limebourne, which moved the buses into its own base nearby. Intriguingly, Limebourne's own buses already had blinds for the 211 and C1, although for different reasons! However, Limebourne itself later sold out to Connex Bus. In a twist of fate, Connex in turn sold out to National Express, which reintroduced the Travel London brand! National Express has since sold the company on again, and it is now owned by NedRailways, the Dutch operator. (Ned, of course, is short for Nederlands, and has nothing to do with the term "ned" sometimes applied to transport enthusiasts!)
In 2002, it was at last realised that the tiny Excels were hopelessly inadequate for loadings, and would become even more so once congestion charging began in February 2003. Additionally, the Excels were still owned by National Express, so the result was to replace them with far more suitable Tridents. The time came for these to be replaced when a new contract started in 2012, and so the route is in the hands of Enviro400s, with a mixture of conventional driveline E40D models and the hybrid E40H version. The hybrid type is represented by 2443 (SN12 AUL) crossing Westminster Bridge on 29 January 2013.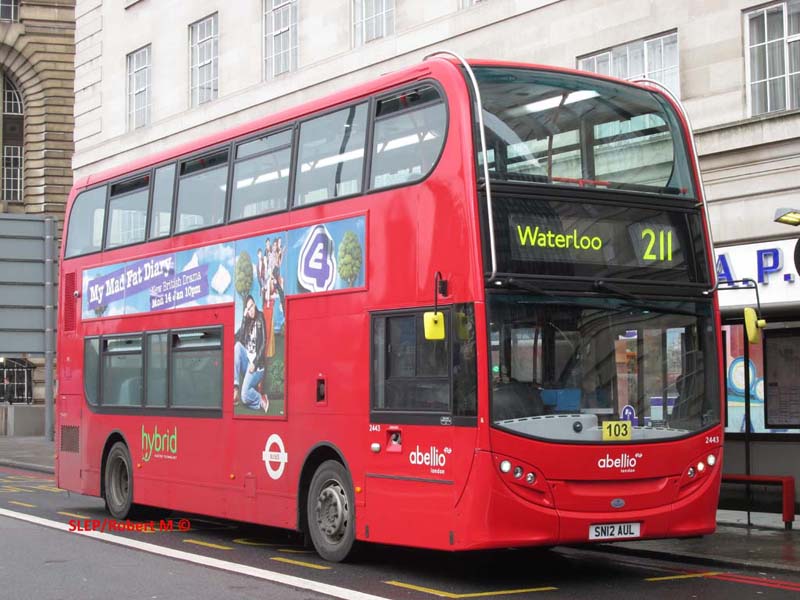 Photo © RNAM200 (Robert Mighton).
The E40Ds are represented by 9547 (SN12 AOU) passing along Buckingham Palace Road on Monday 15 April 2013. Behind the bus is Colonnade Walk – a modern building retaining its historic frontage – behind which is Bulleid Way coach station which was built over Victoria railway station (O.V.S. Bulleid having at one time been the Chief Mechanical Engineer of the Southern Railway, and some of his steam locomotives still regularly haul trains from Victoria today).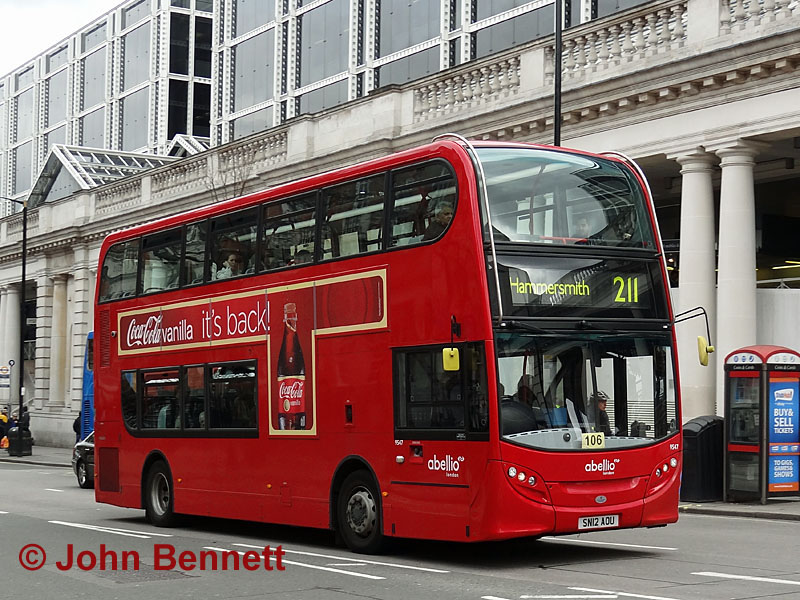 Photo © John Bennett.
The 211's London terminus is at another major London station, Waterloo – Britain's busiest station in terms of numbers of passengers boarding or alighting trains. 9411 (LJ56 VTN) is an earlier Enviro400 with a Trident chassis and was photographed there.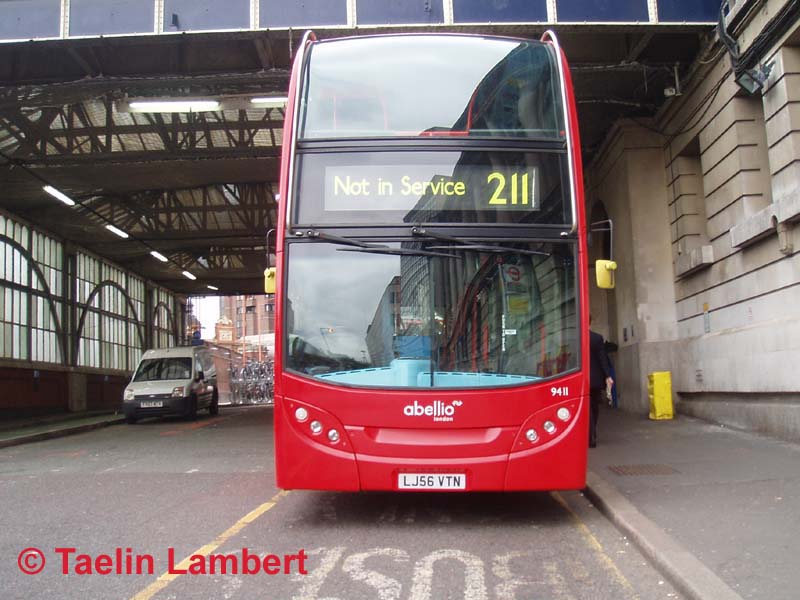 Photo © Taelin Lambert.
The 211 route itself was formed, back in 1993, by linking the western end of the 11, which was cut back to Fulham Broadway, with the short lived (and handily numbered) Red Arrow 511 route between Victoria and Waterloo Station. In between the route uses a new alignment, providing useful links between the parallel King's and Fulham Roads in Chelsea. Initial operation was by London General using 9m Dennis Darts, until the route was lost to Travel London as mentioned earlier.
Navigation
| | | |
| --- | --- | --- |
| | Previous | Next |
| Chronologically | 55 | 24 |
| Numerically | 210 | 212 |
See also routes C1, 11

Photo Gallery | Bus route list | Operational details | Service changes | Operators & Garages