Home | Bus routes | Operational details | Service changes | Operators & Garages | Photo gallery
---
Route 38
27 November 2009
The first major conversion of an articulated bus route back to rigid buses has now taken place – some four months after the original date of the contract that specified them. The 38 has gained an impressive frequency boost, with buses now running every two to four minutes for much of the day (and some departures only 1 minute apart), a frequency which has not been seen for many years. At the height of the morning peak there are up to 28 buses per hour, on a par with the busiest Underground lines, beaten only by the Central Line, which fields 30 trains per hour. The new peak vehicle requirement of 70 is the highest since the 1960s (when route 73 peaked at around 90 buses, but on a much longer routeing than today).
There seemed to be some difficulty about obtaining such a large number of buses in time, particularly as the award was a bit late, no doubt owing to some internal politics, with the Mayor's office suffering some difficulty convincing Transport for London and others that it was worth spending around £2 million extra per year to remove the artics. The policy is actually based on an alleged danger to cyclists, the evidence for which is shaky at best, although the operation of artics in London has been highly controversial with some saying they are ideal for shifting large crowds and others saying they are unsuitable for the capital's narrow streets or that the crush loading method of operation is not acceptable.
Arriva has ordered a mixture of two types for the route, and all were delivered in time for the revised start date of 14 November 2009. The majority of the allocation, 62 buses, is comprised of the new Wrightbus Gemini 2, which is based on VDL running components. That is the same combination of manufacturers as earlier DW class vehicles delivered to Arriva between 2003 and 2005, but the design is substantially updated, so a new numbering series has been commenced at DW201. DW258 (LJ59 GVK) is seen, at lunchtime, on the first day of operation at Angel, Islington. Clearly, a number of passengers had already discovered the presence of an upper deck on these vehicles!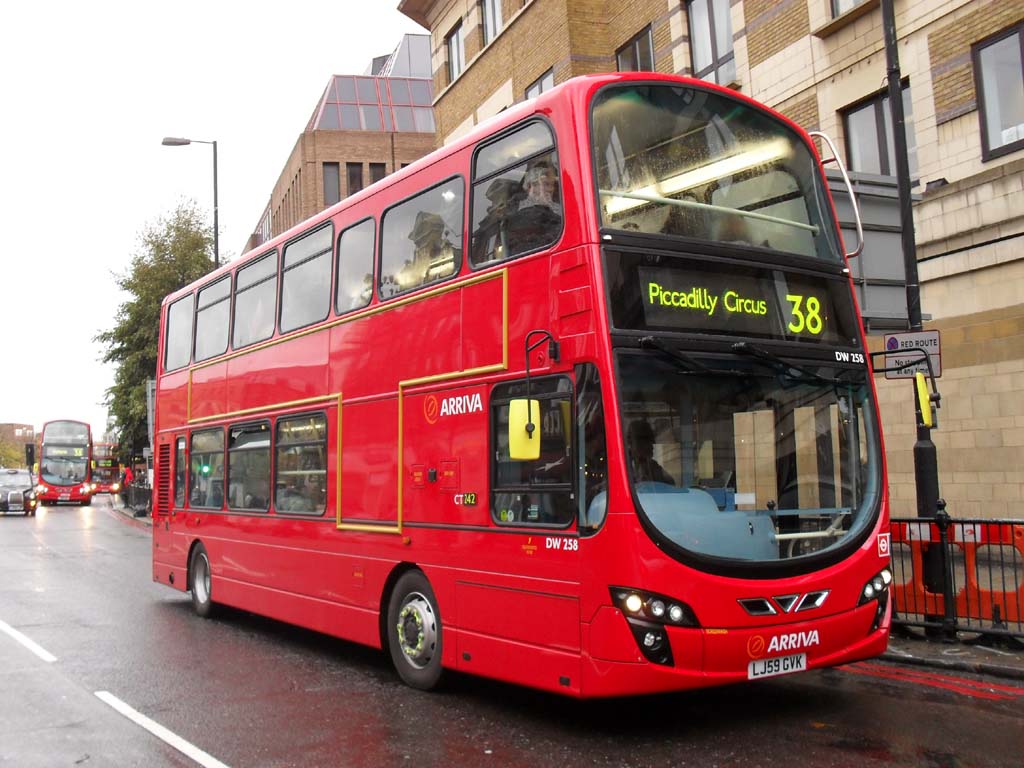 Photo © Suzy Scott.
A second bus is approaching in the distance, a sight likely to be common with such high frequencies; indeed it was already common with artics. The service was heavily disrupted by traffic on the first day. The bus photographed is on an unscheduled short working to Piccadilly Circus, vice the normal terminus of Victoria. Our second photo, on the same day 14 November, also shows two vehicles travelling together, but this time they have both completed their journeys to Victoria, where they were photographed in Buckingham Palace Road. This time we have one vehicle of each type, DB300/Gemini 2 DL DW253 (LJ59 AAZ) and ADL Trident/Enviro400 T74 (LJ59 ABK).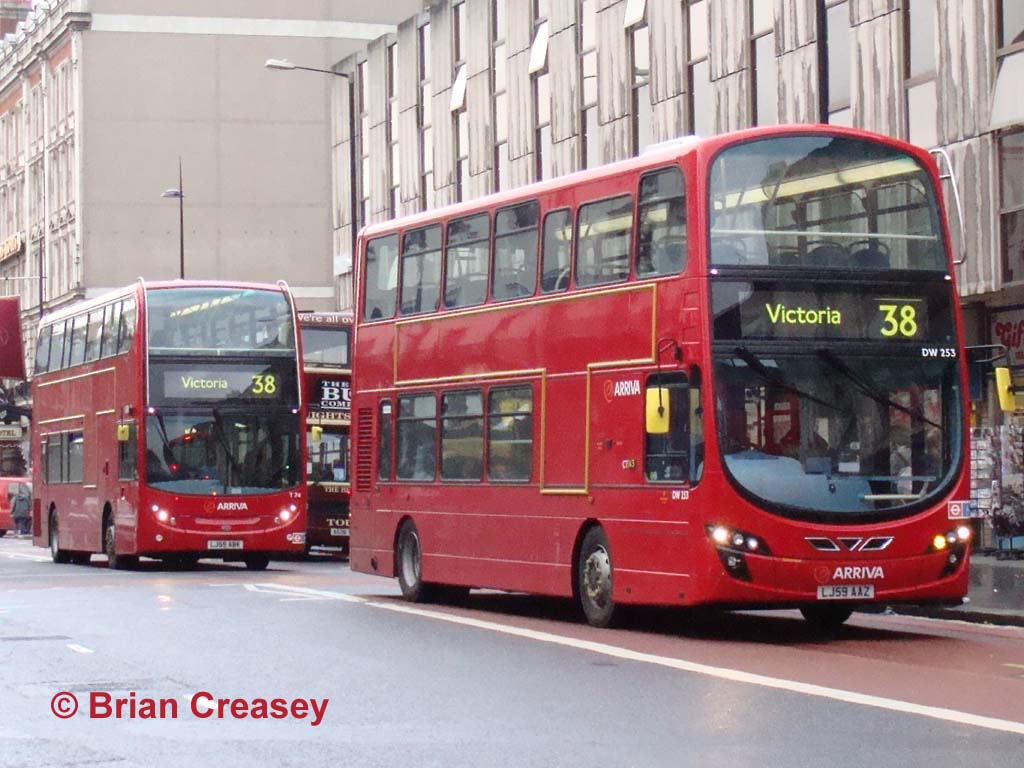 Photo © Brian Creasey.
The third photograph gives us a closer view of the latter type, of which 18 have been taken into stock at Clapton, giving 80 buses in total, including 10 spares. This type has now been in production for four years and is consequently becoming quite familiar. This example is T83 (LJ59 AAE), at the same spot once again on the same rainy day.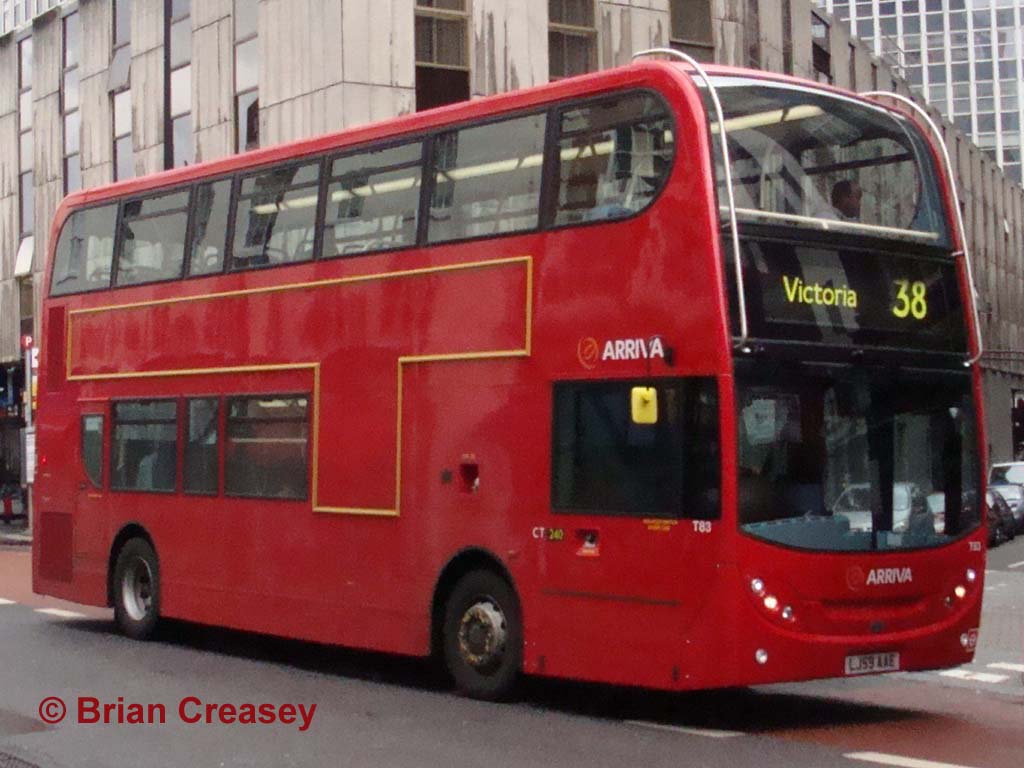 Photo © Brian Creasey.
Prior to gaining artics in October 2005, one of the last artic conversions, the 38 was operated by open-platform AEC Routemasters. In many ways the 38 was the last "proper" Routemaster route, in particular having for some time been the last to have exclusive use of Routemasters, the other Routemaster routes all having one-person operated journeys in the early mornings, evenings or on Sundays. The higher capacity of a Citaro compared with a Routemaster allowed the peak frequency to be reduced. Fortunately, lessons had been learnt from the earlier conversions, and in this case the reduction was more reasonable at 8 buses, from a PVR of 50 to 42.
The resultant frequency should have needed no more than 100 passengers per bus to maintain capacity by my calculations, which is far more realistic than earlier plans based on the nominal capacity of 140. It was somewhat surprising, therefore, when the conversion back to double deck seemed to be based on the higher capacity of 140. This produced a massive PVR increase, the route now having 20 more buses than in RM days, even though a modern double decker can carry around 20 more passengers than a Routemaster. Even allowing for more buses being needed as one-person-operated buses (including artics) are slower than Routemasters, it seems likely that the route has been over-specified. This, of course, is good news for passengers, but would have pushed up the cost unnecessarily; there has been some speculation that TfL deliberately over-specified it to try to "prove a point" with the Mayor!
One interesting feature of the new timetable, agreed after the contract award, is that on Mondays to Fridays half the service terminates at Clapton garage instead of continuing to Clapton Pond. Apparently this would not have been feasible with artics, and did save a bit of cost by reducing the PVR by 2 from the original award based on 72 buses. Strangely, this arrangement is not replicated during evenings and weekends – though the vehicle requirement at weekends is much lower anyway. It is surprising that TfL have agreed to this option, even though it appears sensible – for a number of years there has been a policy of standardisation, with all journeys scheduled to run end to end. Although there have been a few stragglers all along, in particular on quite a number of night routes, the introduction of new short workings is an interesting development.
The 38 once ran to Chingford via Leyton and present day route 97, while the 38A ran to Loughton straight up the main Woodford road. The combined frequency in 1936 was every 2 minutes – whilst, as is typical, the frequency had dropped considerably in the intervening years, an increase ready for the start of congestion charging in July 2002 brought the peak hour frequency, at least, almost back up to that level! It dropped again with artics to every 3 minutes, but as noted above has risen to just under every 2 minutes (the intervals in the morning are 2/2/2/2/2/2/3, to be precise!). The 38 has been London's most frequent route for quite a few years; a number of other routes had PVRs comparable to the 38, but they are spread out over longer routes – the 38 is comparatively short.
Navigation
| | | |
| --- | --- | --- |
| | Previous | Next |
| Chronologically | 407 | 87 |
| Numerically | 36 | 39 |
See also routes 12, 73, 207, 97

Photo Gallery | Bus route list | Operational details | Service changes | Operators & Garages