Home | Bus routes | Operational details | Service changes | Operators & Garages | Photo gallery
---
Route 90
3 February 2014
The origins of the 90 are as a Kew Gardens – Staines route, via essentially what is now the 290 with a few differences. During the war routes 90A and 90B were added, running as the 90 from Kew Gardens to Hanworth, then to Feltham, Hatton, Harlington, Hayes and Yeading, largely breaking new ground. The 90A was short lived, but a Sunday only 90C ran in the 1960s from Staines to Hammersmith via Chiswick Bridge. The Richmond – Hammersmith section later became daily and was then given its own number as 290. In a twist of irony, the 290 replaced the 90 to Staines in the September 1982 changes.
The 90B, meanwhile, had been extended from Yeading to Northolt, and was also diverted via Fulwell. In 1989 it was tendered and awarded to London Buslines, and the opportunity was taken to drop the B suffix, as the original 90 was long forgotten. At the same time the 90 exchanged routeings with the 290, so that the 290 ran via Fulwell and the 90B reverted to its original route; this suited Fulwell garage, which ran the 290.
With the advent of the 391 in November 1991 the 90 was cut back to Manor Circus, and in 1994 it was diverted via Hayes Grapes to provide local links. In August 1997 the route was split, with the Richmond end becoming route 490; the 90 was curtailed at Feltham and re-routed to Leisure West. The route was awarded to Metroline with single deckers, and little has changed since apart from a major frequency increase and introduction of low floor vehicles.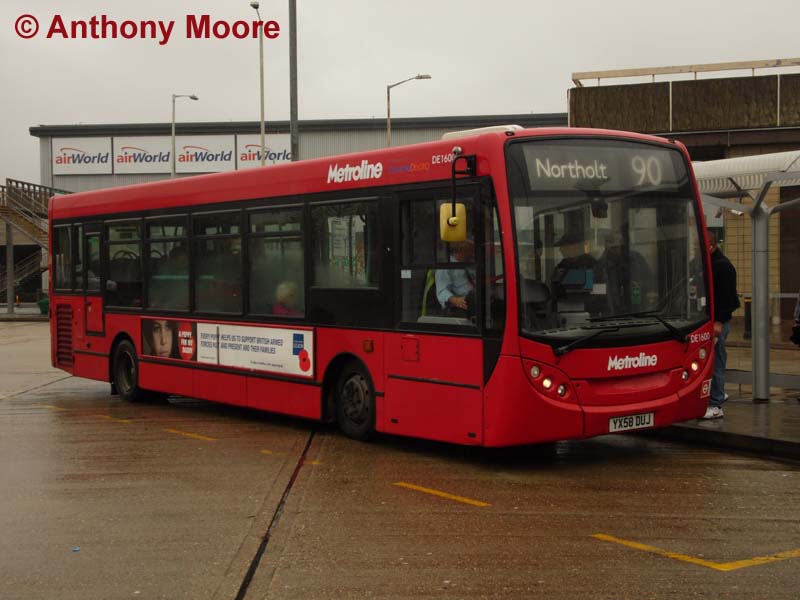 Photo © Anthony Moore.
Metroline has been shuffling its single deck types around and the 90 currently has a mixture of Enviro200Darts and MAN/MCV buses. Examples of both were photographed at Hatton Cross, with DE1600 (YX58 DUJ), a recent acquisition from First and transfer from route 245, on 11 November 2013, and MM789 (LK57 EHZ) on Wednesday 26 June 2013. This must be the dreariest bus station in London, but ironically I publish this just as a refurbishment programme was about to commence; indeed, the stop at which the first picture was made has now closed, and buses towards Northolt stop in Hatton Road South outside instead.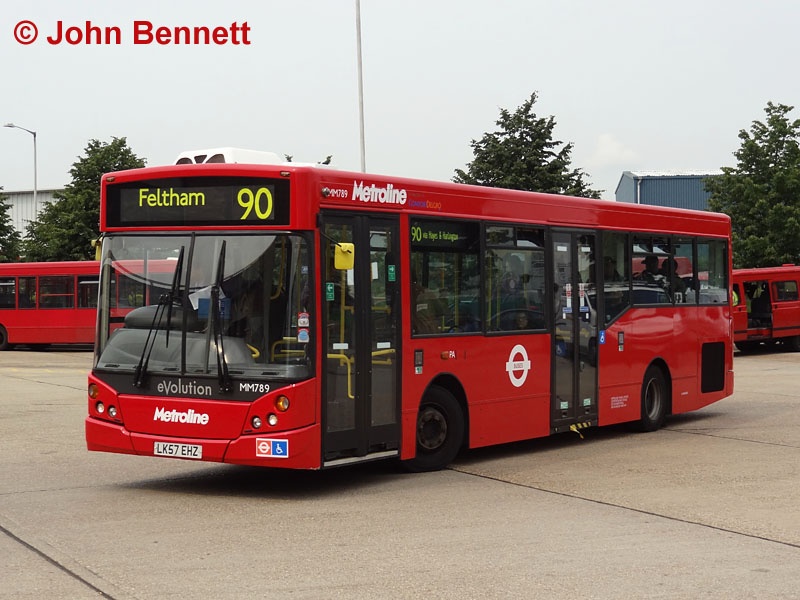 Photo © John Bennett.
Navigation
| | | |
| --- | --- | --- |
| | Previous | Next |
| Chronologically | S4 | W9 |
| Numerically | 89 | 92 |
See also routes 290, 490, 245

Photo Gallery | Bus route list | Operational details | Service changes | Operators & Garages