Home | Bus routes | Operational details | Service changes | Operators & Garages | Photo gallery
---
Route S4
3 February 2014
Funding for some of London's Bus Routes is provided by local councils, usually where the council feels there is a gap in the public transport market and is prepared to meet the cost. Sutton's route S4 was launched at the end of 1997 using such funding, running between Sutton and Roundshaw through what are mostly upmarket residential areas, some of which had previously been completely busless.
Probably the most useful section of the whole route is between Belmont and Sutton, as buses run via Grange Road, an area previously remote from the main bus network. However, the first buses to serve this area were on Epsom Buses' S6 and S7 routes. These were started in 1996 running almost exclusively along back streets, between Epsom (S7) or Ewell (S6), Banstead and Sutton. I am not sure who funded these routes, but sadly they were not a success, but fortunately Sutton Council saw an opportunity in the Belmont – Sutton section and managed to retain a service to this area by starting the S4, which was tendered by London Transport Buses and awarded to Epsom Buses.
From Belmont, more new territory was charted, although in this case the areas were not so remote. Buses now cross the railway at Belmont to serve Sutton Hospital and run through Carshalton Beeches and Carshalton-on-the-Hill. Here the route restores a more limited service to the residents living near Queen Mary's Children's Hospital, which had earlier been served by a deviation of route 154 before the hospital closed. Then buses run along Grosvenor Road to allow them to run through the shopping area of Wallington before heading further south to Woodcote Green to serve some more upper class areas, before emerging rather abruptly to a complete change of scenery by terminating in the Roundshaw council estate.
Meanwhile, London & Country had started a commercial service running from Morden to Sutton via Love Lane and Sutton Common. In 1998 LondonLinks, the new name for the Croydon operations of L&C, decided to abandon the 421, so from April London Transport Buses added it to its portfolio, but covered the route by extending the S4 instead.
Initially three unusual UVG bodied Mercedes Vario minibuses were used, although the extension to Morden meant they had to be supplemented by a variety of Mercedes minibuses in the Epsom Buses fleet. However, loss of route 413 to London General on 1 December 2001 prompted the re-allocation of some of its Dart SLF buses to route S4. In the meantime, Epsom Buses (the bus operating arm of Epsom Coaches) had re-branded itself Quality Line (a strange, but in this case quite apt, name for a bus company) using a plain red livery. Since then the route has passed into the hands of the company's large fleet of Optare Solos.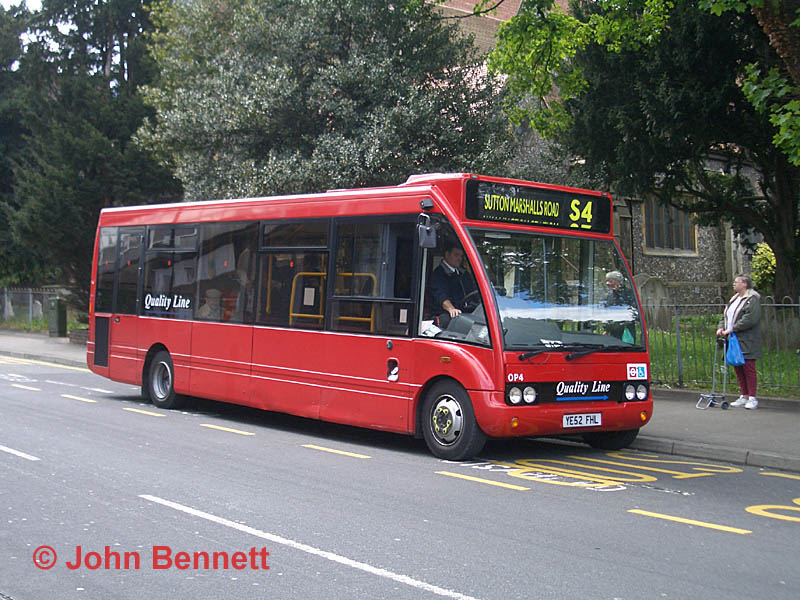 Photo © John Bennett.

OP4 (YE52 FHL) was one of the first Solos in the Quality Line fleet and was seen outside St. Nicholas Church in St. Nicholas Way, Sutton, on Wednesday 11 May 2005. (I am afraid this one has been on my "to-do" list for a very long time.) Hopefully the rather makeshift blind display was a one-off aberration! The latest vehicles on the route are a pair of Enviro200Darts, running alongside the Solos, but I do not have a picture at present.

Navigation

See also routes 154

Photo Gallery | Bus route list | Operational details | Service changes | Operators & Garages