Home | Bus routes | Operational details | Service changes | Operators & Garages | Photo gallery
---
Route S3
15 November 2012
The S3 combines a long-standing service to the Carshalton Beeches area with a bewilderingly convoluted backstreets link between Sutton and Worcester Park. It was the latter that came first, when the route was started in 1995 with Sutton Council funding. A half hourly service was provided by Tellings-Golden Miller using Mercedes minibuses from their then only garage in Byfleet!
The initial route was from Belmont Station via Chiltern Road, The Gallop, Langley Park Road, Cavendish Road, Sutton town centre, Sutton Green, Stayton Road, Marlborough Road, Sutton Common Road, Oldfields Road, Windsor Avenue, Staines Avenue, North Cheam Sainsbury's, North Cheam, Worcester Park to Green Lane. Most of this route was along previously unserved roads, but the route now is quite different, having been substantially altered in the Sutton area scheme of 1996.
Banstead Road South has, by contrast, had a bus service as far back as I can trace. In 1934 this was the Kingston series single deck route 213, running from Kingston along the two Coombe Roads then via New Malden and Cheam to Sutton and on via Carshalton Road, Cambridge Road and Banstead Road South to Belmont. Apart from a minor diversion via Park Hill to serve Carshalton Beeches station, this remained the arrangement until 1961.
Then route 151 was extended from North Cheam to Belmont, replacing the 213, on Mondays to Saturdays, with the 213 generally running to Sutton garage, except on Sundays when Carshalton Beeches remained the preserve of the 213. Much playing with suffixes ensued on the 213, and by 1970 the Sunday service was covered by the 213A, a variant of the 213 running via Clarence Avenue in New Malden. Withdrawal of that first incarnation of the 151 that year precipitated the return of none other than the 213 over Banstead Road South, but now reduced to Monday to Friday peaks only, continuing to terminate in Sutton at other times.
The 213A was substituted for the 213 after a couple of years, in readiness for the withdrawal of the now-superfluous 213 in its entirety in 1977. The 213A lost its now superfluous suffix in 1984, but the now 213 was curtailed for the last time to Sutton in 1990. Replacing it just between Sutton and Belmont was the 413, providing a better shopping hours service than the 213 (which had latterly run a single shopping hours journey). However, there was still no evening or weekend service, while all peak hour journeys ran with the flow only, into Sutton in the morning, from Sutton in the evening. At peak hours buses terminated at Sutton station, at other times at Sutton garage.
The 413 took on a more prominent role in 1992 when it replaced part of the 151 (new incarnation) and was also diverted via Westmead Road in order to serve Sutton town centre more effectively. A Saturday (except evenings) service was added; the 413 did have an evening service on the new section, but not to Belmont!
Extensive re-tendering of services in 1996 resulted in a re-organisation of routes, and the 413 was curtailed to Sutton (thus missing out almost the entire original route!), its replacement to Belmont being the S3. The S3 actually ran to Sutton Hospital rather than Belmont Station, while the S1 took over Langley Park Road from the S3. Unlike the 413, the S3 also deviated via Carshalton (West Street) and Sutton Station (replacing part of the S1!). The route was also diverted via Browning Avenue on its way between North Cheam Sainsbury's and Worcester Park, rather than running along the main road, and thus serving Green Lane in the opposite direction before terminating at Worcester Park Station.
Although TGM continued to run the route at first, then transferring the route to the more local Beddington base of recently acquired Capital Logistics during 1999, Epsom Buses took over in 2000 with a fleet of brand new 8.8m low floor Darts fitted with Alexander ALX200 bodywork. Contract renewal in 2005 again specified new buses, with the previous Darts being transferred to Surrey routes K9/K10. This time East Lancs bodywork was specified, an unusual choice, and here SD41 (PL05 PLV) passes Sutton Station on a well-laden southbound journey on 3 November 2009, still carrying the previous style of Quality Line logo at this time (this being the marketing name now used by Epsom Buses). In my opinion the Myllennium style is better suited to large buses, and looks a bit out of proportion on these small vehicles!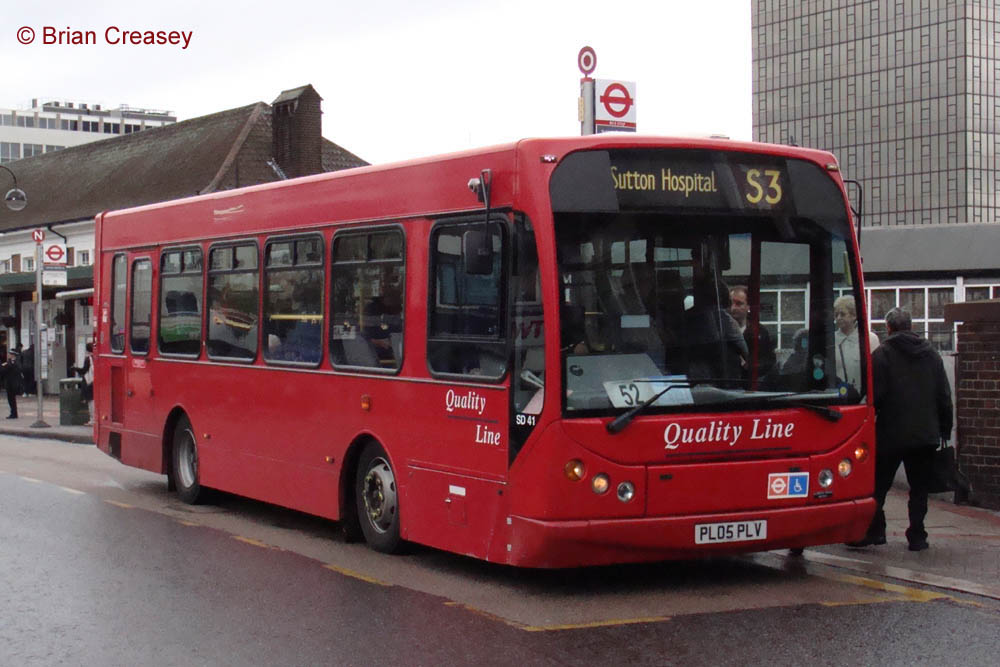 Photo © Brian Creasey.
Subsequent developments mean the route now has quite an eclectic allocation. A frequency increase in July 2006 led to some of the 2000 ALX200 Darts, long since repainted from cream and brown to red of course, being repatriated from local routes in Epsom to supplement the Myllenniums. SD28 (W876 VGT) is now one of the oldest buses in the Quality Line fleet and represents the last vestiges of a once quite substantial fleet of Dart SLFs, mostly now withdrawn in favour of Optare Solos. It was located at North Cheam Queen Victoria during a long term diversion on 18 January 2011, which has since been repeated. Surprisingly these buses seem to have survived contract renewal in 2010 and could reach 17 years old in London service!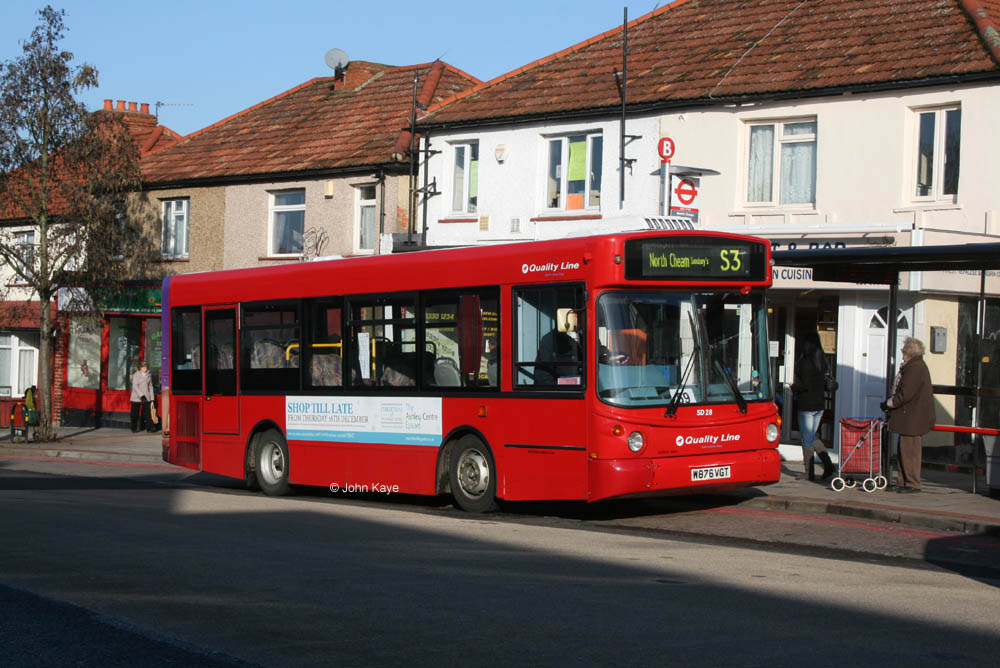 Photo © John Kaye.
A lone straggler is SD33 (SN51 UCO) of the same type, a leftover from a batch for route S1, and photographed at Worcester Park station on the same day. This seems to have been kept back as a spare for use as required. Note the driver air conditioning unit on the roof – Quality Line were well ahead of the game in specifying these long before TfL made it a contractual requirement. Note also the new style Quality Line logos. The cones were part of major gas works taking place in Worcester Park and which caused the closure of Green Lane, hence the lengthy diversion mentioned in the previous paragraph.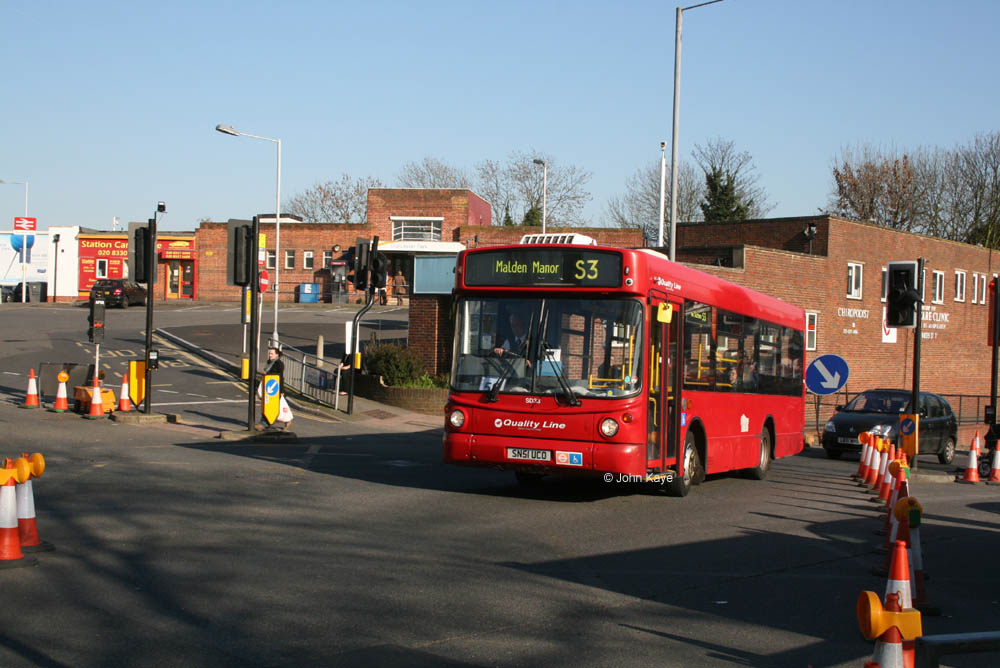 Photo © John Kaye.
The final bus to form part of the regular S3 allocation is SD54 (LJ08 RJY), the only Enviro200 body in the fleet. It was obtained to service an extension of the route from Worcester Park station to Malden Manor via The Manor Drive (latterly unserved but at one time covered by Epsom Buses' own K9 route), and was photographed on 14 February 2009 in Sutton. This extension was eventually introduced from 1 August 2009. A further very minor change occurred from 14 July 2012, when the route was altered to serve the Kimpton Industrial Estate.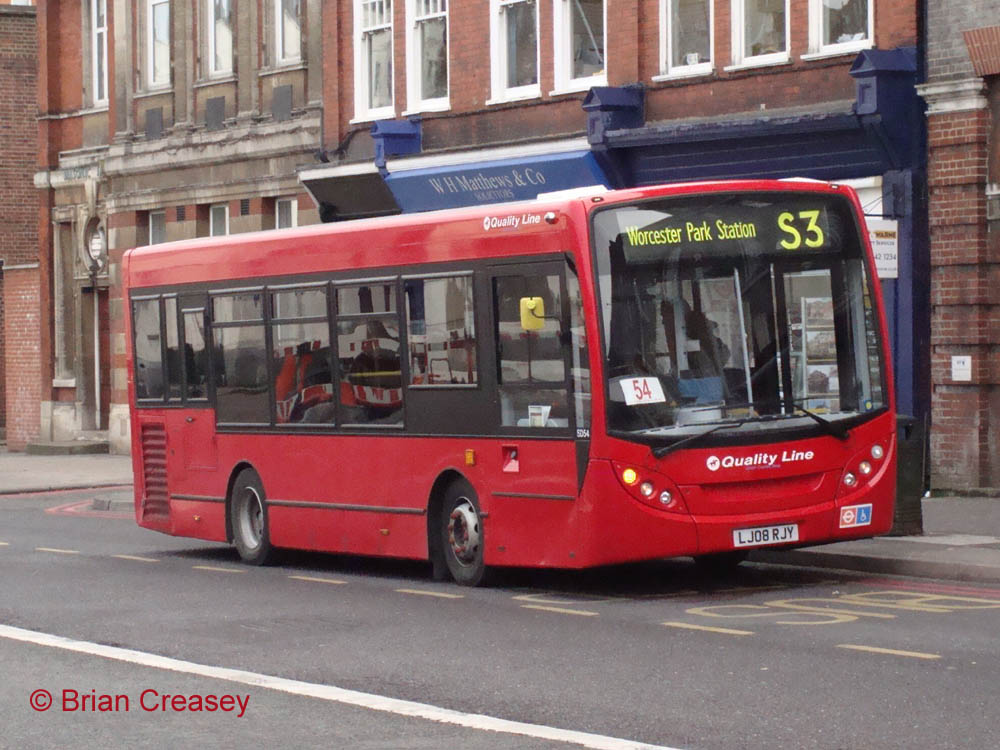 Photo © Brian Creasey.

Navigation

See also routes 213, 151, 413, S1, K9, K10

Photo Gallery | Bus route list | Operational details | Service changes | Operators & Garages